We all want to see more businesses start-up and thrive in our region, so we're coming together for a major conversation. Please join us!
About this event
Swansea Start Up & Business Owners Forum
We want a city that's clean, green and fit for purpose. A 21st-century city that's built for health as well as wealth. We believe that Swansea can be that place, the perfect place to start and build a business. We would like you to take part in our online workshop and help take our city to the next level...
For us, it's not big brands and major corporates that make a city great - it's a diverse mix of independent firms, lifestyle businesses, trades, makers, creative start-ups and cultural entrepreneurs - all doing our best to make good things happen.
So, if that's the vision, what do we need to do?
Are you an entrepreneur, a small business or a potential start-up, interested in being part of that "diverse and creative mix" that makes Swansea great? Are you thinking of turning your hobby into a business, or thinking about going self-employed? Perhaps you've struggled to access the support and advice you need to get your business idea off the ground? Perhaps you're an established business that has never found the right premises in the city? Or maybe you're already located in the city and have ideas about what we could do to make things better - or perhaps you want to share your success story to inspire others! Whatever your business or your situation, we want to hear from you!
Come and share ideas and perspectives on how we can make sure Swansea is an entrepreneurial city with a flourishing independent economy. This event is about looking forward and working together, not giving up on our ideas or our city, and getting creative about the future.
With major new city centre developments well underway, and big challenges for retail as we emerge from COVID, let's collectively reimagine the future of Swansea in a way that nurtures the talents, trades, skills and passions of local people.
JOIN US ON TUESDAY 13TH APRIL VIA ZOOM FOR A CO-CREATIVE CONVERSATION FACILITATED BY 4THEREGION. OUR EVENTS ARE ABOUT POSITIVITY, EMPOWERMENT & COLLABORATION. EVERYONE IS IMPORTANT, ALL ARE WELCOME, AND THE FUTURE OF OUR REGION IS IN OUR HANDS!
Catch up on our "Starting Up In The Region" round table discussion with key personalities from Swansea's start-up scene!
Perhaps you're a landlord with vacant property in the city, and want to be part of the solution? Maybe you're a support organisation with something to offer? Or perhaps you're a local success story, with advice and knowledge to share. For more information, or any questions, please email dawn@4theregion.com or zoe@4theregion.com. Visit our website: www.4theRegion.org.uk
This event is being organised by 4theRegion in collaboration with Swansea Council, Indycube, Urban Foundry, FR8PK, Swansea University, University of Wales Trinity Saint David, Young Dragons, Swansea BID, Business Wales and others, with the goal of ensuring we are all working together for a flourishing future for regional start-ups.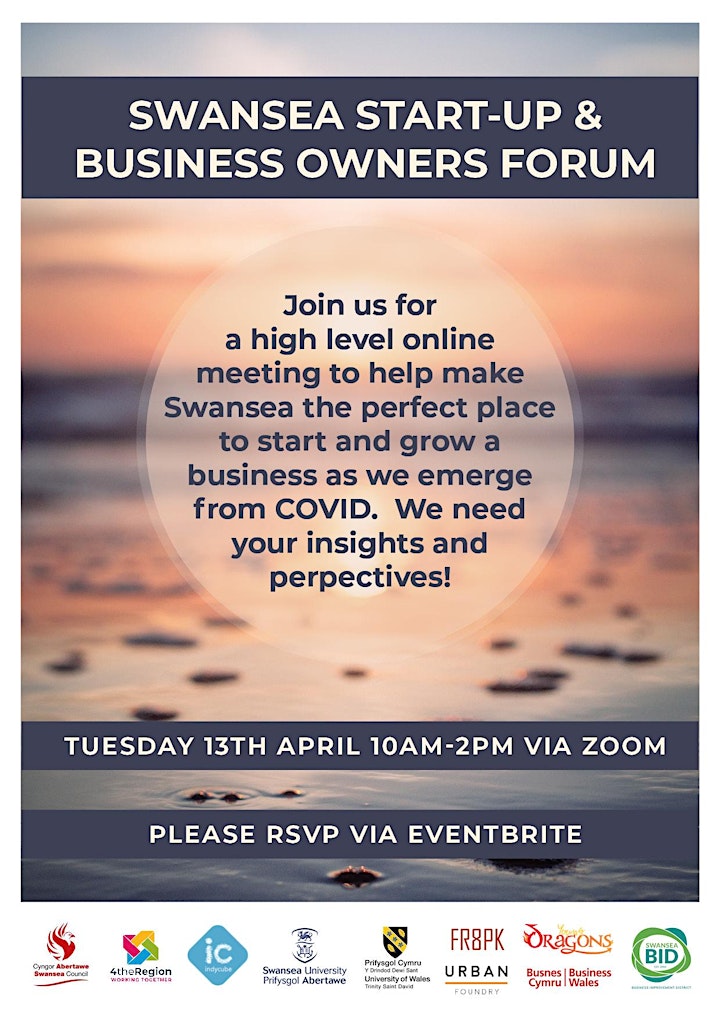 Organiser of Swansea Start Up & Business Owners Forum
4theRegion is on a mission to help make change happen across Neath Port Talbot, Swansea, Carmarthenshire and Pembrokeshire.  We bring together individuals, businesses, community groups, campaigners and changemakers who are doing great things in the region, and who want to collaborate to help shape the future.