Sustainable use of ocean resources in Wales
About this event
The Blue Economy is increasingly important to Wales in economic, sustainability and climate change terms. This event will showcase many of the activities taking place across the sector and the region and highlight areas of focus and opportunities for collaboration.
Swansea University: LINC is a collaborative network of 700+ members from private, public and third sector organisations that come together throughout the year around common goals . For further information, please visit: https://www.swansea.ac.uk/business-and-industry/linc/
AGENDA
Hosted by Professor Ian Masters, Swansea University Faculty of Science and Engineering
The Blue Economy, and opportunities for International collaboration and knowledge exchange, Professor Helen Griffiths, Pro Vice Chancellor, Research & Innovation
Collaborating on Research & Innovation within the Blue Economy, Professor Carlos Garcia De Leaniz, Centre for Sustainable Aquatic Research (CSAR)
Blue Carbon and using our oceans as part of the solution to fight climate change, Dr Peter Richardson, Head of Ocean Recovery at Marine Conservation Society
NRW's perspective on sustainable management of the Welsh marine energy resource, James Moon
Accelerating growth in the marine energy sector (including META and the Pembroke Dock Marine Project), Bethan Simes Marine Energy Wales
Major programmes and projects across Carmarthenshire, Neath Port Talbot, Pembrokeshire and Swansea, Jon Burnes and Chris Foxall, Swansea Bay City Deal
Panel Q&A
3-minute pitching slots; guest pitches on their work in the field and calls for collaboration (Pitch 1: Selkie, Sophie Crouch; Pitch 2: Wales Activity Mapping Alec Denny; Pitch 3: tbc ; Pitch 4: tbc ; Pitch 5: tbc)
Opportunities for collaboration, accessing funding and closing remarks, Professor Perumal Nithiarasu, Director of Research, Science & Engineering Faculty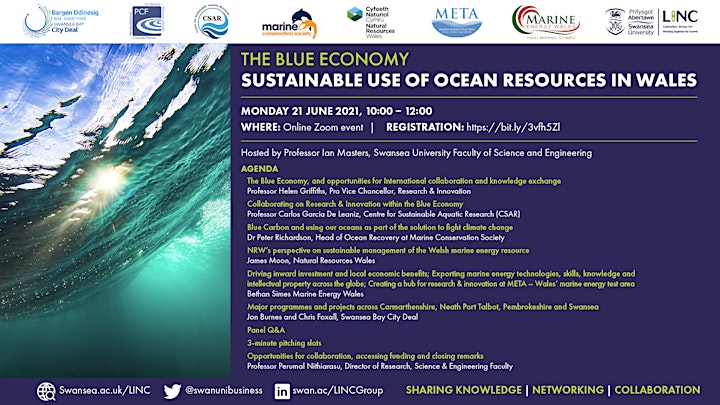 Organiser of Swansea University: LINC - The Blue Economy
Swansea University has worked with thousands of private, public and voluntary sector organisations of all shapes and sizes to understand challenges and develop innovative solutions.
We can provide your organisation with access to talented graduates & students, world leading research & development support, first in class facilities & equipment, and professional skills development.
As one of the top Universities in the UK for research excellence, we use our research collaborations and global reach to drive economic growth, foster prosperity, enrich the local community and Welsh culture and, contribute to the health and wellbeing of our citizens.
Swansea University was founded by industry, for industry, on the simple principle that 'Technical Skill is Bereft without Culture'.
Taken from one of the earliest collections of medieval Welsh literature, this is as relevant today as it was a thousand years ago.
We are proud of our significant global impact, enabled via long term strategic partnerships.
Please contact us to find out how you can partner with Swansea University. T: +44 (0)1792 60 60 60 E: research.enquiries@swansea.ac.uk