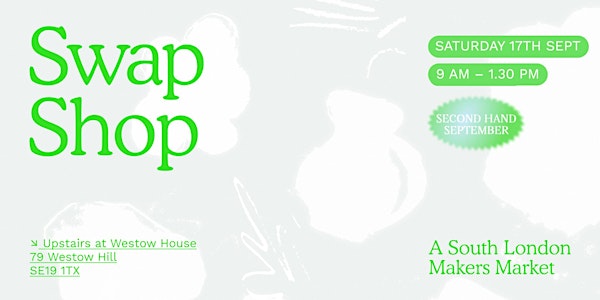 Swap Shop: Fashion, Accessories and Homeware Swapping Event in London
Location
Westow House
79 Westow Hill, Norwood, London
London
SE19 1TY
United Kingdom
Want to find a new way to shop sustainably? Welcome to the Swap Shop! Swap your unwanted, but great condition, clothes, homeware and more ♻️
About this event
Do you have a black bin bag of clothes waiting to be uploaded to eBay? Are you swamped in styles that you don't wear anymore but want to find a good home for? Would you like to update your wardrobe for the new season, but in a more sustainable way that helps reduce waste too?
Come to our Clothes Swap event at Westow House in Crystal Palace and exhange your unwanted items for gorgeous new-to-you pieces and save yourself the time and hastle of online selling! You loved our last three Swaps, they were all sell-out events! So we wanted to host another in time for Secondhand September.
HOW DOES IT WORK?
♻️ Pay £12.50 to get in
♻️ Bring a bag of your clean, unwanted clothes and accessories
♻️ We'll assess the pieces to make sure they're clean, and in good condition
♻️ We'll "credit" you for the pieces you've bought in
♻️ You use your credits to "buy" other clothes
♻️ It's a direct 1-for-1 swap across all categories
♻️ Read more here about how it works
WHAT DO WE ACCEPT FOR THE SWAP?
♻️ Good condition pieces with no marks, stains, holes or bobbles
♻️ Womenswear and menswear
♻️ Shoes, accessories, bags and jewellery
♻️ Good condition and useable beauty products and skincare
♻️ Good condition and useable make-up
♻️ All brands (we may limit the amount we select from low end highstreet brands)
♻️ Maxmium 10 items per ticket holder
♻️ Read more here about how it works
WHAT DO I DO ON THE DAY?
At 9am: Drop your goods off to us at Westow House. We'll then inspect each item, steam it and hang it up ready for you to browse, and "credit" you for each item of yours you bring. We expect a queue, so if you don't want to wait we advise arriving promptly at 9am.
At 11pm: We'll then get the room set-up and organised, hanging everything on rails and putting it into sections. Use this time to meet friends, enjoy brunch or Lunch in Crystal Palace where the event is taking place. We'd recommend heading downstairs at Westow House for brunch. Their new menu is great, and they're dog-friendly.
At 12pm: You return upstairs to Westow House from 12pm when you can start swapping! It's first-come-first-serve. These events can be busy. Use your "credits" to swap for new clothes and accessories. Any remaining credits will remain on our system to be used at future events. You'll still need to purchase a ticket for future events.
At 1.30pm: The Swap Shop will close.
I HAVE MORE QUESTIONS, WHERE CAN I GET MORE INFO?
Please find loads more info over on our blog which you can find here.
FURTHER INFO
It is your responsibility to ensure you are COVID-19 free before you attend our IRL events. Please make sure you have taken a test before you attend. Do not attend any of our events if you are feeling unwell, or have any symptoms of COVID-19.
Every attendee needs to ensure they are personally complying with current COVID-19 guidelines.
We complete a thorough clean of the room before the event, and will ensure all windows are open for proper ventilation.
We expect this event to be busy, and is it likely you will need to queue to drop off your items.
We reserve the right to accept or not accept any item we choose, based on a range of factors including garment quality and cleanliness. Any items not accepted will need to be taken away by you. We will only accept a maximum of 10 items per person.
While we try our hardest to check every item accepted to the Swap, we cannot guarantee the quality of any item. Please check you are happy with each item thoroughly before you leave the event; anything taken away cannot be returned.
Further Ts&Cs for this event can be found here. In buying a ticket, you agree and accept the Ts&Cs so please ensure you've read these.
---------------
🛍 WHO IS A SOUTH LONDON MAKERS MARKET? 🥰
If you'd like more information about us and our events, head over to our website! You'll find loads of info there, including a place you can get in touch with us.
♿️ IS THE VENUE ACCESSIBLE? ♿️
The Swap Shop is held in a room on the first floor. Unfortunately as the building is over 100 years old there is no lift. The room is accessed by 23 steps and there is a hand rail.
🚂 HOW DO I GET THERE? 🚌
The nearest station is Crystal Palace, which is accessible via train from London Bridge and London Victoria, as well as the overground.
The venue is right next to Crystal Palace bus garage, which is served by a plethora of buses!
There is parking nearby if you're driving; the surrounding roads are non-permit. There is a no on-site parking.
🏞 WHAT ELSE IS THERE TO DO IN THE LOCAL AREA? 🌮
If you're coming along to our Swap Shop in Crystal Palace, we highly recomend you make a day of it! There's so many fun, child-friendly and dog-friendly things to do in the local area. Check out some of our ideas on Instagram and our blog where we've shared loads of free, fun and child-friendly things to do in South London so you can really make a day of it!
🐶 CAN I BRING MY DOG, CHILD OR BABY?👶
No, unfortunately the nature of the Swap means it is not suitable for dogs, pushchairs or young children.