About this Event
It was nail biting...
It was edge of the seat...
It was a never say die 45-45 draw with a last heat decider in the Supporters Cup the last time the Pirates sailed into Town, so no-one will want to miss this Premiership rematch!
This Bank Holiday Monday clash see's our Robins travel to the Pirates for a 12.30pm meeting, and it's a quick dash back to the Abbey for the return fixture in the evening.
You wont want to miss the always hotly contested and much anticipated clash of the big guns.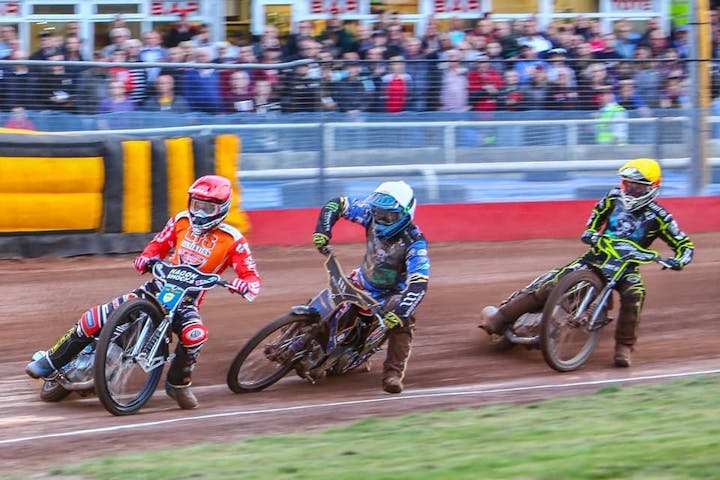 FAQ's
- What Is Speedway?
https://www.speedwaygb.co.uk/whatisspeedway
- What are the league rules?
https://www.speedwaygb.co.uk/rules
- How to get in contact with Swindon Speedway
SWINDON SPEEDWAY
ABBEY STADIUM
LADY LANE
BLUNSDON
SWINDON
SN25 4DN
Robins information and race night: Tel: 01793 384 111
General enquiries: info@swindon-speedway.com
Commercial enquiries: leekilby@swindon-speedway.com
Media/ Press enquires: pressoffice@swindon-speedway.com
Website enquiries: webmaster@swindon-speedway.com
- Is there seating available?
Limited seating is available on a 'first come, first served' basis in 2 of our 3 behind glass grandstands.
Reserved seating is only available with our Legends Lounge Tickets
- Is there food and drink available?
There are food and drink outlets available inside of the stadium. Alternatively, there are also several eateries close by should you wish to grab a bite to eat beforehand
- Is there car parking available?
There is car parking available on site. The car park is operated and controlled by Gaming International and is charged at £1.50 per car