Swing into Christmas with a festive family evening. Listen and dance to the fabulous 16 piece Big Band and guest vocalists
About this event
THE NORTHERN SWING ORCHESTRA and Guest Vocalists
Swing into Christmas with a festive family evening. Listen and dance to the fabulous 16 piece Big Band
Sunday 12th December 7:30PM
Pudsey Civic Hall, Dawsons Corners, Leeds. LS28 5TA
Tickets are £14
The Northern Swing Orchestra play a wide variety of music, varying from 1940s, the bluesy swing of Count Basie and his Orchestra, to modern up tempo funk and Latin music, as well as all the classic big band favorites.
https://www.northernswingorchestra.co.uk/
https://www.facebook.com/northernswingorchestra/
https://www.youtube.com/channel/UCx7a0LQ9lIRNyh25qUFvInw
https://www.instagram.com/northernswingorchestra/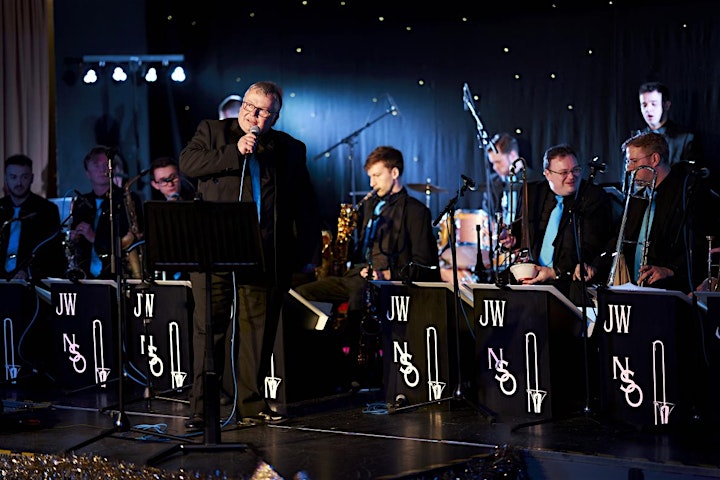 Organiser of Swing into Christmas with The Northern Swing Orchestra - Big Band
The Northern Swing Orchestra is a 16 piece big band based in Leeds and plays some of the very best in big band music. Whether it is the nostalgia of the 1940's or the excitement of big band jazz, The Northern Swing Orchestra will always provide excellent entertainment.
 We have a residency at Swillington Miners Welfare Club in Leeds on the first Sunday of every month at 3:30PM.
 The band has an extensive Swing Band library including numbers made famous by the bands of Glenn Miller, Duke Ellington and Count Basie, to name a few. More recently, the band's library has grown to include new arrangements by some of the country's leading composers and arrangers.
 Visit out website at:  www.northernswingorchestra.co.uk