Description
COOKERY LESSONS FOR CHILDREN
It's never to early too start cooking! It builds confidence and helps children develop a healthy relationship with food.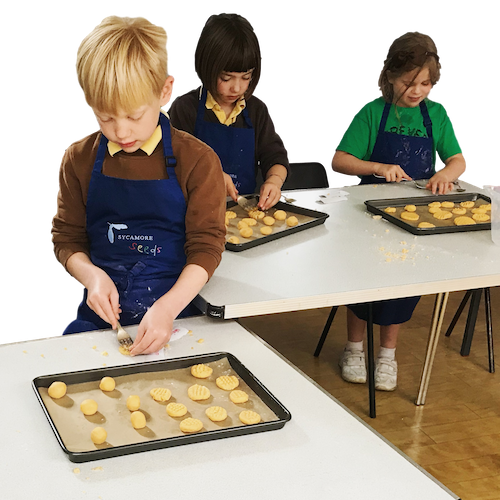 Sycamore Seeds is a hands-on, interactive after school cookery club run by a Leiths-trained, professional chef. Each week we'll make something delicious to take home and share, develop kitchen skills and learn fun food facts.
Primarily the focus is on fun and introducing children to the joys of the kitchen but we like to think we offer something that goes a bit further than the cupcakes-and-cookies of most kids cookery classes out there.
Sweet treats are dear to children's hearts and we won't disappoint in that area but we'll also be making bread, quiches, pasta, pies and other staples, with an unpatronising emphasis placed on enjoying fruit and vegetables. Whilst our creations are in the oven we taste and discuss ingredients, do experiments or play games that broaden children's understanding of what they eat.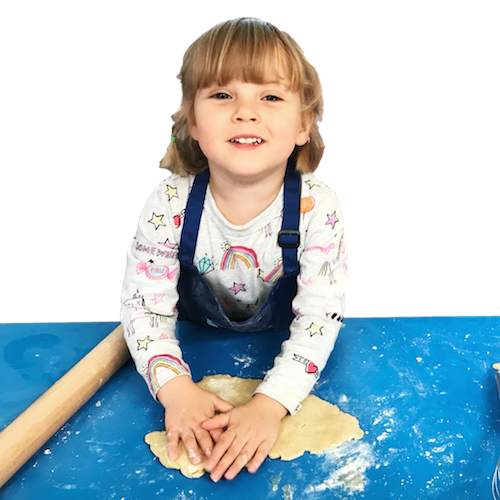 We're based at Hornsey Vale Community Centre on Monday afternoons (4pm - 5.30pm). The full list of sessions for the January - February Half Term is below. They're bookable individually or there's a discounted option for block booking (five for the price of four). If booking for more than one child, you can use the code SEEDCAKE for a 25% discount.
14th January - Fresh Pasta
21st January - Hazelnut & Chocolate Thumbprint Cookies
28th January - Bread and Butter from scratch
4th February - Mini Cheesecakes
11th February - Pancake/Valentines Special

FAQS
How can I contact the organiser with any questions?
Call Clare on 07887 585957 or email clare@sycamoresmyth.com
What ages is this class for?
All children are welcome but the classes are probably most suitable for ages 6-11. We hope to offer specific classes for toddlers and teenagers soon.
Do I need to book in advance?
Yes. There will be 10 places for each class and advance booking (by 2pm on the day of the class itself) is required so we can plan ingredients and equipment. There's also boring stuff like legal waivers and allergy information in the booking form which I like to have sorted before the class. If you've missed the 2pm deadline and want your child to come, do give us a call
Do parents need to be present for the class?
We encourage parents to drop and go as we find it leads to a more focussed experience for the children.
Do I need to bring anything?
No! We provide all ingredients and equipment, plus any containers necessary to take your children's gourmet creations home.
Can you cater for vegetarians/vegans?
Most food we make will be vegetarian but some dishes may contain meat or fish. A vegetarian option will always be available so please let us know when booking if your child requires it. Unfortunately we don't yet cater for vegans but are working on it.
What about allergies?
We can cater for most allergies but the classes are not suitable for children with serious allergies as allergens may be present in the room. Again, please let us known when booking.