Description

Well it's the end of the year and it is time to celebrate in the festive mood as we #MakeBusinessFUN with the most entertaining business club in town! Join us for the last event of the year as the next one will be in February.
The SYNERGIE16 BUSINESS CLUB has had the most amazing people join us since February this year and the Spotlight Show has loved the stars that have been interviewed from all areas of life; comedy, health, luxury lifestyle, business coaches, authors, entrepreneurs, artists, production, magic and music.
This month our Spotlight Show Star is SARAH BEGUM. A Fellow of the Royal Geographical, Sarah is an award winning Immersive Investigative Journalist, Anthropologist-Explorer and Public Speaker. Sarah has been exploring the world, studying tribes and different ways of life whilst investigating current affairs and making a humanitarian effort to help people along the way through her work.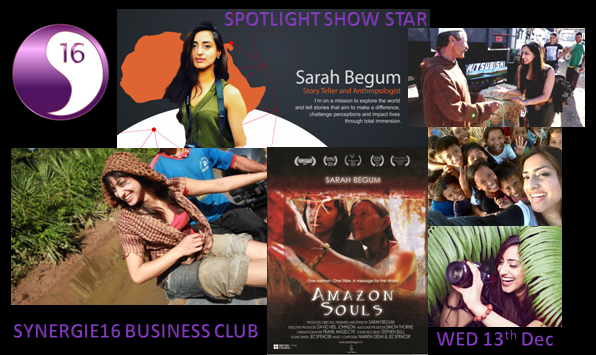 Sarah became the youngest person to make a first film in the Amazon jungle at the age of 21 with a premiere of "Amazon Souls" held at the Cannes Film Festival in 2013.
She lived with the Huaorani tribe and immersed in their way of life, hunting with warriors, gathering with women whilst investigating into the impacts of oil exploitation on their land. On this expedition, Sarah was made Queen and married to a warrior to create an alliance and send their message about protecting their land through her film.
Sarah has investigated into the mafia system in rural Sicily and how it has changed since the anti-mafia movement. She has stepped into the underworld of Poland's most dangerous football hooligan gangs to understand what divides them. Undercover filming in Amsterdam's Red Light District, Sarah gained an insight into the professional and personal life of a prostitute from an exclusive interview.
Sarah has partnered with Russ Malkin to set up The Adventuress Club, a platform to connect, share, empower and encourage women through the world of adventure. She has delivered a TEDx talk on the environment in Ghana, The Rotary Club in the UK and for oil directors from major oil companies around the world in Spain and she was a panelist at the Belfast Media Festival 2016 framed as 'The Future Storyteller'. As a public speaker, Sarah aims to inspire people to live their dreams no matter how impossible it may seem whilst teaching them about the world through her adventures touching on anthropology, exploration, film, environment, human rights, women's rights and other global topics rooted in her work.
There are many more stories Sarah will share during the show LIVE at 7.30pm.

We are delighted to have digital partners ROCKY9 PRODCUTIONS filming the behind the scenes and SOPRANO DIGITAL MEDIA filming the LIVE STREAM.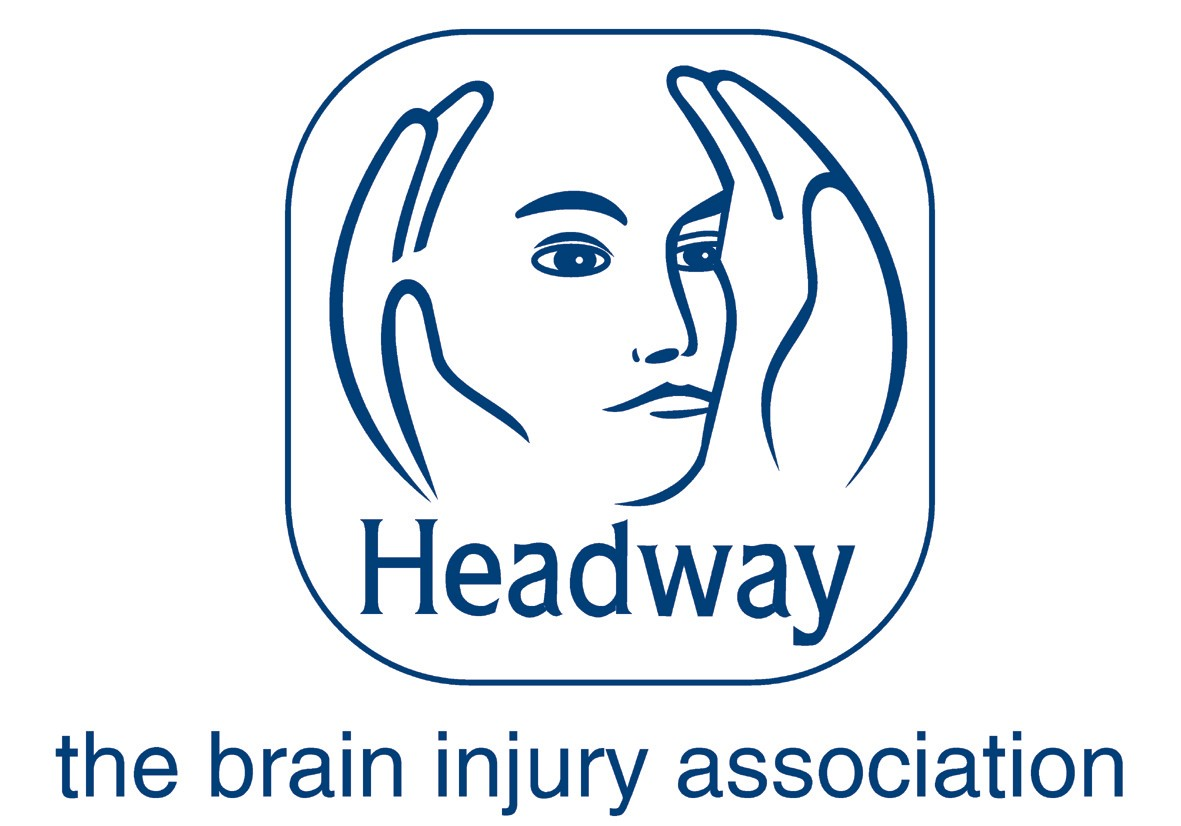 Plus this month we are honoured to support charity HEADWAY, who look to promote understanding of all aspects of brain injury and provide information, support and services to survivors, their families and carers. In addition, Headway will campaign to reduce the incidence of brain injury.

To wrap the night up we will have a LIVE music set from AUSTEYA and SEMINOR LAB DJ Julien Amor fresh from playing with Pete Tong, spinning the tunes until close!
And as always we have the pleasure of THE MAGICMAN DAVID HARRIS to mess with your mind with his close up magic, wit and charm.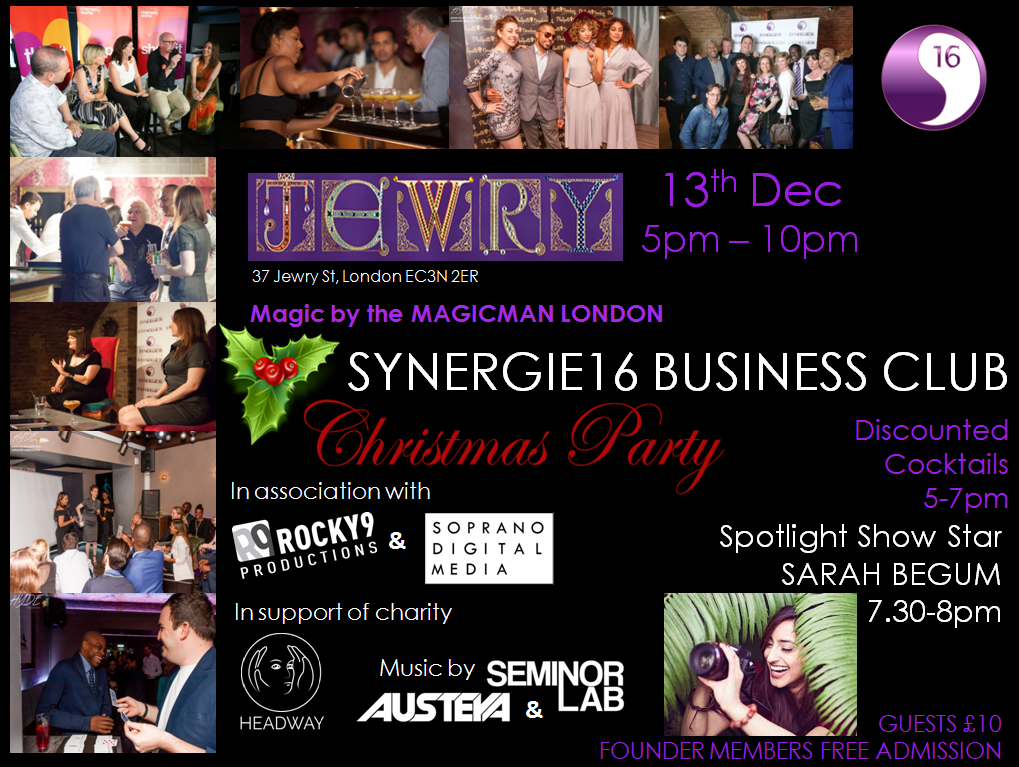 We look forward to welcoming you on Wed 13th December.
If there is a business or service you particularly want to get connected with, let us know and we will get you connected!
PS. Remember it pays to be early! Every first NEW guest is entered into the 1st Club and is the VIP of the night, given LIFE MEMBERSHIP and is highlighted and linked in February's invitation going out to 6000 people.
Nov 1st Club VIP: TONY GILLAM of the SELF EMPLOYED NETWORK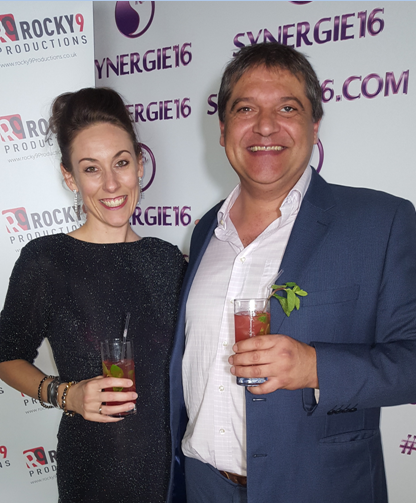 Brands & Businesses that are part of the Synergie16 Family