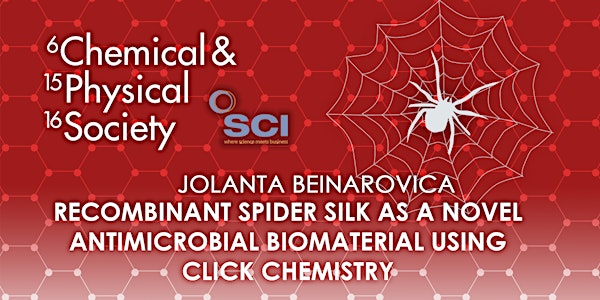 Synthetic Spider Silk as a Novel Antimicrobial Biomaterial
Recombinant Spider Silk Materials as a Novel Antimicrobial Biomaterial Using Click Chemistry by Jolanta Beinarovica
About this event
Spider silk is known for its excellent mechanical properties – it is tougher than high tensile strength steel and bulletproof Kevlar. However, cannibalistic and territorial nature of spiders prevents industrial levels of silk farming to obtain enough material for biomedical applications. Using synthetic biology, we can produce recombinant spider silk at a scale. This talk will discuss recombinant silk production and use of click chemistry to imbue silk with properties it would not ordinarily have.
Jolanta Beinarovica is a PhD student at the University of Nottingham (School of Chemistry/Biodiscovery Institute)
This talk is sponsored by the SCI London Group.