The Society of Young Publishers Scotland presents one of Scotland's largest publishing conferences in March 2021
About this event
The Society of Young Publishers Scotland is proud to present its first-ever digital conference, Ctrl Alt Refresh, on 26 and 27 March 2021.
After the tumultuous year we've all had, it is now time to reflect upon the way 2020 has impacted the publishing industry in Scotland and beyond, the lessons we have learnt in the process, and most importantly, where we should go from here. The conference will feature panels on a wide range of topics – from 2020 being the year of digitising events and the diverse and unconventional routes into the industry, to international publishing and the debates surrounding representation and accessibility.
www.sypconference.co.uk
The conference is aiming to be accessible and inclusive:
A number of free tickets for those from lower socio-economic backgrounds and/or those whose income has been adversely affected due to the pandemic. Please email us at sypscotlandconf@gmail.com to apply for one of these spots. Offered on first-come first-serve basis.
Captions will be available for all panels (Otter AI).
Blog posts summarising each panel will be made available on the SYP website.
Recordings of each panel will be available for all ticket holders until 31 May 2021.
Twitter networking session on 26 March 2021 for those with accessibility needs and/or who are camera shy!
All ticket-buyers and those who have applied for the free tickets will automatically be entered into a lucky draw on 26 March 2021 where 3 winners will get the opportunity to attend publishing courses worth up to £250 each from Publishing Scotland, Get Into Book Publishing or Publishing Training Centre!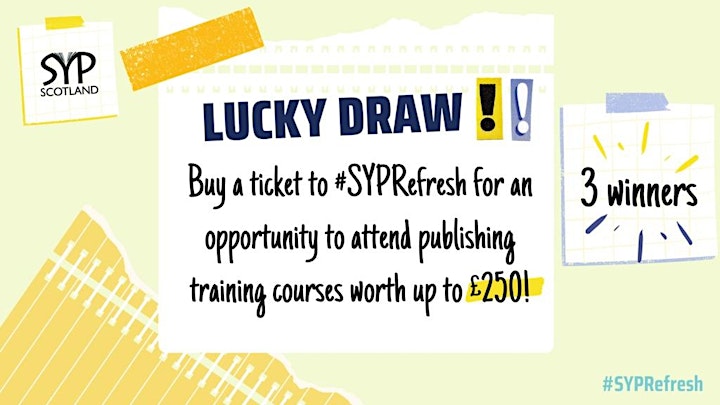 Keynote Speaker: Sharmaine Lovegrove (she/her), Publisher of Dialogue Books
Closing Speaker: Ross Sayers (he/him), author
Closing Performer: Gray Crosbie (they/them), poet
PANELS
IRL/URL
'You're on mute!' may very well be the most spoken phrase in 2020. With all in-person events cancelled, authors, publishers and book festivals had to be inventive to find ways to move all book launches, networking events, panel discussions and conferences online. What have been the challenges they faced in the process? And what are the best things that have come from going digital?
Chair: Ain Bensenouci (she/her), Partnerships and Events Manager at Penguin Random House UK and Founder and Co-Chair of PRH International Community
Panellists:
Nick Barley (he/him) Director and Chief Executive of the Edinburgh International Book Festival
Ann Landmann (she/her), Sales Representative at Birlinn and Festival Director of Cymera
Lyndsey Fineran (she/her), Programme and Commissions Manager for Cheltenham Literature Festival
Georgina Moore (she/her), Director of Books and Publishing at Midas PR
Nyla Ahmad (she/they), Reading Communities Manager at Scottish Book Trust, leading on programming Book Week Scotland
SHARING THE PASSWORD, sponsored by The Portobello Bookshop
2020 saw continued debates about accessibility and inclusion within the publishing world. From the Black Lives Matter movement and its related #publishingpaidme tweets from BIPOC authors; the call from disabled creatives for better access; and the appeal for recognising LGBTQIA+ identities, it is evident that representation is poor, both within the industry and the books that it produces. How can publishing do better to represent these voices? And what will better representation mean to the industry as a whole?
Chair: Dr Anamik Saha (he/him), Senior Lecturer in the Department of Media, Communications and Cultural Studies at Goldsmiths, University of London, and author of Rethinking 'Diversity' in Publishing report
Panellists:
James Spackman (he/him), the 'Book Pitch Doctor' and Founder of The Spare Room Project
Julie Farrell (she/her), author and advocate for diverse representation in literature
Nels Abbey (he/him), author and Co-founder of The Black Writers Guild
Dr Melanie Ramdarshan Bold (she/her), Associate Professor of Publishing and Book Culture at University College London Publishing
ALT. ROUTES, sponsored by The Bookseller
The one truth we've all had to accept this past year is that life rarely works out in predictable, direct ways, so why should our career paths? The SYP is here for anyone within the first ten years of their publishing careers, whether their first role is in publishing or they've found their way to it after working in other industries. Join us as we speak with a few industry insiders who have followed fascinating serpentine journeys and transferred their skills to the book industry.
Chair: Claire Withers (she/her), Managing Editor at Hodder Gibson, with 7 years' experience teaching English at secondary school
Panellists:
Noelle Holton (she/her), PR and Social Media Manager at Bookouture, with 18 years' experience working as a Senior Probation Officer
Sam McDowell (he/him), Co-founder of Charco Press, with commercial pilot training and experience working in information technology
Ned Hartley (he/him), Commissioning Editor at Ladybird Books, with experience working in magainze and license publishing
Donna Greaves (she/her), Agency Assistant at Jo Unwin Literary Agency, with 6 years' experience working as a speech therapist
YOUR CART IS FULL, sponsored by The Book Trade Charity (BTBS)
This past year, debate turned to whether bookshops are essential, but there's no question as to whether booksellers are! Join us for a chat with the backbone of our book-buying habit as we find out how indie bookshops fared in 2020, how publishers can support them, what role Bookshop.org can play and learn about the buying trends spotted by booksellers that have helped comfort us all in this unpredictable time.
Chair: Vikki Reilly (she/her), Marketing, Events and Sales Support Manager at Publishing Scotland
Panellists:
Samantha Williams (she/her), Founder of Book Love, the travelling multicultural book carnival
Sally Pattle (she/her), Manager of Far From the Madding Crowd bookshop, Linlithgow
Mairi (she/her), Owner of Lighthouse Bookshop, Edinburgh
Natalie Whittle (she/her), Founder of Outwith Books, Glasgow
THE LOCKDOWN ISSUE
With the lockdown came the shutting down of non-essential shops – the primary channel for magazine sales. Things were only made worse by a global recession, mass unemployment and the perception of magazines as a luxury item. How have magazines adapted in order to survive, and even thrive, in the time of Covid?
Chair: Nikki Simpson (she/her), Founder of International Magazine Centre, Edinburgh
Panellists:
Alexandria Turner (she/her), Editor-in-chief of kids' magazines and comics at DC Thomson
Hannah Taylor (she/her), Founder, Editor and Art Director of The Delicate Rebellion
Paul McNamee (he/him), UK Editor of The Big Issue
Arusa Quereshi (she/her), former Editor of The List and writer with work appearing in Bella Caledonia, gal–dem, and more.
WORLD WIDE WEB
2020 had other ideas regarding everyone's travelling plans, but if the experience has proved anything, it's that you don't always need a passport to work across borders. Our group of international panellists is here to present a global perspective on publishing. They'll discuss how they have worked (and intend to continue working) on an international scale – pre, amid and post pandemic – and how they've had to adapt to these changing circumstances so they can continue to build reading communities.
Chair: Laura Waddell (she/her), UK Publishing Director at Tramp Press, Board Member of Gutter Magazine and Visiting Professor in Publishing Studies at City, University of London
Panellists:
Madelene Andersson (she/her), Literary Agent at Bonnier Rights representing Swedish, Finnish and Danish authors worldwide
Nathan James Thomas (he/him), Vice President of Marketing and Publicity at Exisle Publishing, Australia
Tina Narang (she/her), Children's Publisher at HarperCollins India
Regina Kammerer (she/her), Publisher at Luchterhand Literaturverlag & btb Verlag (part of Random House Germany)
MORE (THAN) TRADE WORDS, sponsored by The Chartered Institute of Editing and Proofreading (CIEP)
When we hear 'publishing', most of us picture trade books that we find in bookshops. But have you ever wondered what other options lie out there for publishing hopefuls? From education to academic, B2B to distribution and even our beloved comics, this panel – comprising bite-sized presentations – will provide an insight into the diverse fields that actually make up the publishing industry.
Chair: Jo Biggers (she/her), Marketing Executive at Bright Red Publishing
Panellists:
Davinder Bedi, Managing Director at BookSource
Sha Nazir (he/him), Publisher at BHP Comics
Jenny Brown (she/her), Founder of Jenny Brown Associates
Ross Stewart (he/him), Project Leader at Prepress Projects
Anna Glazier (she/her), Head of Marketing at Edinburgh University Press
DEAR PUBLISHING
Let's get into the nitty-gritty – from poorly placed barcodes on book covers and tiny font sizes to the larger issues of the lack of diversity within publishing, this pre-recorded series of open letters will allow members of the book community to raise the concerns they have with the publishing industry. But that's not all – a panel of publishing professionals will respond to these letters in the sister panel, With Best Regards.
Speakers:
Kelly Urgan (she/her), Freelance Editor
Scottish BAME Writers Network
Tom Hodges (they/them), Founder of Typewronger Books
Bushra Wasty, Book Blogger
WITH BEST REGARDS
We've heard from the book community about their gripes in Dear Publishing, and now it's time to give the floor to publishing professionals. In this panel, publishers, marketing and PR execs, and HR managers will discuss how they have been making strides in their fields and how the industry can work together to improve further. Current and future publishers, listen up! You can be a part of this change, so be a part of the conversation.
Chair: Claire Squires (she/her), Professor of Publishing Studies at the University of Stirling and Director of Scottish Graduate School for Arts & Humanities (SGSAH)
Panellists:
Laura Jones (she/her), Co-owner and Publisher of 404 Ink
Jamie Norman (he/him), Campaigns Executive at Canongate
Amy Wong (she/her), Production Controller at Bloomsbury
Raakhi Vadera (she/her), HR Manager at Pan Macmillan
PUBLISHING SHUGGIE BAIN
Picador's Camilla Elworthy and Ravi Mirchandani will be joining us to discuss their respective roles, as Publicity Director and Editor-in-chief, in publishing Douglas Stuart's remarkable Booker Prize-winning debut Shuggie Bain. The SYP Scotland Conference is the perfect place to shine a spotlight on this quintessential Glasgow story – the pride of Scottish publishing in 2020.
Chair: Euan Tait (he/him), Events Manager at The Portobello Bookshop
Panellists:
Ravi Mirchandani (he/him), Editor-in-chief at Picardor
Camilla Elworthy (she/her), Publicity Director at Pan Macmillan
Organiser of SYP Scotland Conference 2021: Ctrl Alt Refresh