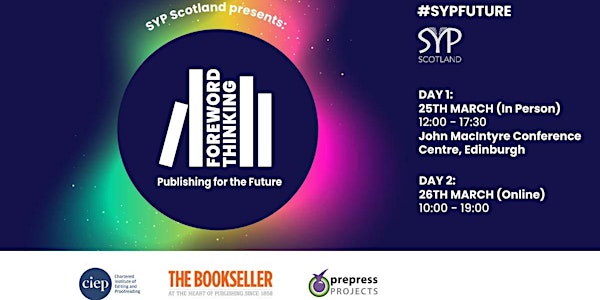 SYP Scotland Conference 2022 - Foreword Thinking: Publishing for the Future
Location
John McIntyre Conference Centre, The University of Edinburgh
18 Holyrood Park Road
Edinburgh
EH16 5AY
United Kingdom
Refund policy
Contact the organiser to request a refund.
Eventbrite's fee is nonrefundable.
SYP Scotland proudly presents its spring 2022 conference – Foreword Thinking: Publishing for the Future!
About this event
After the success of last year's virtual conference, CTRL ALT Refresh, which addressed the aftermath of the pandemic and the adaptations of the publishing industry as a result, we are back with a hybrid conference taking place in Edinburgh on Friday 25th March, and online on Saturday 26th March 2022.
There are a number of interesting talks and exciting speakers planned, as we will address the impact of the past on the progression of the industry, including changes for the better as we collectively navigate the future.
As our conference will be a hybrid model, all participants will be able to access each in-person panel online afterwards, to continue the important accessibility progress made during the pandemic.
SYP Scotland's conference will encompass relevant topics such as unions and workers' rights, demystifying the roles of agenting and scouting, and showcasing the varied publishing landscape in Scotland. There will also be panel discussions on long-lasting issues in the publishing industry.
For 2022, SYP Scotland will be anticipating the unanticipated, and presenting the future of publishing.
COVID-19: We will be requiring a negative lateral flow test + a vaccine passport for those attending the physical conference, plus following all Scottish government guidance around mask wearing and social distancing at the time of the event.
Accessibility info:
We will be offering limited free digital-only tickets for those from under-represented backgrounds or those whose income has been affected by the pandemic (email sypscotlandconf@gmail.com to request these – it is first come, first served).
Venue is accessible, with step-free access with lifts.
Digital panels will have Otter AI generated captions – and transcripts will be available for any videos on request.
Videos of the in-person and digital panels will be available to all ticket holders till 31 May 2022.
DAY 1: IN-PERSON CONFERENCE
Keynote Speaker: Amina Shah (she/her), National Librarian and Chief Executive of The National Library of Scotland
Is the Future Tense?
As we hit the two-year mark of the pandemic (yes, really…), we're looking resolutely ahead to the next two years and beyond. Facing the future head-on, our panel of publishers will chat about the obstacles and opportunities they foresee in the coming years – from the ongoing fallout from COVID and Brexit, to the once-in-a-lifetime chance to make our industry more sustainable – ultimately answering the question: is the future tense?
Chair: Andrew Lindsay (he/him), Publishing Assistant at the Royal Botanic Garden Edinburgh
Speakers:
Heather McDaid (she/her), Co-founder of 404 Ink
Nyla Ahmad (she/her), Reading Communities Manager at Scottish Book Trust
Meghan McCormack (she/her), Content Editor at DC Thomson Media
Interview Workshop
Are you always going to interviews and never getting the job? Do you feel frustrated that you never seem to know the magic words to say? Maybe you panic and your mind goes blank. In this workshop session, Suzanne Collier from bookcareers.com, who has coached 100s of people through successful publishing job interviews, will guide you through the interview process in this interactive session. Expect lots of tips and tricks and insider knowledge to ensure you feel confident to ace the whole interview process.
Conductor: Suzanne Collier (she/her), Founder of bookcareers.com
Hame Sweet Hame: Scotland's Publishing Landscape, sponsored by Publishing Scotland
Though Scotland is only wee, its global impact and wealth of talent are difficult to ignore. Take a deep dive into Scotland's thriving publishing scene and learn about the industry's dynamic ecosystem: from indie presses to larger companies and everything in between.
Chair: Fine Mayer (she/her), Product Manager for Twinkl Educational Publishing
Speakers:
Nicola Ramsey (she/her), Chief Executive at Edinburgh University Press
Jamie Norman (he/him), Campaigns Executive at Canongate Books
Eilidh MacLennan (she/her), Sales and Marketing Coordinator for Luath Press
John Anderson (he/him), Editor of Beano
In-person Networking Event: SYPBingo
DAY 2: DIGITAL CONFERENCE
Publishers Unite!: Trade Unions and Rights
Need someone to turn to for career advice? Ever wondered how to set your freelance rates? Maybe you want to spearhead change in the publishing industry? Join our panel to learn how trade unions and membership bodies can benefit you. As the pandemic continues to affect our lives and livelihoods, finding solace in community has never been more important.
Chair: Sam Missingham (she/her), Founder of Services For Authors and The Empowered Author
Speakers:
Heather Parry (she/her), Editorial Director of Extra Teeth Magazine and the Scottish Senior Policy & Liaison Manager for the Society of Authors
Samuel McDowell (he/him), Co-founder of Charco Press
John Toner (he/him), National Union of Journalists' National Organiser for Scotland
Jeda Pearl Lewis (she/her), Co-Director of Scottish BPOC Writers Network
PhDs: Formalised Curiosity
PhD researchers within Scotland are shaping the future of publishing: here, we'll hear about the research aims and findings of PhD candidates at Scottish universities, and discuss how their work could impact the industry going forward.
Presenters:
Christina Neuwirth (she/they), PhD Researcher at The University of Stirling
Helena Markou (she/her), PhD Researcher at The University of Stirling and Senior Lecturer and Subject Coordinator for the MA Publishing (via distance learning) at Oxford Brookes University
Cecilia Bennett (she/her), PhD Researcher at Edinburgh Napier University
Something to Scout About
Often seen as mysterious and niche roles in the industry, agents and scouts are fundamental players in the publishing game – keeping their fingers on the pulse of the book world, sourcing the next smash hits, and championing the work of their amazing authors. Join us as we dive into a day-in-the-life of literary agents and scouts, getting to the bottom of what they do and how they do it.
Chair: Jenny Brown (she/her), Literary Agent & Founder of Jenny Brown Associates
Speakers:
Jane Southern (she/her), Literary Scout
Gyamfia Osei (she/her), Agent at The Good Literary Agency
Robbie Guillory (he/him), Agent at Underline Literary Agency
Ros Ramsay, Managing Director of RR Scouting Ltd
Our Genderation
It's 2022, yet we're still fighting for greater representation in the industry, the rights of women and LGBTQIA+ folk, and equal pay. In an industry in which women make up 74% of the workforce while a gender pay gap remains, and every week sees more discrimination against trans people, just how well is the publishing industry doing to pay its dues to different voices? The panel will address the developments and continued challenges in this area and ask: how can we really improve inclusivity and representation within publishing?
Chair: Amalia Mihailescu (she/her), SYP UK Chair
Speakers:
Eris Young (they/them), writer
Jenny Niven (she/her), Chair of Literature Alliance Scotland
Mireille Harper (she/her), Editorial Director at Bluebird, Pan Macmillan
Julie Gourinchas (she/they), Agency Assistant at Bell Lomax Moreton
Trendspotting
Ever wondered how to spot a bestseller? Does publishing set trends or is it responding to what the readers want? In an industry so reliant on the consumer, it is key that publishers know their readers and can predict what the market wants. From book covers to BookTokers, newsstands to subscriptions, join our speakers as we explore what and who makes a trend and how the industry spots them before they happen.
Chair: Sarah Barnard (she/her), former SYP Scotland Co-chair and Administrator at Edinburgh College of Art
Speakers:
Miranda Jewess (she/her), Editorial Director at Viper Books, Serpent's Tail
Tom Hodges (they/them), Founder of Typewronger Books
Heather Leonard (she/her), Bookstagrammer
Mia Oakley (she/her), Campaigns Officer at Ebury (Penguin Random House UK)
Closing Performer: Mara Menzies (she/her), Performance Storyteller and Author
Closing Speaker: Douglas Stuart (he/him), Booker Prize-winning Author of Shuggie Bain
#SYPChat Twitter Networking Session