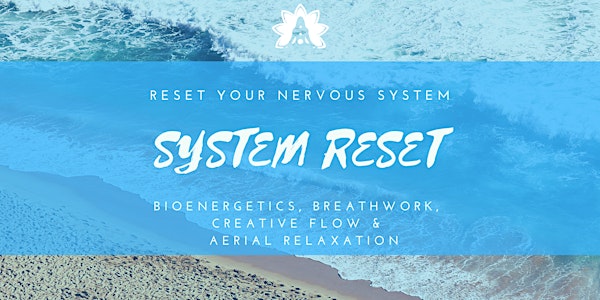 System Reset - Bioenergetics, Guided Meditation and Aerial Relaxation Pods
Location
Skylight Centre
49 Corsica Street
London
N5 1JT
United Kingdom
Transformational session combining 3-powerful methods. Tap into exceptional states of wellbeing! A Deep System Reset Experience.
About this event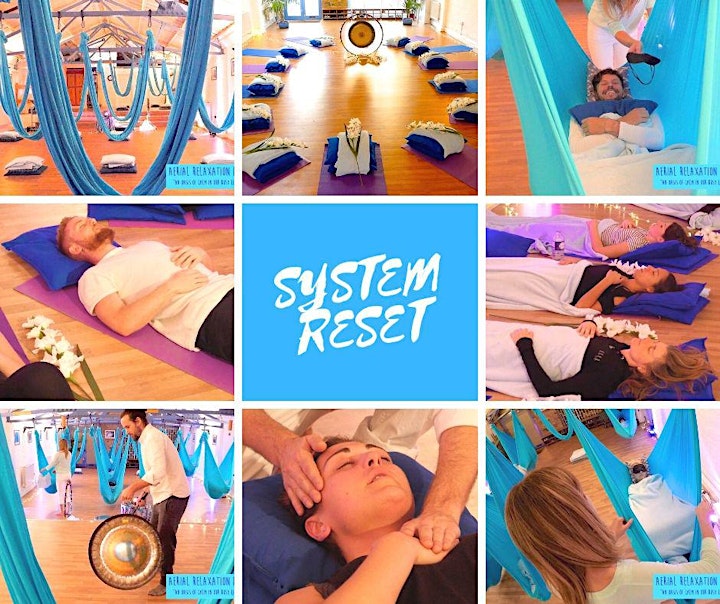 SYSTEM RESET - Bioenergetics, Creative Flow, and Aerial Relaxation Pods
UPCOMING DATES:
-We also run regular Thursday evening 'Aerial Relaxation Pods - Sound Journey in Hammocks' sessions, details and bookings here: https://www.eventbrite.co.uk/e/84883457707
➡️See all our upcoming wellbeing events calendar: ecstaticdancelondon.com/events
A Deep System Reset Experience... Breathe Deeply...
You are invited to join us for this transformational session combining 3-powerful methods that will invite you into a deep experience of yourself, and your life energy.
We'll be exploring:
1) Bioenergetic Alchemy™  - Bioenergetic Exercises for Grounding, Releasing Tension & Stress. 
2) Creative Flow Meditations - Access a state of ease and creativity
3) Aerial Relaxation Pods - Let Go & Relax in our gorgeous Hammocks!
"A truly unique, uplifting and beautiful experience!" - Previous Participant
**COVID UPDATE: PLEASE SCROLL DOWN (includes important details about yoga mats, blankets, cushions, eye pillows)
ABOUT SYSTEM RESET:
Release Stress and Tension, Nourish yourself with deeper relaxation, and go on a transformational journey with guided Creative Flow Meditations within our glorious Aerial Relaxation Pods.
Discover effective methods for releasing Stress & Tension through Bioenergetic Alchemy exercises.
Explore Bioenergetic Breath(circular, connected breath) as a way to peel back the layers of the self, connect to essence, and embrace every part of yourself.
Learn the foundations for accessing Creative Flow states, and experience two guided meditations.
Be supported by our Aerial Relaxation Hammocks while you dive deep into the relaxation Journey. A very unique experience!
Treat yourself to this simple yet extraordinary work!
Our monthly SYSTEM RESET - Bioenergetics, Creative Flow & Aerial Relaxation sessions are a wonderful invitation to both energise and deeply relax. Awakening and rejuvenating your body, your mind and your entire nervous system. 
It is also a safe and healthy way to reach altered states of consciousness, allowing a participant to access their Higher Self and some of their most positive memories. Doing so offers one the opportunity to tap into exceptional states of wellbeing!
Through the use of Bioenergetics grounding exercises, Creative Flow meditations, each individual is the leader of their own journey. 
Our facilitation includes space-holding, sound healing, affirmations, aromatherapy and guided meditations to assist in this personal process. At the very least, the experience will be relaxing and detoxifying… and at most, life-changing!
*Respectfully Socially Distanced & Covid compliant*
FACILITATOR, VENUE, PRICES:
Facilitated by: Seth Newman
As a coach, Seth is dedicated to helping people calm, empower and rejuvenate their busy minds and bodies to achieve the best versions of themselves. Seth brings a wealth of experience holding heart-centered spaces.
In addition to guiding people on their life journeys, he enjoys helping clients design lifestyles of optimal health and balance with creative living practices.
Seth has been running various body-mind integration classes and workshops for many years. His inspiration comes from many sources including Humanistic & Body Psychotherapy, the Human Potential Movement, 5 Rhythms, Tantra and Active meditations.
Address: The Skylight Centre, 49 Corsica St, Highbury East, London N5 1JT (closest Station Highbury & Islington)
Time: 7.15pm - 10pm (please arrive 5 min before the start of the session as there is no waiting room)
Prices: £35 Super Earlybird / £40 Earlybird / £50 Regular price
Payment: Please book via Eventbrite (very limited spaces, advance booking is essential as we have limited capacity for these classes)
If you have any questions please feel free to send us an email: youareyoubeyou@gmail.com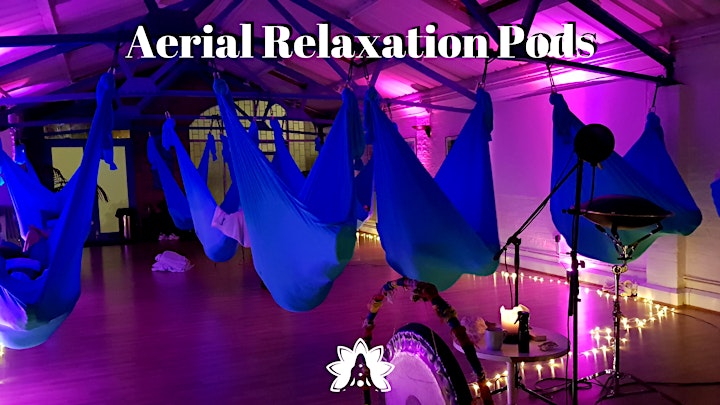 FEEDBACK FROM PREVIOUS CLASSES:
"A wonderful session, very recommended! Seth and Dee create a calm, magical space where you receive natural healing energy of relaxation and music. Flowing gently in the light hammock helps to recreate the atmosphere in the womb or in early childhood when you are loved, safe and protected. This experience will bring you healing on several levels: physical, emotional, mental, relaxation, connection to your inner self and your angels. Many thanks for organising such a unique and absolutely fulfilling experience. I will definitely come again." - M.Zhuravleva
"Thank you so much Seth and Dee -  I felt so comfortable in the hammocks, I was worried that I might be claustrophobic as it looks tighter in the picture but not at all, the material feels great and you can breathe freely.  The music and singing were great and brought up emotions & different states: somewhere I actually forgot where I was.  Also had some physical trembling in my body and movement of energy, which surprised me.  I left the session feeling relaxed and expanded and very present!  Woke up feeling good in my body and very rested.  A lovely experience." - Alexandra
"Being someone who is always on the move and finds it very difficult to relax, I found this session to be really valuable 'me time!' Initially, I found it difficult to let go and unwind where the muscles in my arms and legs were contracting. After a few minutes, I started to drift away into a soft slumber which was deeply relaxing. Despite this my senses were heightened and I became very conscious of the sounds that seemed to travel through my ears, vibrating all the way into my body. The gentle movements of the hammock with the music in the background made me feel like a young infant being rocked to sleep. A wonderfully calming and soothing experience, with the added bonus of not having to put in any physical effort. Great! I look forward to more of this."  - Navpreet
"Words are inadequate to express the uniquely nurturing experience I had during your class... and the music was amazing! The feeling of being securely wrapped in a silk hammock from head to toe, suspended in the air, slowly rocking, with the gentle breath meditation, the crystal bowls and the ambient music created a sublime and profound atmosphere. It was as if I was in a cocoon of total support, allowing peace to flow into my entire being." - Alison
"This was one of the most powerful things I have done in ages. It has really shifted something for me. This morning I keep bursting into giggles! Thank you so much to Seth and everyone else who held the space."
"Powerful stuff. Highly recommend giving it a go."
"What an incredible time I had last night! When I arrived, I was feeling very low and in my head. The Bioenergetic Alchemy session brought me back to my body and allowed me to connect to some suppressed sadness. I feel alive, connected and expanded. I cannot put into words my deep gratitude for this experience!"

PLEASE NOTE:
1) Strictly no latecomers! - Sorry, please arrive on time! Unfortunately, if you are more than 10 minutes late, you will not be allowed entry, (and there can be no refunds if you are more than 10 minutes late, very sorry!) as we need to make it a calm & peaceful space for people who are already here.
2) Please only arrive 5 minutes before the start of the session, as there is no waiting room.
3) No Refunds. Last minute refunds are not available as we need to have enough time to fill the space left - at least 1 week's notice. You are welcome to pass on your ticket to a friend, colleague or family member however please let us know the name and email address of the person attending in your place for track & trace purposes.
4) Clothing: Please wear a sleeved shirt that covers the armpits and leggings or yoga trousers that cover your knees. Wear form-fitting clothing. Please do not wear baggy clothing as they can snag and catch on the sling's fabric causing accidents. Ensure that your clothing is "zipper free" and remove all jewellery (body piercings, watches and hair clips etc). These items can snag and damage the silk hammocks.
5) Weight limit is up 300 pounds (140kg).
6)This session is not suitable for pregnant women, people with pacemakers and other therapeutic electronic devices or persons suffering from severe mental health issues due to the vibratory nature of the session. Please seek advice from your GP if you have any concerns prior to attending our session.
WHAT TO BRING:
1. Loose-fitting clothes that let you move your body and free yourself. Please come already dressed in comfortable clothing and dress in layers. There are bathrooms at the venue but no changing rooms.
2. Main space is a shoe free zone - please wear socks, soft indoor shoes or grip socks.
3. A Reusable water bottle to keep hydrated during the dance. Tap water refill available at the venue.
4. You can wear a face covering during the sessions if you choose to.
5. Yoga mat, Blanket & Cushion - we will provide clean ones however you are welcome to bring your own if you prefer.
6. We will provide a clean eye mask/eye pillow. You are welcome to bring your own if you prefer.
-->If you have any questions please feel free to send us an email: aerialrelaxationpods@gmail.com or youareyoubeyou@gmail.com
COVID SAFETY GUIDELINES & PREVENTION MEASURES:
- If you are showing any Covid -19 symptoms, please do not attend. Any participant repeatedly coughing in the space will be asked to leave immediately.
- You can wear a face covering during the sessions if you choose to.
- Please come already dressed in comfortable clothing ensuring your knees, armpits and torso are covered, and with a bag for your belongings. There are bathrooms at the venue but no changing rooms.
- We will provide antibacterial wipes and hand sanitisers at the venue. Please wash your hands regularly and use the hand sanitiser supplied upon entering the venue.
- All touch hotspots will be regularly cleaned with disinfectant between each session.
- All hammocks will be disinfected with antibacterial spray between each session.
- We will provide clean lavender eye pillows with washable covers. You are welcome to bring your own eye pillow/ eye mask.
- Blankets and cushions: we will provide clean set. You are welcome to bring your own blanket and cushion.
- Yoga mats: we will provide clean mat. You are welcome to bring your own yoga mat.
- Venue has skylights that will be opened to allow more air flow in the space.