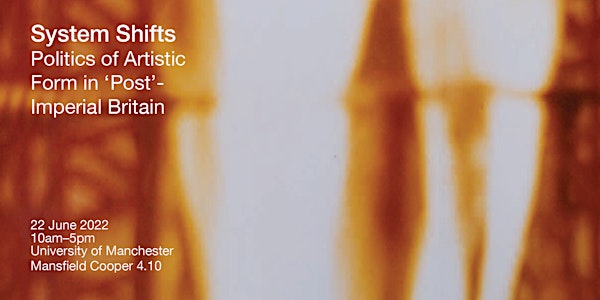 System Shifts: Politics of Artistic Form in "Post"-Imperial Britain
Location
Mansfield Cooper Building, University of Manchester, Room 4.10
Oxford Road
Manchester
M15 6EX
United Kingdom
POSTPONED DUE TO RAIL STRIKES
About this event
A seminar organised by Kylie Gilchrist and Dr. Luke Skrebowski from the Dept. of Art History & Cultural Practices, University of Manchester
While the histories and ongoing effects of empire have become major areas of art historical focus, the 1970s remains an overlooked decade in this growing field of scholarship. Partly fuelling this oversight is the common narrative of the 1970s as a period marking the end of Britain's empire. This seminar instead asks how the British empire's breakdown abroad spurred imperialism to turn inwards, manifesting domestically in an upsurge in racist discourses and institutionalized practices, deepening conflicts in Northern Ireland, and new state techniques of social control and 'crisis management'. It explores how artistic responses to this context entailed a radical rethinking of art: a repudiation of formalist and object-based practices in favour of conceptually-driven artistic tactics that increasingly engaged social systems as both artistic material and locus of critique. This seminar invites reflection on the ways these new artistic modalities critically engaged the internal recodings of imperialism, seeking to articulate the 1970s as a period of interconnected 'system shifts' in Britain's artistic practices, socio-political situation, and geopolitical position.
Date, Time, Location:
POSTPONED due to the rail strikes the week of the 20-25th June.
New date TBD.
University of Manchester
Mansfield Cooper Building, Room 4.10
Speakers:
Alina Khakoo (University of Cambridge)
British Asian Artists in the Aftermath of the 1970s
Kylie Gilchrist (University of Manchester)
Forming Relations: Rasheed Araeen and the Politics of Participation
Adeena Mey (University of the Arts London / Afterall)
The Cybernetisation of the Exhibition
Lynn MacRitchie
Artists for Democracy: A Tale in Two Parts
Luke Skrebowski (University of Manchester)
Picturing the Troubles, Picturing the System: Conrad Atkinson in Northern Ireland
Catherine Spencer (University of St Andrews)
'We have more information of activity in Buenos Aires than we have of activity in England': Art Systems in London and 'Latin America'
Moderated by Alice Correia
This seminar is generously supported by the Northwest Consortium Doctoral Training Partnership and the University of Manchester.
Poster image: Rasheed Araeen, Burning Ties [Detail], 1976/79. Courtesy Grosvenor Gallery and Rasheed Araeen.