Systemic praxis for water governance: Unnecessary or essential?
Dr Sharon Pollard reflects on the use of systems praxis for resilience-building in an environment of weakening governance in south Africa
About this event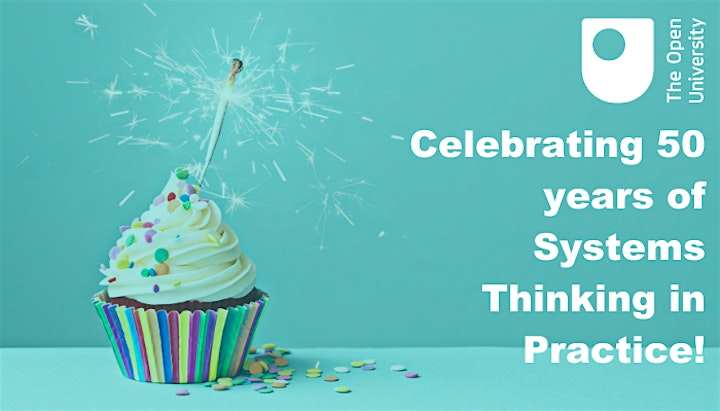 In 1971, the Open University in the UK pioneered academic education with the creation of the department of Systems Thinking in Practice, or STiP, that presented a widening range of Systems lineages, approaches and tools over time. Since then, nearly 50,000 students have studied STiP modules, and many systems resources can be found on the OpenLearn and FutureLearn platforms.
After 50 years, the Open University offers a thriving postgraduate suite of qualifications in STiP, supported by internationally acclaimed academics. Developing STiP capabilities appear to be increasingly essential to make sense, strategise and improve problematical situations in all areas and at all levels, from global human-induced climate change to domestic violence through community health services or business viability.
Please join us in the 2021 event series that celebrate the STiP Jubilee of the Open University. We look forward to your participation in fruitful conversations to appreciate the value of STiP for the betterment of all lives in Home Earth.
About Dr Sharon Pollard:
Dr Sharon Pollard is the Executive Director of the Association for Water and Rural Development (AWARD) based in South Africa. Sharon and AWARD conduct pioneering research and advocacy work using systems thinking in practice in domains such as water and food supply, climate adaptation, biodiversity conservation and evaluation principally in rural areas and with underprivileged communities in South Africa. Sharon has recently led AWARD through the delivery of an ambitious programme of applied/action research in the US$8.5 million project RESILIM-O, to enhance the governance and resilience of the Olifants River Catchment. She has a strong background in the water sector with a special focus on integrated catchment management planning and implementation.
Want to keep learning about STiP? Check out our OpenLearn platform that offers free courses on hundreds of subjects, including STiP!
#OUSTiP #OUSTiP50
Privacy Notice - Open University Events booked through Eventbrite, document owned and updated as necessary by the Data Protection team.
About Dr Sharon Pollard's talk:
Despite the progressive and enabling legislative and institutional framework for integrated approaches to water security, there is growing evidence that the integrity of many river systems in southern Africa is declining. Such trends resonate with global concerns of water security given an increasingly complex and dynamic context within which water governance is required to act. The normative framing of problems as simple causalities, together with linear thinking and practices continue to dominate despite increasingly complex governance domains and outcomes that throw into question such approaches.
This talk describes experiences of a large, transboundary seven-year initiative in southern Africa designed to counterpoint reductionist praxis through the explicit adoption of systemic, social learning approaches. The RESILIM-Olifants Programme aimed to build the resilience of people and ecosystems to climate change within the highly degraded Olifants River Basin shared between South Africa and Mozambique. We share insights and challenges of grappling with such a framing for programmatic design and implementation where the team attempted to fully engage with what this means, not only for ways of thinking but also for ways of working and interacting with stakeholders, as well as for internal governance and meeting monitoring and evaluation obligations. Novel programmatic and project design features were deployed from the start, drawing both support and critique. We reflect on how this evolved in practice where emergence and surprise throughout the programme required reflection, learning and innovation – all traits that are enabled through systemic praxis. Sharon reflects on the use of a systemic framing in seeking transformation in river governance, and what was enabled as well as the challenges that emerged for systemic practice and offers some insights on potential ways forward.
Organiser of Systemic praxis for water governance: Unnecessary or essential?
We aim to be as inclusive as possible for all our public-facing events. However, there may be times when an event is for students only, or is aimed at a certain age group- please read the individual event descriptions to find out if it is right for you. We always like to encourage engagement during our events; if you are watching via a social media platform, please use the chat function to share your comments and questions. If you are experiencing technical issues, please email us through Eventbrite- but note, we are a small team and will try our best to respond to queries during a live event.
Please note that while we aim to begin all of our events on time, there might be a slight delay, so stay patient and the event will start shortly. If you are still experiencing issues, try refreshing your browser. Nearly all of our events are recorded and available to watch after- whichever social platform you choose to watch on will also host a recording of the session.