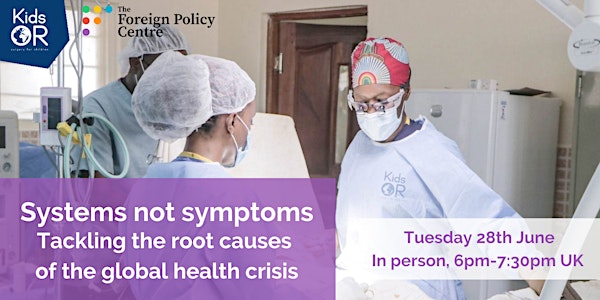 Systems not symptoms: Tackling the root causes of the global health crisis
Location
Commonwealth Parliamentary Association UK Room
Houses of Parliament
London
SW1A 0AA
United Kingdom
Organised by Kids Operating Room and the Foreign Policy Centre.
About this event
This event will examine how best to strengthen health systems in developing countries and the role the UK can play in supporting such initiatives.
Speakers:
Dr Neema Kaseje, Founding Director of the Surgical Systems Research Group in Kisamu, Kenya and a visiting surgeon for Kids Operating Room and for Doctors Without Borders
Ben Simms, CEO of the Tropical Health and Education Trust (THET)
Professor Dina Balabanova, Professor of Health Systems and Policy at LSHTM
Chair: Preet Kaur Gill MP, Shadow Secretary of State for International Development
The Government's 2021 Integrated Review identified Global Health as one of its 12 strategic framework areas that will see a new British approach. Under the heading 'Global Health' it states that 'we will work to strengthen global health security, including through the Prime Minister's five-point plan to bolster international pandemic preparedness. We will seek reform of the WHO, increasing our funding by 30% to £340 million over the next four years, and we will prioritise supporting health systems and access to new health technologies using our Official Development Assistance (ODA).'
The G7 Carbis Bay Health Declaration took this focus on systems forward but with a clear and unsurprising focus on preventing future pandemics. However, this shift has helped to spur the publication of the FCDO's Health systems strengthening for global health security and universal health coverage.
This event aims to address the findings of the FCDO's policy paper that makes a UK commitment to health system strengthening. The event will look at the role local surgical capacity and expertise plays in strengthening the wider health system. It will explore practical examples from across the developing world of interventions that have helped build the capacity and resilience of healthcare systems.
The event also seeks to look at the way in which the UK currently supports global health initiatives, such as GAVI, and the extent to which health systems are prioritised compared to disease-specific interventions within current aid spending, set in the context of the recent reductions in UK aid. It will assess the role played by international financial institutions and UN bodies in shaping, investing in and implementing health interventions around the world with a focus on how to strengthen the WHO and address the political and institutional challenges it faces.