Tablet weaving basics including how to manage warp tension & manage weft selvedges in a simple patterned braid. included. Materials incl .
About this event
Learn the basics of this ancient textile weaving technique which can be traced from several centuries BC up to the present-day.
You will learn the basic weaving technique of tablet rotation in order to produce a decorative 'threaded-in' braid, including how to maintain warp tension and manage weft selvedges. The tablet weaving workshop introduces a low-tech way of creating narrow bands and braids which can be used to form ribbons, laces, bookmarks, bracelets and much more. Bands can be sewn together to make larger pieces.
We will be working in cotton perle in order to gain understanding of the weaving techniques through a 'user-friendly' fibre.
This is an adult beginner's workshop and includes materials including the tablets used during the workshop which you will be able to take home. Subsequent workshops can be offered dependent on interest, to deal with how to read a tablet-weave pattern draft, setting up your own warp from scratch, weaving with other fibres such as wool, silk or linen, and designing your own patterns.
Additional workshops offered by the Silkewoman on request include Fingerloop braiding, Period Embroidery Techniques, Goldwork Embroidery, and Netting as well as period specific plain hand-sewing techniques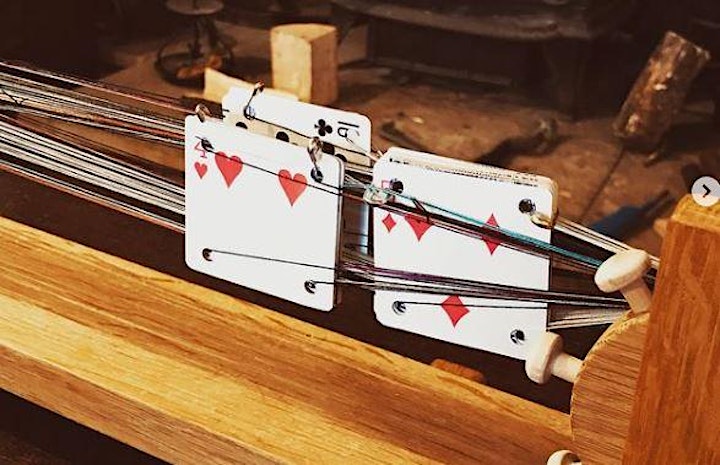 Organiser of Tablet-Weaving - full day beginner workshop 10am-4pm
'She seeketh wool and flax , and worketh willingly with her hands' (Proverbs 31:13)
The Silkewoman at Medieval Needle: Sue is a demonstrator and practitioner of insanely time-consuming historic silkwork serving museums, historic sites and interested individuals. She loves teaching these ancient skills to anyone who is interested, as long as they have exceeded the ripe old age of seven! (Eight or more, is even better)
Self-taught, and with a lifetime of love for beautiful natural fibres together with a behemothic respect for the original fifteenth century silkwomen of London (and wider European cities), Sue has an insatiable curiosity to delve into the past and find out more about these extraordinary women, many of whom left behind a fascinating written record. They not only learnt and passed on these artisan skills over many years but lived and worked as independent business owners at a time when most women had few rights.
Textile objects researched and created by Sue include hand-knotted silk mesh hairnets; narrow-ware including tablet-weaving and finger-loop braiding; tassels and buttons.
She is also an experienced hand embroiderer who takes commissions for other decorative textiles including bags, banners, standards, badges, cushions, boxes to name but a few.