Event Information
Refund Policy
Refunds up to 7 days before event
Eventbrite's fee is nonrefundable.
About this Event
Join us for this two day online CPD day to explore the single biggest challenge facing the landscape and built environment professions: how to tackle the climate emergency.
Our expert speakers will offer global perspectives on the challenges – and actions needed – in mitigating climate change and adapting working practices in light of climate risks. Learn about the inter-relationship between COVID-19 and climate change, the value of biodiversity in cities, nature-based approaches in the built environment, legislative impacts and practical solutions to climate mitigation – and more.
Day One will focus on global perspectives on climate change – what are the international challenges and implications for economic growth? How could COVID-19 help climate? How should we re-envision our cities? What should a green recovery look like?
Click here to view the programme for Day 1
Day Two will be a practical examination of some of the responses available to professionals, with sessions on sustainable planting and design, plant health and biosecurity, and the impact of Schedule 3 eighteen months on.
Click here to view the programme for Day 2
Both days will run from 9:30am - 4:00pm.
Day One sessions:
Our keynote speaker, Ugandan climate activist Hilda F Nakabuye, on the actions we need to undertake as individuals in order to join the fight against climate change.
'Climate Change: An International Challenge'. Three expert speakers will explore climate change from an international perspective and the challenges we face as a global community. What are the impacts of climate change induced migration? How could COVID help avert a climate emergency? – with Maimunah Mohd Sharif (Executive Director, United Nations Human Settlements Programme), Ignace Schops (Europarcs and Climate adviser to the UN) and Jane Hutt (Deputy First Minister and Chief Whip for the Welsh Assembly)
Eric Jan Pleijster (LOLA Landscape Architects), on 'Nature Inclusive Design and Climate Change - Adapting a City'
'Green Recovery from COVID-19' - Can economic recovery be aligned with climate and biodiversity protection? How do we tackle the climate and biodiversity emergency? How do we place climate change mitigation at the heart of economic growth? - with Dr Ashley Gorst (Senior Economist, Vivid Economics), Nigel Riglar (ADEPT), hosted by Jane Findlay (President, Landscape Institute).
Anthony McGuigan (Paul Hogarth Company) on 'Valuing the Nature on Our Doorstep'
Join our sponsors Hardscape, Jupiter Play and GreenBlue Urban to debate the climate challenge from a manufacturer's perspective. Learn about embodied carbon and supply chain with Mat Haslam (Hardscape). Discuss the future of play and green spaces with Kristina Causer (Jupiter Play). Explore how tree planting at scale can assist with climate adaptation - Howard Gray (GreenBlue Urban).
'Climate emergency – bringing together the personal and the professional' - Claire Thirlwall (Thirlwall Associates) in discussion with Paul Lincoln (Landscape Institute).
Day Two sessions
Our keynote speaker Baroness Julia Brown (Chair of the Adaptation Committee, Committee on Climate Change) will lead the conversation on 'Adapting to Climate Change' and the importance of nature-based approaches in the built environment.
'Sustainable Planning and Design'. Three expert speakers will consider the crucial role landscape architects play in designing a sustainable future and how to plan for large scale infrastructure in the age of climate crisis. Andrew Grant (Grant Associates) on landscape design and the climate and biodiversity crisis; Dr Xiangyu Sheng (GL Hearn) on how to plan for large-scale infrastructure in the age of climate crisis; Romy Rawlings (Vestre) on why material specification is at the core of sustainable design.
Join Dr Nigel Dunnett (University of Sheffield), Lisa Smith (DEFRA) and Sue France (Pictorial Meadows) to debate planning, designing and managing plant health through the lens of climate adaptation. How can we green the grey? How does the biosecurity crisis impact tree health? What are 'seeded landscapes'?
Michelle Johnson, Rhodri Powell and Mark Goodger (Caerphilly County Borough Council) will give their insights on 'Sustainable Drainage Approval Body - Experiences in first 18 months after Commencement of Schedule 3'
Deep dive into 'Adapting to climate change risks through flooding and water management'. Kotchakorn Voraakhom (Landprocess) on porous landscapes and the water resilient city; Scott McAuley (Anthropocene Architecture School and Extinction Rebellion) on resilience, water and action; Charlotte Markey (Polypipe) on green blue infrastructure and engineered approaches to embedding biodiversity and climate resilience.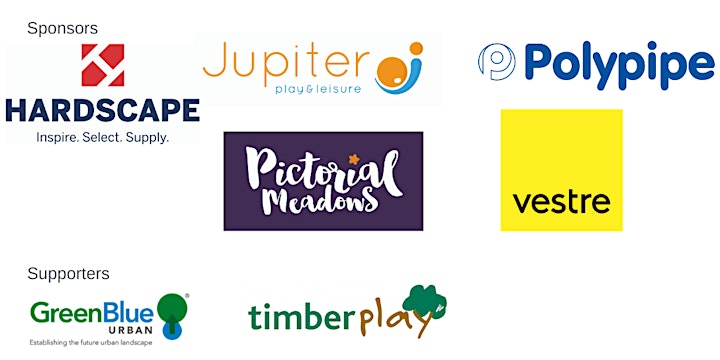 Date and Time
Location
Refund Policy
Refunds up to 7 days before event
Eventbrite's fee is nonrefundable.