About this Event
An integral part of the CLAHRC NWC is to organise events to support the dissemination of knowledge and innovative practice to help improve services, public policy and community health. The CLAHRC NWC Public Health Theme is pleased to provide an opportunity on 31st January to present findings from the Neighbourhood Resilience Programme's work on systems resilience and employment.
The event aims to highlight the practical realities faced by those who have a job and those looking for employment. It brings together learning from using arts based narrative to explore employment vulnerability and identify system based action.
As well as sharing our own experience, we will be hearing from people with on-the-ground examples of effective action at a local level to help address employment challenges and link with health inequalities and wellbeing. We will be exploring the importance of collaborating at a systems level to have impact.
Who is this for:
Employers, Local Authorities, community organisations, third and public sector agencies, activist groups and those searching for employment?
This learning exchange workshop will be an opportunity to generate in-depth discussions, share ideas and provide examples of good practice for others working in similar organisations or with similar experiences.
Parking is available close by the venue, which is also close to Preston Rail Station, and refreshments and lunch will be provided.
Please e-mail k.khan4@lancaster.ac.uk with any dietary requirements. These must be received by 15 January 2019.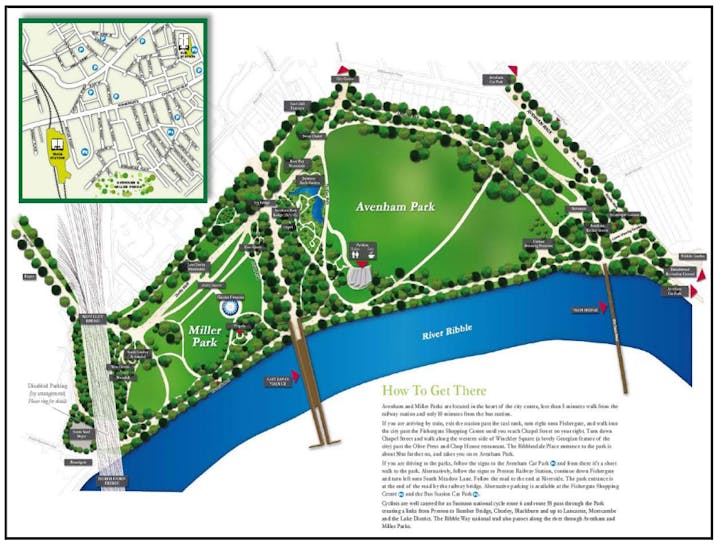 HOW TO GET THERE
Avenham and Miller Parks are located in the heart of the city centre, less than 5 minutes walk from the railway station and only 1 minutes from the bus station.
If you are arriving by train, exit the station past the taxi rank, turn right onto Fishergate, and walk into the city past the Fishergate Shopping Centre until you reach Chapel Street on your right. Turn down Chapel Street and walk along the western side of Winckley Square past the Olive Press and Chop House restaurant. The Ribblesdale Place entrance to the park is about 50m further on, and takes you on to Avenham Park.
If you are driving to the parks, follow the signs to the Avenham Car Park and from there it's a short walk to the park. Alternatively, follow the signs to Preston Railway Station, continue down Fishergate and turn left onto South Meadow Lane. Follow the road to the end at Riverside. The park entrance is at the end of the road by the railway bridge. Alternative parking is available at the Fishergate Shopping Centre and the Bus Station Car Park