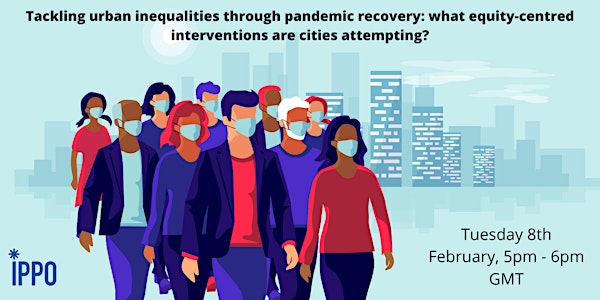 Tackling Urban Inequalities through Pandemic Recovery
Tackling urban inequalities through pandemic recovery: what equity-centred interventions are cities attempting?
About this event
About this event:
As cities emerge from the darkest days of the pandemic, a key challenge for their leaders is how to ensure the many interlinked inequalities that have been amplified by COVID-19 continue to be addressed for the long term. This means not only making sure that policy responses do not adversely affect already disadvantaged communities, but using the post-pandemic context as an opportunity to institute equity-centered recovery and development strategies.
Drawing on recent initiatives such as equitable budgeting and the latest applications of intersectionality, this event will encourage city officials from around the world to share their examples of using targeted interventions to tackle urban inequalities – how they approached it, what tools they used, and what the outcomes have been.
This event will take place at 5pm GMT on Tuesday 8 February 2022. It is the second in a series of global, virtual events hosted by IPPO Cities, a new global observatory of city-level policy responses to COVID-19 supported by Bloomberg Philanthropies.
Specific questions we will discuss at this event include:
How can cities ensure that long-term COVID recovery strategies target those communities who need them most?
What are the most effective tools, such as budgeting and social prescription, for promoting more equitable social outcomes?
What data strategies have been most effective in highlighting needs and monitoring outcomes?
Please register your interest now – this will ensure you receive a full briefing pack ahead of the event. And in the meantime, if you have any questions about this event or IPPO Cities more generally, please email the project lead, Mike Herd, at mike.herd@ucl.ac.uk.
About the International Public Policy Observatory:
IPPO Cities is part of the International Public Policy Observatory (IPPO). With headquarters at University College London (UCL) and partners in all four UK nations and around the world, IPPO aims to mobilise and assess evidence from different geographical and institutional contexts to inform policymakers at all levels about the best ways to mitigate the social harms associated with COVID-19. The research that IPPO undertakes and commissions is shaped and framed by numerous and diverse conversations with decision-makers. These interactions help us to identify important questions and issues that can benefit from rigorous knowledge synthesis, drawing on research and expertise from around the world.
For information about UCL's privacy practices and how UCL uses your data, please see the UCL General Privacy Notice.