Kintsugi Hope Youth : Tackling Youth Mental Health
About this Event
Kintsugi Hope Youth presents Tackling Youth Mental Health. An evening seminar with youth mental health experts Erin Docherty, Rae Morfin, Olu Oyerinde, Judith Bell and Patrick Regan.
The evening will allow questions from the Live YouTube Stream, useful practical tips from leading mental health experts and information about Kintsugi Hope Youth.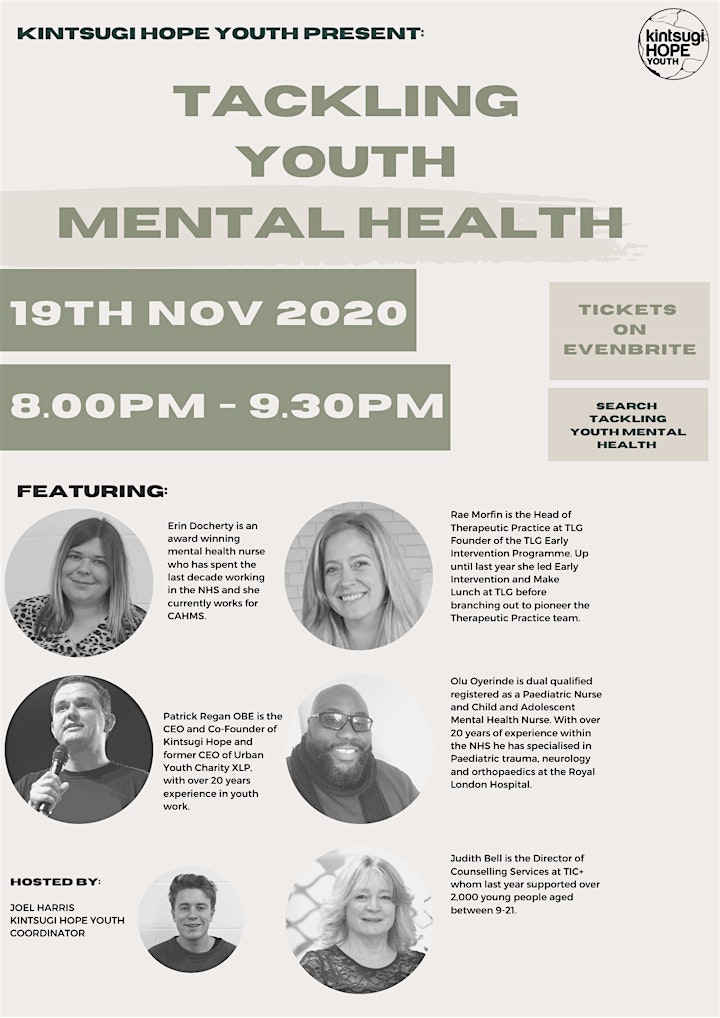 Erin Docherty
Erin is an award winning mental health nurse who has spent the last decade working in the NHS. She is currently a clinical lead nurse within Child and Adolescent Mental Health Services.
Rae Morfin
Head of Therapeutic Practice at TLG and Founder of the TLG Early Intervention Programme, Rae is a trained primary school teacher, trauma informed coach and is the author of a number of children and teen coaching resources, including 'The Emotional Rollercoaster'. Up until last year she led Early Intervention and Make Lunch at TLG before branching out to pioneer the Therapeutic Practice team.
Olu Oyerinde
Olu Oyerinde is dual qualified registered as a Paediatric Nurse and Child and Adolescent Mental Health Nurse. With over 20 years of experience within the NHS he has specialised in Paediatric trauma, neurology and orthopaedics at the Royal London Hospital. He has led assertive outreach teams across Oxfordshire and Buckinghamshire and currently works for the East London Foundation NHS Trust, leading a team within the Conduct (Behavioural) pathway. Olu is also a seasoned minister overseeing the youth ministry UK wide for his Church, Christian Life Fellowship. Olu's passion and drive is to see young people achieve in the midst of doubt, hopelessness and adversity.
Judith Bell
Judith is the Director of Counselling at TIC+, a mental health charity providing counselling to children and young people. Working in close partnership with Gloucestershire NHS Child and Adolescent Mental Health services TIC+ now delivers support to over 3,000 young people and their families each year. Judith is passionate about ensuring children and young people get early, independent access to mental health support. Over the past eight years under Judith's leadership and in collaboration with the young people it serves TIC+ has pioneered an innovative face-to-face and online counselling pathway, and more recently an anonymous online helpline service. The TIC+ Parent Support and Advice Line also provides much needed support for parents worried about their child's mental health.
Patrick Regan OBE
Patrick is CEO and co-founder of Kintsugi Hope which came about following a series of personal trials and ill health affecting Patrick and his family. Prior to that, Patrick led urban youth charity, XLP which he also founded in 1996 and ran for 21 years.
He received the Mayor of London Peace Award in 2010 for his valuable contribution towards peace and justice and was also awarded an OBE from her Majesty the Queen for services to young people.
He is the author of five books. In his latest book, "Honesty Over Silence", Patrick opens his heart on very personal issues, while exploring the importance of holding onto our faith and God in challenging times.
Joel Harris
Joel is the Youth Coordinator for Kintsugi Hope and has written and produced the Kintsugi Hope Youth Wellbeing Group materials. In his spare time he loves to travel and capture life through video and photography.