Description
The 'must attend' tournament of the year.
Be one of the next 10 teams to register and win a Limited Edition TagFest Series 2020 Ball .
After much success in 2019, Try Tag Rugby strives once again to host the most engaging, efficient, enjoyable and all-inclusive Tag Rugby tournament to have ever graced our shores.
Tagfest London 2020 is officially 'locked in'; make sure it's in your calendar as well. Over the coming months, Try Tag Rugby will announce, through social media, additions to TagFest London 2020 in the form of all things entertainment.
Rest assured, we can already confirm multiple bars onsite, plenty of food vendors, a new tournament format, a new tournament location and an even later license. We look forward to welcoming over 100 teams to Tagfest London 2020 from the UK, Ireland, France and beyond.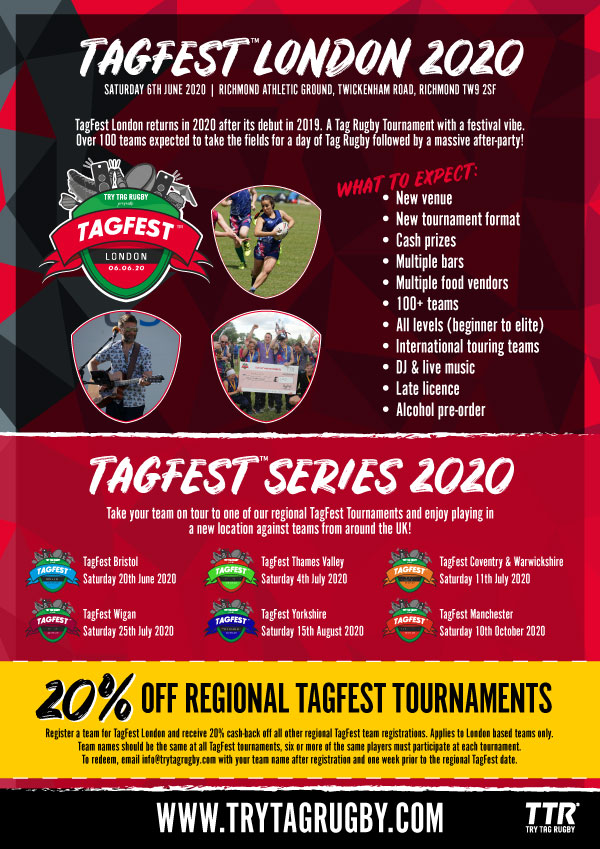 (Click image to enlarge)
Format
TagFest London 2020 will run a staggered tournament with varying start and finish times. Games will start from 10:00am with the Tier 1 final concluding on the main ground, in front of the grandstand. Presentation will take place shortly after the final.
All teams will play through the pool stages and will progress in to the 'knockout' stages of the quarterfinals. From this stage forwards, only winning teams will progress to the next rounds whilst those not progressing can enjoy an early trip to one of the bars.
Seeding
Teams will be seeded at the discretion of Try Tag Rugby and based on the players registered in Eventbrite to represent the team on the day. Teams will not be able to change a player or add a player without prior permission after May 26th. Incomplete squads may find themselves being seeded higher than expected.
All Tiers
(7-a-side), all teams will be mixed open competitions
Maximum of 12 players per squad, minimum 3 female on the pitch at any one time
Tier 1
Try Tag Rugby's extended rules will apply to this division (7-a-side still applies).
Beginner Tier
To qualify for this Tier, teams must be made up of players that have not played prior to 2020 (exception allowed for up to 2 'more seasoned' players)

Individual Registration

If your usual team can't play or you just fancy a bit of a change, don't worry, you can always register for the tournament as an individual and we will assign you to a bespoke Individual's Team of a similar standard.
If you have a couple of mates and want to play together as part of an individual's team, sign up and drop a line to info@trytagrugby.com with the players names.
Saturday Leagues
No Saturday Leagues will take place on this date, as such, the tournament will kick-off at 10:00am and conclude late afternoon. This is the big one folks, the post tournament party will begin and continue late into the night with live music and DJ playing your favourite tunes.
Food & Drink
Try Tag Rugby recognise some of the challenges at Tagfest 2019 and these have been addressed. Multiple bars, multiple food vendors, staggered lunch and finish windows have all been accounted for as well as the opportunity to pre-order cases of cider or lager when you register your team. That's right, pre-purchase a case and you can pick it up when you have finished your tournament, no queues, no fuss. With this in mind, all players and spectators are advised that they will not be able to bring any food or alcoholic beverages on to the property.
Venue
Try Tag Rugby are excited to have secured a venue with great pitches, great scalability and great access for all teams whether travelling by Tube, Overground, Car, Bus or from overseas. Only 5 minutes walk from Richmond train station which benefits from the overground (Richmond - Waterloo in 20 minutes), the District Line on the Underground, numerous bus routes and Richmond to the M4 or M25 in just 20 minutes. Heathrow is less than 30 minutes from the ground and with parking available for those wishing to drive - we are locationally set for all eventualities.
Please note, dogs are not permitted at this venue unless required for assistance.
Spectators
Make sure you bring your friends/family etc. to come and enjoy the day and all it has to offer in the evening. To gain entry at any stage, non-players will be required to register in advance - there is no cost, everyone is welcome, the more the merrier.... Just go to tickets, individual and register a spectator's ticket.
TagFest Shorts & Tights
Official TagFest regional shorts and tights will be available to order on our online shop (from March 2020) at www.trytagrugbyshop.com, with a selection also available at each event.
Playing Kit
Organiser of TagFest - London
Starting in 2009, Try Tag Rugby run mixed, men's and women's leagues and tournaments in the sport of Tag Rugby throughout the UK.
Generally featuring between 30-100 teams, Try Tag Rugby tournaments feature round robin matches, followed by legendary afterparties into the wee hours.  
Tag Rugby is a social sport and Try Tag Rugby has a welcoming community of young adults looking to get their sporting fix whilst meeting people.  
With divisions to suit all standards of players, beginners are welcome to enter any event with a whole team or as an individual. If you're still unsure, Try Tag Rugby run regular Free Taster Sessions for new players throughout the year.