Description
TagFest Yorkshire, the second largest in the series returns in 2020.
Enjoy a full day of Tag Rugby before retiring to the clubhouse for pizza, drinks, DJ and a great social.
BUT, it won't stop there.
With Leeds offering a fantastic night life, financially viable accommodation and unrecognisable drinks prices, the party will kick on at 22:30 as everyone hits town and really sees the Leeds nightlife for what it is. Vibrant, diverse, engaging and hard to resist, the Yorkshire based teams have promised to show all travelling teams a weekend away worth every penny.
PUTTING THE PUDDING INTO YORKSHIRE
Returning to tradition, the Yorkshire Pudding and Spoon Race will be back. Half way through the day, teams will be invited to participate and compete for the coveted title of 'Yorkshire Pudding & Spoon Race Champions' - A very prestigious title... We will of course be getting in the spirit with fancy dress, this year's theme being FOOD & DRINK.
Of course, should you be crowned as the 'Yorkshire Pudding & Spoon Race Champions' and you do so whilst in fancy dress, maybe even dressed as a Yorkshire Pudding - it's fair to say you have kudos and bragging rights for the entire year ahead, you might even be able to demand a few drinks off some other teams in the clubhouse afterwards.
With plenty of prizes on offer, both for the rugby and other activities taking place throughout the day, this is one Tagfest worth bookmarking now.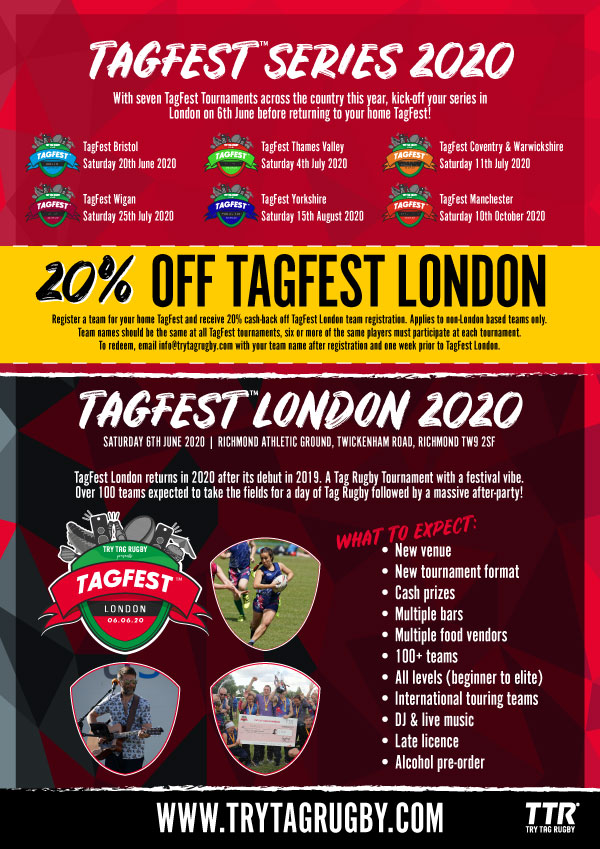 (Click on image to expand)
FORMAT
(7-a-side), mixed teams will have a guaranteed game time of 90 minutes
Regular Try Tag Rugby Rules apply
Maximum of 12 players per squad, minimum 3 female on the pitch at any one time
Teams will be seeded and graded based on submitted squad lists prior to the tournament.
Squad lists must be complete by Sunday 9th August at the very latest.
Pools will be created which in turn will break out into Cup, Plate and Bowl etc competitions so there is always something to play for.
If your usual team can't play or you just fancy a bit of a change, don't worry, you can always register for the tournament as an individual and we will assign you to a new team or we can build a team around you on request.
LOCATION
Hosted in a semi rural setting with stunning views of the rolling Yorkshire hills and valleys, just over 15 minutes from Leeds City Centre, the venue is ideally situated between Leeds and Bradford, close to the Leeds Outer Ring Road and five miles from Leeds and Bradford Airport with easy access to the motorway network.
TAGFEST SHORTS and TIGHTS
Official TagFest regional shorts and tights will be available to order on our online shop (from March 2020) at www.trytagrugbyshop.com, with a selection also available at each event.

PLAYING KIT
ITF approved Tag Rugby shorts or tights are compulsory, available from the Try Tag Rugby Shop in advance or via card on the day. Details on ITF Approved (Tag Rugby) Shorts / Details on Kit Items not Permitted