Ori Tahiti (meaning Tahitian Dance) for women! Join us on zoom.
About this event
Hinatea offers you one-hour Tahitian dance classes every Thursday.
Tahitian dance comes from French Polynesia, located in the Pacific Ocean. This dance is different from other Polynesian islands dance (Hawaii, Samoan, Cook Islands, or Marquesas), although similar. Tahitian dance consists mostly in hips' movements with knees slightly bent, accompanied by gestures with the arms talking you through a story telling. Tahitian dance is barefoot and only requires a pareo, a short or long cloth tied around your hips.
This class will be the first ever Tahitian dance class in Cardiff and will be adapted to complete beginners. Through a one-hour class, we will cover all the basics in both aparima (slow dance on songs) and ote'a (fast dance on percussion) on traditional and more modern Polynesian musics. After covering basics and warming up, we will move on to a choreography alternating aparima and ote'a. Dances and songs are a way of communicating legends, sharing emotions.
Through this class, there is no worry over performance. The focus is on feeling good about ourselves, being kind with ourselves and having fun with our body.
And who knows, creating a community of supportive, caring and powerful women!
You can use the same zoom link every week. Link will be in the confirmation email.
About Hinatea
Hinatea was born and grew up on the island of Raiatea in French Polynesia. She started dancing in a dance troop when she was 13 and since she left Raiatea for study in France and work in the UK she always looked for ways of connecting with her culture through dance, either by joining a dance group/community or by creating her own. Hinatea's priority is to create a sense of community through her class, and has seen the positive impact Tahitian dance and culture can have on people when she started teaching in London.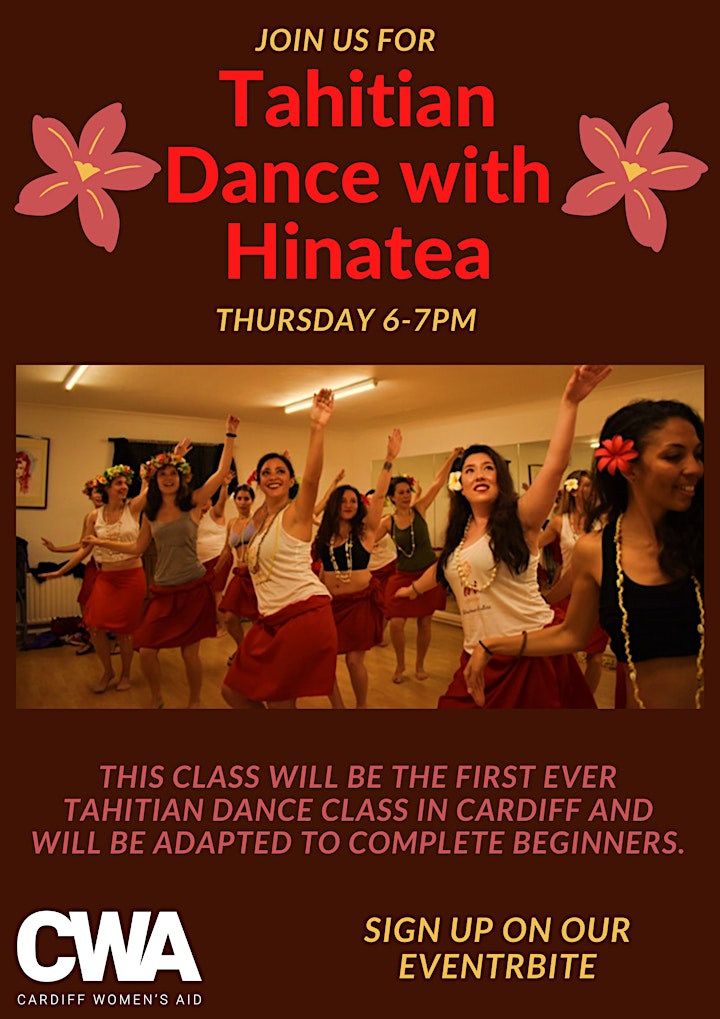 Organiser of Tahitian Dance with Hinatea (online)
Cardiff Women's Centre is the host of this event. Please check out our website for more information about us and the work that we do: cardiffwomenscentre.org.uk

The workshops/events we run are open to all women unless otherwise stated, but are especially suitable if you have experienced VAWDASV (violence against women, domestic abuse and sexual violence).