12-week online course of Tai Chi Chuan via Zoom, hosted by the Chinese Community in Peterborough FREE to attend
About this event
Tai chi, also called tai chi chuan, combines deep breathing and relaxation with flowing movements. Originally developed as a martial art in 13th-century China, tai chi is now practised around the world as a health-promoting exercise. Tai chi is suitable for all ages. It does not require equipment. You can exercise anywhere any time. [https://www.nhs.uk/live-well/exercise/guide-to-tai-chi/]
Covid has brought a lot of challenges for all of us, causing stress, adding strain to the functioning of our organs, disrupting our body's energy system and destabilises the inner balance of the body and mind. All of these can lead to physical and mental issues.
Join us to practice 24 step Tai Chi Quan! This helps to strengthen your body's muscle tones and tendons elasticity, encourage efficient blood and Qi circulation, boost the immune system and enhance mental ability to fight stress, improve posture, balance and general mobility, and increase muscle strength in the legs.
This course is hosted by the Chinese Community in Peterborough and taught by Master Tary Yip of Deyin Taijiquan Institute (GB). Master Tary Yip will take you step by step through this simple yet highly effective programme of total body and mind workout.
Please note:
1. Please join on time and remain muted during the teaching session so we can ensure better quality of the recording and less delay in sending out playback recording. If you have any questions please email chineseinpeterborough@gmail.com 24 hours before the next session, we will ask our instructor Master Yip to answer them in the next session.
2. ONE day prior to each session, we email reminder emails and zoom details to participants who have registered. If you think you haven't received the event details, please check if you entered your email address correctly, and also check your spam/junk mailbox.
3. Please do not forward the details to anyone else who has not yet registered. We need to know who is coming. We have a dedicated team of volunteers to check and let you into the meeting room. If you know anyone is interested, please advise them to register here https://www.eventbrite.com/manage/events/156425694463/online-event
4. Please register at least 24 hours before the event, otherwise we may not have sufficient time to email you the details. If you missed a session due to timing, we hope you are able to watch playback to catch up.
5. Please note we are not able to respond to emails during the sessions as we will be busy managing the event.
6. Due to high volume of emails, we may not be able to respond to each email. Please follow our Facebook Page Chinese Community in Peterborough 彼得伯勒华人社团 - CCIP | Facebook for updates.
7. Please note the following from our Tai Chi instructor:
1) After meals, how long should we wait before exercising - 45 minutes to an Hour
2) What should we wear to exercise - lose and comfortable clothing and flat sole trainers.
3) Space needed for the classes - ideally 3 metres across and 2 metres depth of space. If you don't have this space it is not a problem, you can move about to adjust.
Kind regards
Chinese Community in Peterborough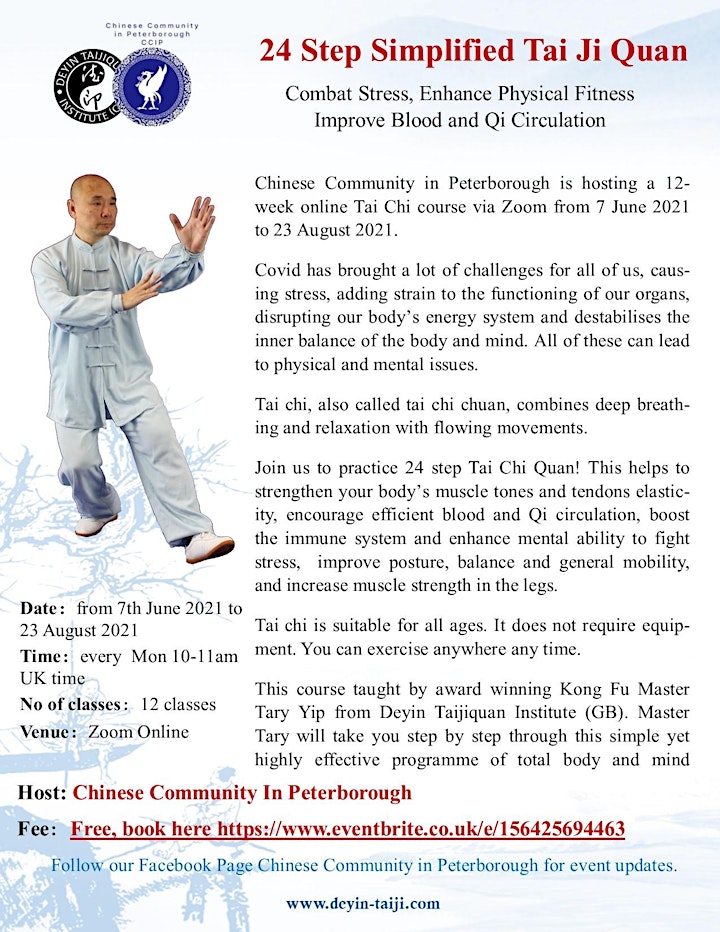 Organiser of Tai Chi Lessons - Chinese Community in Peterborough
For all the Chinese in Cambridgeshire, networking, making friends...
Please add any Chinese people you know to this group.
This group is designed to be a social hub for Chinese in Peterborough and surounding areas.
Facebook group: https://www.facebook.com/groups/1433516296862666/