A roundtable discussion on the effects of the new US Presidency on Taiwan's international relations.
About this event
In the last years, Taiwan has been on the spotlight for several reasons: its advanced democracy has been seen as a model in a region still threatened by authoritarian governments. Furthermore, its quick response to the challenges brought by Covid-19 has been observed and celebrated around the world.
A new decade has just started, and Taiwan is in a position to make a difference regionally and globally as never before. In this roundtable we will be discussing the old and new challenges that have been presenting to Taiwan at the turn of this new decade, with the aim to understand its role in regional and global politics for the next future
Including international speakers:
• Professor Gunter Schubert, University of Tuebingen (Germany)
• Dr Stefano Pelaggi, Sapienza University (Italy)
• Dr Prashant Kumar Singh, Manohar Parrikar Institute for Defence Studies and Analyses (India)
• Dr Fabricio A. Fonseca, Tamkang University (Taiwan)
• Donovan Courtney, Co-founder/Editor/Host at Taiwan Report, Co-publisher Compass Magazine (Taiwan)
• Dr Greg Coutaz, Tamkang University (Taiwan)
Date: 13th January 2021
Time: 14:30pm-16:30pm GMT
Location: Online
Register on Eventbrite to book your place. The roundtable will take place on Microsoft Teams. As such, there is a limit of 250 viewers.
A reminder and link to the talk will be sent to registered viewers before the talk!
This Roundtable is organised by the Northern Institute of Taiwan Studies (NorITS) within the Institute for the study of the Asia Pacific at UCLan (ISAP)
For Enquiries, Please contact ISAPUCLan@uclan.ac.uk
See more about the Northern Institute of Taiwan Studies (NorITS)
See more about the Northern England Policy Centre for the Asia Pacific (NEPCAP)
See more about the University of Central Lancashire (UCLan)
This Event will be recorded online. By registering and attending the event, you agree to being recorded. Please ensure your camera is off during the session if you do not want your face to be recorded.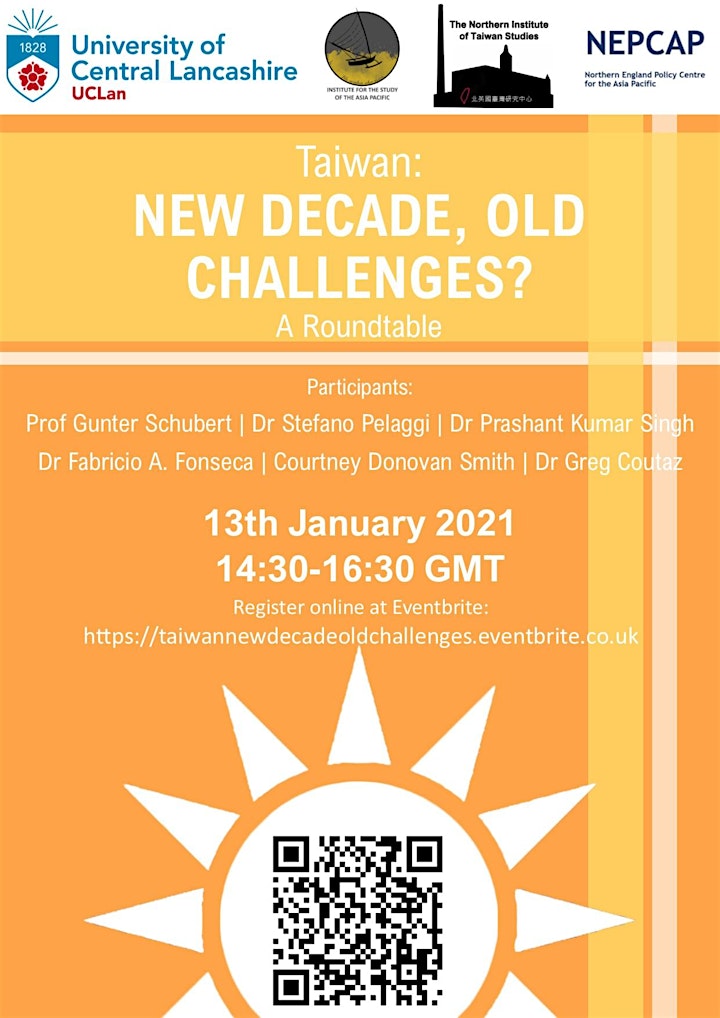 Organiser of Taiwan: New decade, old challenges?