Take 2 - Holding the Zoom Room — by former BBC News Presenter, John Young
Sales Have Ended
Registrations are closed
Tickets for this session have now closed. Thank you for your interest in our sessions. CIPD Swindon and North Wilts
Sales Have Ended
Registrations are closed
Tickets for this session have now closed. Thank you for your interest in our sessions. CIPD Swindon and North Wilts
How to Make Your Next Virtual Meeting as Professional and Effective as a TV News Broadcast!!
About this event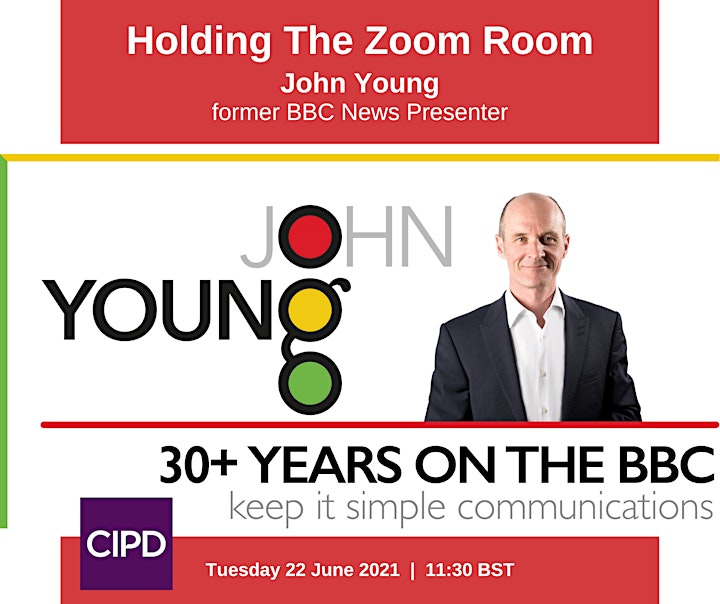 Due to the current Covid-19 situation, we will deliver this event as a webinar. Thank you for your support and understanding at this time.
Holding the Zoom Room — Presented by former BBC News Presenter, John Young
How to Make Your Next Virtual Meeting as Professional and Effective as a TV News Broadcast!!
Event details:
Let's face it — we're all broadcasters now. In this fast and fun 50 minute masterclass, John will help you make your next virtual meeting more effective, by revealing the secrets all news broadcasters know that make their bulletins effective. He'll leave you with up to five easy-to-remember tips:
to open with impact
to keep up the pace
to hold your audience
to shut people up (politely)
and to end on time
There's no theory or waffle — just entertainingly delivered ideas that you can use at your next staff, sales or training meeting!!
About our Speaker - John Young
For more than thirty one years, John Young presented and reported the TV news on the BBC. Now, he helps businesses become as agile in their communications as a busy newsteam on a tight deadline.
He's now distilled the energy and stories of a career in a TV newsroom into a range of fascinating keynotes and lively consultancy workshops, delivered online or in person. Some of us may remember his popular "Newsroom Bootcamp" productivity and agility session in Swindon two years ago.
John's clients include EasyJet, American Express, Gatwick Airport, the international CEO network Vistage, the English Rugby Football Union and several local authorities — he has also delivered his workshops and talks as a Guest Speaker to passengers on board Cunard's flagship, the Queen Mary 2. He is a senior member of the Professional Speaking Association.
Additional Information:
Please note this event may be recorded for future viewing. By registering for and attending this event, you are voluntarily acknowledging and accepting this may be a recorded event.
Coronavirus:
The CIPD is providing Coronavirus advice to Employers both online and in the media. You can find up to date information on the CIPD's website "here".
Organiser of Take 2 - Holding the Zoom Room — by former BBC News Presenter, John Young