Description
Imagine being in the Guinness Book of World Records! Join us for this unique event.
Can we create a new World Record for the largest number of people playing Beetle at one time?
Bring your friends and family to play, win prizes, and break a World Record. And all for charity.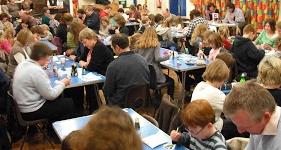 Beetle is played with pencil, paper and dice. Anyone can play, from age 5 to 105. Players have one dice for every group of 4. They must roll certain numbers to be able to draw all the parts of a Beetle. The first person in the group to complete a Beetle, shouts 'Beetle' and wins a prize. Winners then move to a different table and another round begins.
Before and after the Beetle Drive there is food, music and entertainment. The money raised will go to AFA Alzheimers http://afamarbella.org/ and other local charities.