Description
Hey, budding entrepreneur!
How many times have you said to yourself that you're going to start an online business so that you can work when, where and HOW you want, make great money AND spend more time with the poeple who matter most to you?
Yet, here you are - almost half way through another year and you're still working in that soul-sucking job you hate, with no signs of being anywhere close to starting your own business.


I get it: you're afraid of failing, and it's not easy to up and quit your job when you have a family to support, combine this with a less-than-encouraging reaction from family and friends who think you're crazy for wanting to give up your "safe" job.


Really, it's no wonder you're paralyzed with fear and find yourself stuck in your comfort zone.
The thing is, though: do you really want to get to the end of your life and wonder what things could've been like if you'd just followed what was inside of you and not what other people deemed acceptable?
Sure, you might fail, and I'll tell you straight that building a business (online or otherwise is NOT for the faint of heart).


You're NOT going to become a millionaire overnight, despite what many of the prettypreneur FB ads would have you believe, and you will have to DO THE WORK.
You know what, though: if you keep going and figure out how to do things in a way that works for you, then there's no reason you'll fail.
In fact, the ONLY way you'll fail is by NEVER trying.
No one is saying you have to quit your job and go all-in - you can if you like, but you get to decide the way you want to do things from here on out.
It does start with a decision, though:
A decision that you, and ONLY YOU truly know what's inside of you and that you're ready to unleash your magic on the world;
A decision that you will do whatever it takes to make your dreams (yes, even the big crazy ones that seem impossible right now) a living reality;
A decision to show you and everyone around you what you're truly capable of so that you can bring more joy and inspiration to the world;
A decision to take action in spite of your fear and doubt;
A decision to live life on your terms, to make money doing what you truly love and be in complete control of your time;
Most of all: a decision to believe that you can absolutely do all of this.
Are you ready to step up and become the person you truly are inside?
Then you need to join me for an incredible 2 days in the beautiful city of Edinburgh where we're going to take that big dream of yours and turn it into reality.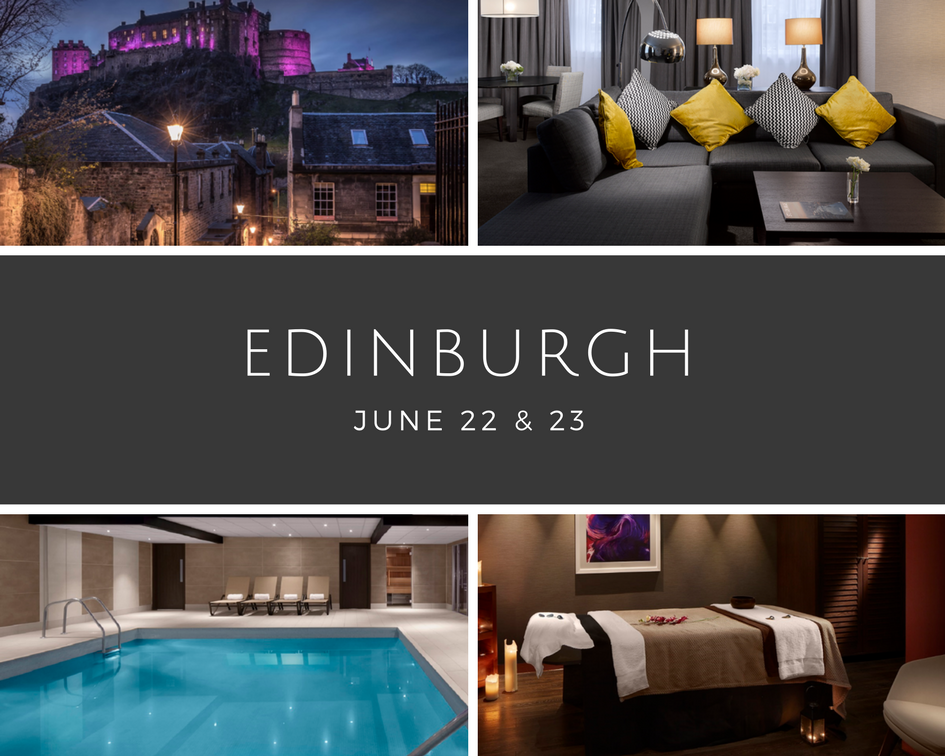 Seriously, this will be full-on (I mean, we only have 2 days, but you'll be BLOWN AWAY by what we achieve in that short time), so it's certainly not for you if you aren't committed to doing the work and actually IMPLEMENTING.
Don't worry, though: you'll have plenty of time to relax and simply enjoy having fun while getting to know the other amazing people at the event - after all, a rested body creates a rested mind, and a rested mind is able to be more creative.
So, apart from the amazing location, the high energy of getting to work, and how much fun you'll have, why else should you come?
Well, did I mention that we're literally going to create your online business from start to finish in 2 days?
Seriously, you'll come in with an idea, and leave with an online business that's completely up, running, and ready to make money.
Here are just a few of the things we'll cover over the 2 days:
CRYSTAL CLEAR CLARITY: We'll get completely clear on your business idea, your business model, your ideal customers, and what you're going to offer them;
SYSTEMS & SET UP: By the time you leave the event, you'll have your complete business set up and ready to go - everything from your website, an automated sales funnel, all of the tech and organizational things to keep you running smoothly on a daily basis, and even a brand new product or service ready to sell. Not only will you be shown what to do in order to keep things going once you leave, but you'll be shown exactly how to do everything and be given plenty of printouts and materials to keep;
MINDSET MASTERY: Success in life and business comes primarily from having the right mindset - it actually has little to do with strategy, so to ensure that you get off to the best possible start in your business, then we'll be doing some serious inner work. Yes, it may be confronting, but anything that takes you out of your comfort zone and leads you towards your dreams always is - and it's so worth it.
So, now it's up to you - if this sounds like the event for you, then register below.
Once your registration comes through, you'll be contacted to select a payment plan if you wish and then an invoice sent to reserve your place.

That's it!
I hope to see you in Edinburgh.
Sarah.
FAQs
Are there ID or minimum age requirements to enter the event?
Due to the fact that the event will be in a hotel, and we will be in other locations where alcohol is served, due to Scottish law, we require that all attendees be 18 or over - regardless of whether you choose to consume alcohol or not.
What are my transport/parking options for getting to and from the event?
The Radisson Blu is located right on The Royal Mile in the center of Edinburgh, which is very easy to access via bus and train links. Flights to Edinburgh Airport arrive daily, and transport is available to bring you to the city center within 30 minutes from right outside the arrivals terminal.

If arriving by train to Edinburgh Waverley Station, the Hotel is just a short taxi ride/walk away.
What can I bring into the event?
Everything you need for the event, such as training materials will be provided for you, as will food and refreshments during the event days.

Dinner & Drinks will be provided on the first night.
How can I contact the organiser with any questions?
If you have any questions, please email me on sarah@mamasmeanbusiness.com
What's the refund policy?
Due to the planning and cost that goes into events like these, refunds are not available. It's important that you're sure this is the right fit for you before signing up, as your place could be given to someone else.
Do I have to bring my printed ticket to the event?
No - everything will be confirmed with you personally after you register.
Can I update my registration information?
Yes, if you need to change or update anything, please just contact us.
Is my registration fee or ticket transferrable?
Yes. If you're unable to attend, but would like to sell or gift your ticket to someone else, then just let us know of the changes before the event.
Is it ok if the name on my ticket or registration doesn't match the person who attends?
Yes. In the event that you buy a ticket for someone else, sell/gift your ticket later, or purchase using someone else's credit card, then just state this when purchasing, or if you update the ticket later. If you're using someone else's credit card, please just let us know that you have their permission before doing so in case we need to verify this.