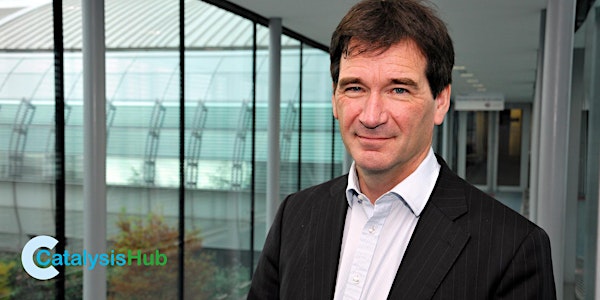 Taking Diamond Light Source to a new level of brilliance
Location
STFC Rutherford Appleton Laboratory
Harwell Campus
Didcot
Didcot
OX11 0QX
United Kingdom
Join the UK Catalysis Hub to see how they make chemical reactions faster, cheaper and more feasible with the help of Diamond Light Source
About this event
The UK Catalysis Hub would be pleased if you could join them for their Summer Conference public talk, by Professor Andrew Harrison, followed by drinks and an exhibition. Catalysis - the process of making reactions faster, cheaper and more feasible, by adding an additional substance - is used in over 80% of the products most of us use everyday, and the UK Catalysis Hub, working with Diamond Light Source and other organisations around the world, is dedicated to using catalysis to improve all of our lives and help our society achieve Net Zero.
Professor Harrison is the Chief Executive Officer of Diamond Light Source, the UK's national synchrotron facility, based at Harwell and producing brilliant beams of light that are used by a set of instruments that act like a set of exceptionally powerful microscopes. These instruments are among the most powerful in the world and provide some of the most detailed insights into the structure of materials and biological systems, down to the position of individual atoms. This enables thousands of researchers across the UK and beyond to understand how they function and to develop new technological materials and treatments for some of the most challenging diseases. Recent work conducted at Diamond includes ways to improve lithium batteries, harness the ability of some bacteria to treat plastic waste, and produce new drugs to tackle Covid-19. The technology that Diamond uses to generate the intense beams of light has undergone a revolution recently that can make them 100 times brighter. Diamond plans to adopt this technology as part of a major upgrade – 'Diamond-II' - that will give transformative new scientific insights and enable us to meet some of most pressing societal challenges yet more effectively.
After the talk, there will be an opportunity to visit the UK Catalysis Hub's Summer Exhibiton on work developing processes for Net Zero, including more effective use of water and energy, waste minimisation, and material reuse and reduction by scientists from institutions across the UK connected. Share a drink with them and learn about catalysis.
Please note that this in-person event is for adults (age 18 and over) only: all are welcome to join via Zoom webinar.