Taking Off: Sound Connections Challenging Circumstances Music Network Conference

Tuesday, 17 November 2015 from 09:00 to 16:30 (GMT)
Event Details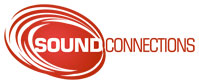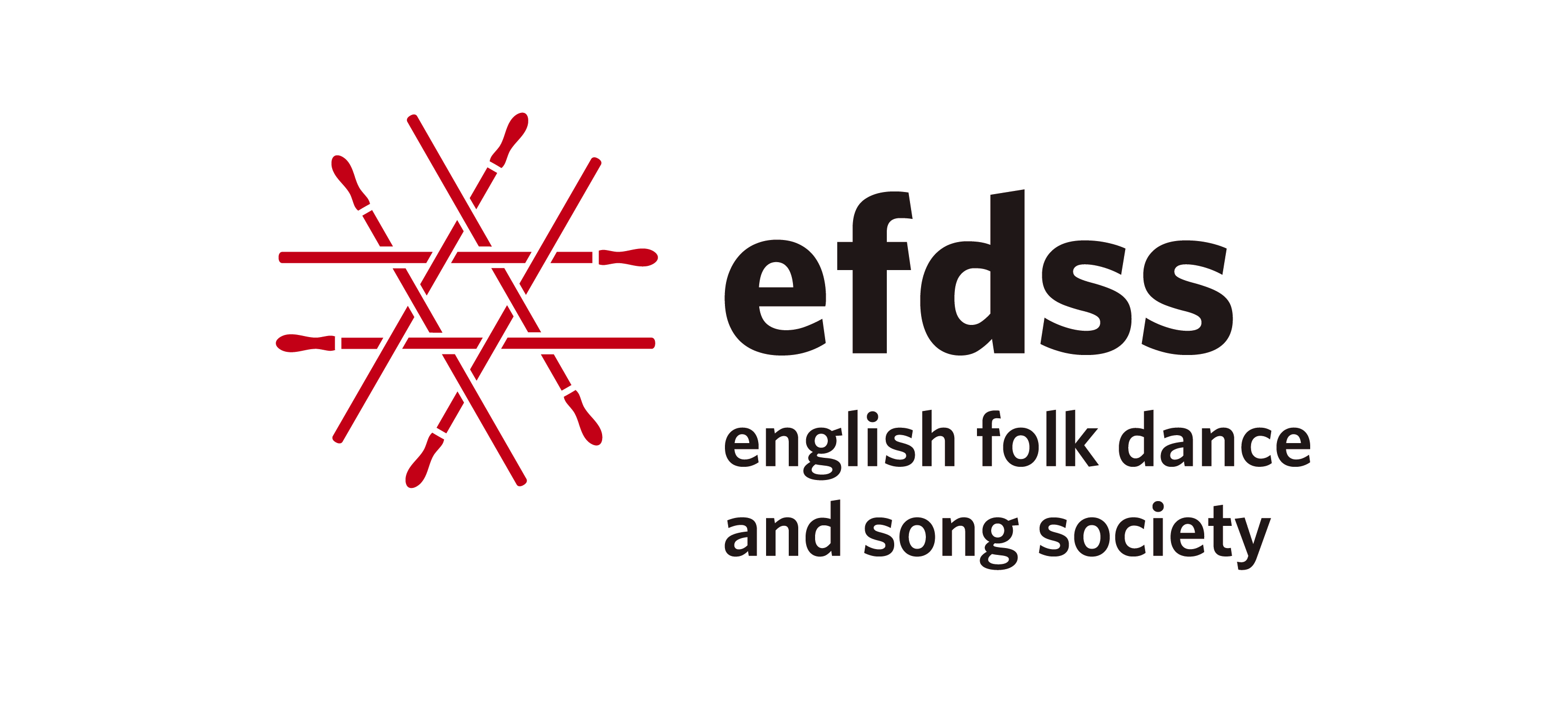 Taking Off: Sound Connections Challenging Circumstances Music Network Conference 2015
Tuesday 17 November 2015
9.00am - 4.30pm
Cecil Sharp House, in partnership with English Folk Dance and Song Society (EFDSS)
We're delighted to launch the programme for this year's Sound Connections Challenging Circumstances Music Network Conference: Taking Off.
This one-day event takes place at the beautiful Cecil Sharp House in Camden, the home of Sound Connections partner organisation and conference supporter, the English Folk Dance and Song Society (EFDSS). It will showcase the findings of Taking Off, a Sound Connections research project aiming to map existing progression routes, and overcome barriers to progression, for young musicians in London facing challenging circumstances. Progression routes for London's most vulnerable young people is something that people and organisations across the music education sector are tackling together. That's why we've put together a conference timetable that's for everyone, from practitioners to project deliverers, cultural organisations to classroom teachers.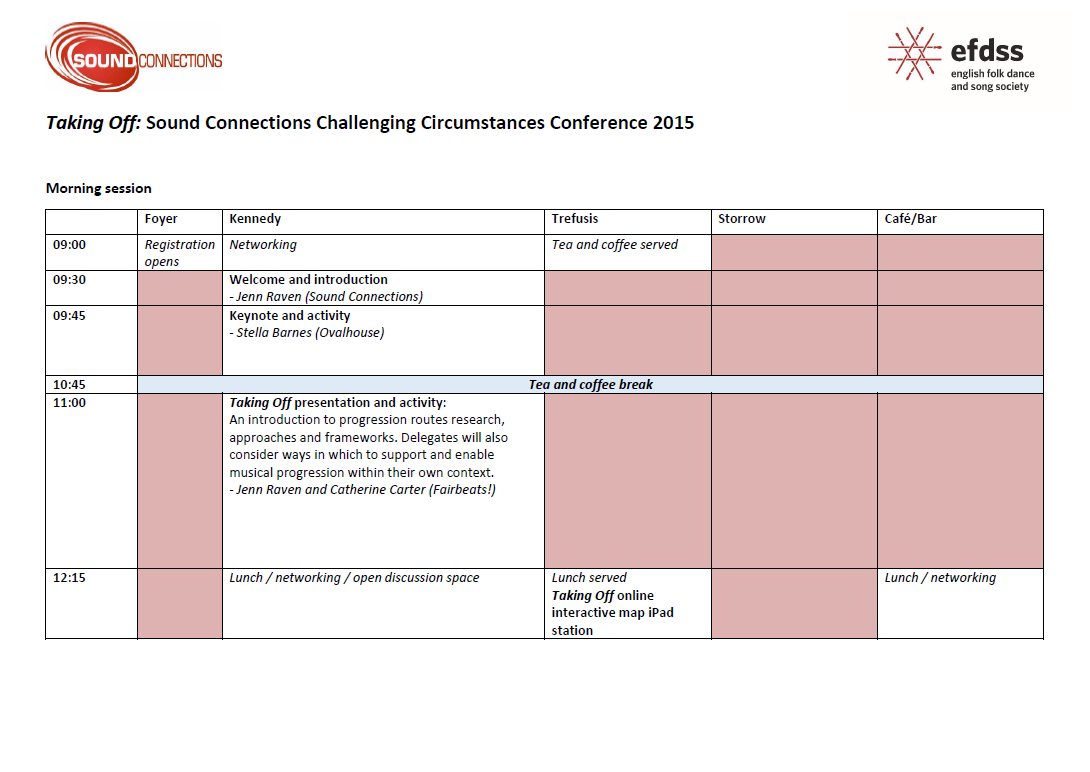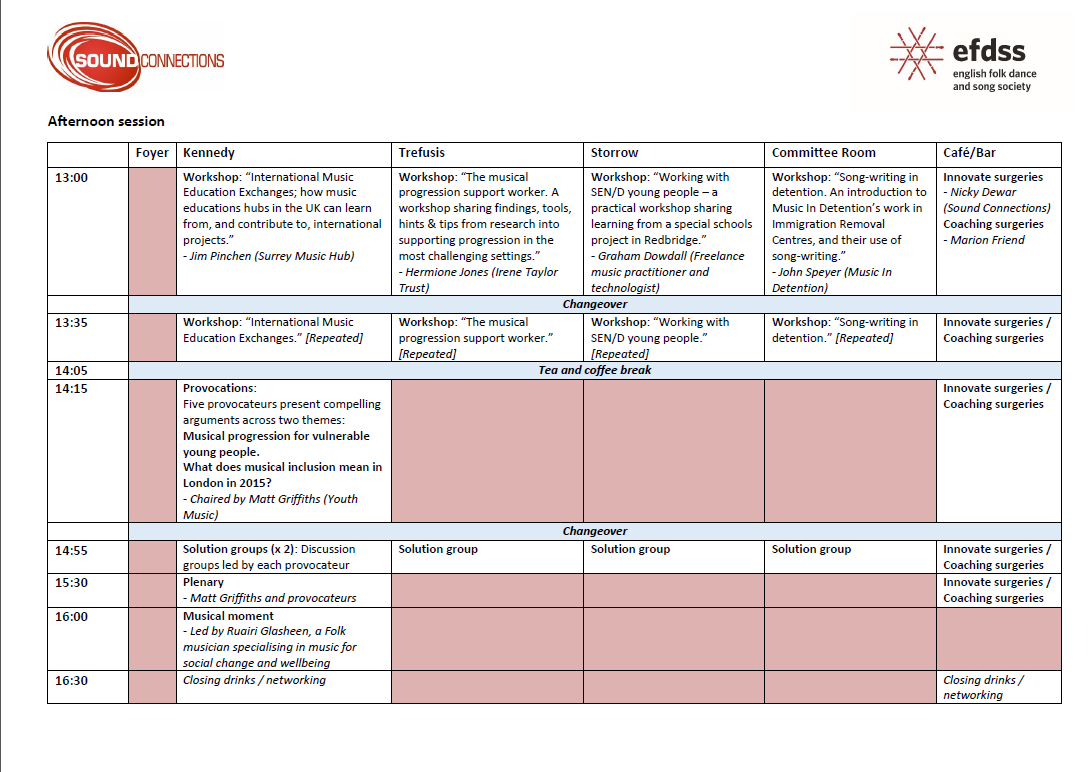 The day will provide:
An introduction to progression routes research, approaches and frameworks

Practical teaching tools for working with young people in challenging circumstances

Discussions to fuel your thinking, philosophy and practice

Opportunity to sign up for one-to-one coaching around resilience and self-care for those working in challenging settings

Opportunity to sign up for funding surgeries

Networking and new connections, particularly in relation to accessing new progression routes for your young people
It will feature contributions from representatives from across the music education community including young people, specialist practitioners, academics and funders. There really is something for anyone and everyone interested in the field of music in challenging circumstances.
We are thrilled to announce that this year's keynote speech and opening activity will be delivered by the inspirational Stella Barnes, Director of Participation at Ovalhouse, who leads on an innovate programme of arts engagement and progression routes for young people in challenging circumstances, including a long-term Young Associates programme which is embedded throughout the work of the organisation. You can download an essay written by Stella about ethics in participatory arts with young refugees, 'Drawing a Line', here.
Young Researchers representing Sound Connections' progression routes research will be participating in activities throughout the day.  You can look forward to seeing, hearing and experiencing their work during the morning Taking Off presentation and activity but, in the meantime, check out a preview of their work with a film by Scarlett (Kinetika Bloco) and a report by Adem (Wired4Music) on our resources page.
Interactive workshops will feature throughout the day, shining the light on current ground-breaking practice and offering you new ideas and skills you can embed directly into your practice:
Graham Dowdall – music-making in SEN/D settings
Graham Dowdall will deliver a practical workshop based upon his work with special schools in Redbridge, in partnership with Redbridge Hub.  Through a short presentation and practical activity, Graham will introduce participants to:
How he accommodated a wide range of needs within the same activities and material, encompassing moderate autism to Profound and Multiple Learning Disabilities.

The musical progression he witnessed and supported.

Enabling young people to have a voice and take ownership of their work.

An overview of the project and its partnerships, including how Graham delivered the workshops in partnership with a special school Teaching Assistant and a music service peripatetic tutor.
If you're interested in finding out more about Graham's Redbridge SEN project, you can read the final evaluation report here.
Hermione Jones, the Irene Taylor Trust – the musical progression support worker
Irene Taylor Trust projects support NEET young people, ex-prisoners and people of all ages in prisons.  They believe creating original music collaboratively has a powerful positive impact on people's lives, bringing new confidence, important transferrable skills and raised aspirations for the future. Music can break down barriers and help people who have found themselves on the fringes of society to become celebrated and valued members of the community.
Hermione Jones will present findings, tools, hints & tips from her research into being a musical progression support worker; the skill, knowledge and capacity it takes to support vulnerable young people to engage in sustained music activity and progress over time.  Hermione's session will draw upon experience of her shaping a new role at the Irene Taylor Trust where her focus is on enabling and supporting progression against some of the most challenging odds.
Hermione's research continues and will be available via the Sound Connections website by early 2016. 
John Speyer, Music In Detention – song-writing in detention
Music In Detention believes that working through music can give immigration detainees a powerful way to voice their feelings, concerns and hopes. They also believe that music can help break down barriers of prejudice about immigration and asylum, so work with communities local to detention centres to create music in response to detainees and their stories.
John will present a session that introduces delegates to Music In Detention's work and will share their approach to song-writing in Immigration Removal Centres as a vehicle for expression, community connectedness and understanding.
If you'd like to find out more about Music In Detention's work, a report about their work in Hillingdon (commissioned by the Sound Connections Challenging Circumstances Music Network) can be found here.
Jim Pinchen, Surrey Music Hub – international music education exchanges
Following six months of collaborating with a Mexican music organisation based in the infamous city of Ciudad Juarez, this workshop will explore how music educations hubs in the UK can learn from, and contribute to, international projects.
Matt Griffiths, CEO of the National Foundation for Youth Music, will be chairing a discussion in the afternoon session which will feature five 'provocations' from a range of representatives from across the sector:
This will be an opportunity to hear a real mix of perspectives when it comes to discussing what inclusion really means in the context of making and delivering music in challenging settings. Breaking out into smaller discussion groups, you will be able to share your thoughts and feedback to delegates in tailored Solution Groups around each different perspective.
We will be introducing our latest cohort of Innovate projects – a fund set up by Sound Connections which recognises original new work in the field of music in challenging circumstances. For those of you who are interested in submitting future applications to the Innovate fund, there will be one-to-onesurgeries running throughout the afternoon session where you can meet a member of the team and discuss a potential proposal.
We are delighted that the day will end with an uplifting musical moment, led by Ruairi Glasheen – a member of folk ensemble Tir Eolas, Irish bodhran player and percussionist – who delivers music workshops with the elderly and people living with dementia.
After close will be some dedicated networking time over a glass of wine – giving the opportunity to forge new collaborations and connections in what is often a disparate and isolated field, with the help of the Sound Connections team of course!
Full day tickets are £85, half day tickets at £50 – if you can't attend the whole day you can select if you would prefer to attend the morning or the afternoon session when booking online. Discounts are available for CCMN members, students and groups; email admin@sound-connections.org.uk for more details.

To download our full booking Terms and Conditions, please click here.
Do you have questions about Taking Off: Sound Connections Challenging Circumstances Music Network Conference?
Contact Sound Connections
When & Where

Cecil Sharp House
2 Regent's Park Rd
Camden
NW1 7AY London
United Kingdom


Tuesday, 17 November 2015 from 09:00 to 16:30 (GMT)
Add to my calendar