Event Information
Location
Espacio Gallery
159 Bethnal Green Road
London
E2 7DG
United Kingdom
A group exhibition of multi disciplinary Artists creating work through paint, ink, text, video and sculpture.
About this event
An exhibition that speaks of an obsessive relationship to our immediate landscapes, and the artists' compulsion to record. The artwork takes familiar scenes and banal realities that have become ritualistic over the past year, to project an alternative, imagined way of living and being.
-------------------------
Exhibition open from Tuesday 27 July - Sunday 1 August 2021
ENTRY to the exhibition during usual opening times is FREE of charge.
Opening hours:
Tue 27 -Sat 31 Jul 11am-7pm
Sun 1 Aug 11 am - 5 pm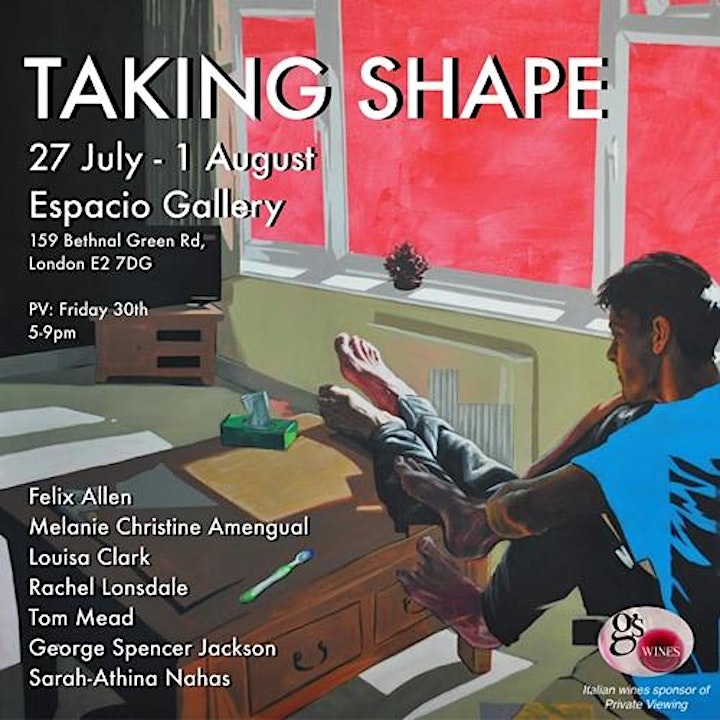 UPDATES
Sunday 1st August 2021
LAST CHANCE to view today! Open 11AM - 5PM. The Gallery will start taking down artworks in the late afternoon (after 2PM) in preparation for the next exhibition.
POP-UP Italian Wine Bar - Open from 3 PM to 5:30 PM
Saturday 31 July 2021
Last remaining days! FREE entry (book ticket or just turn up) + POP-UP Italian Wine Bar (today, 5:00 -7:30 PM).
Friday 30th July 2021
'Taking Shape' Private View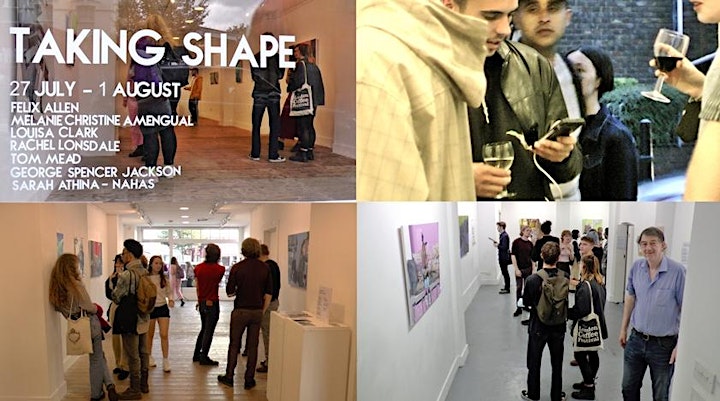 We had a FANTASTIC 'Taking Shape' Private Viewing (pictured above)! Great turnout from art-lovers on a Summer's evening to enjoy viewing multi-media contemporary art by a Group of talented young artists! GS Wines offered a selection of quality Italian wines for the evening!
Thursday 29th July 2021
POP-UP Art Studio at ESPACIO GALLERY: Meet the Artist!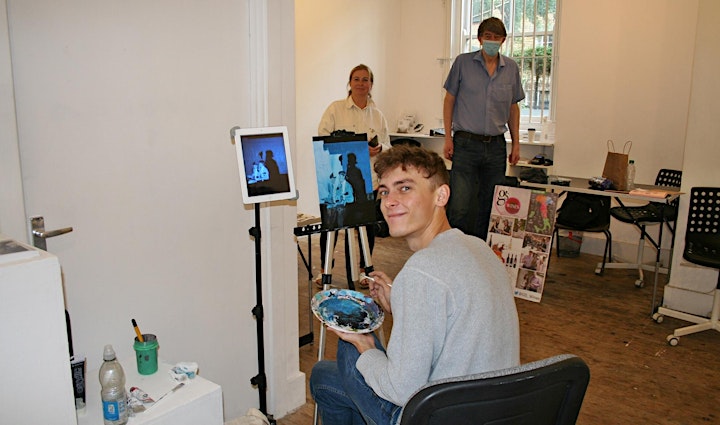 Tom Mead, portrait artist, painter, and one of the exhibiting artists, will be at the Gallery most days (present full day today, Thursday 29th July) and will spend some of his time completing one of his latest paintings during the show (ends Sunday 1st August)! Come along to the exhibition and you may see Tom at work at the pop-up 'mini studio' at the Gallery!

We believe that 'good art deserves good wine'!
We are pleased to be able to present a Pop-up Italian Wine Bar offering a selection of our quality Italian wines for sale (by the glass or bottle) - and some quality Italian produce e.g. honey, jams, at the Gallery during selected hours during the show. For passers-by, the Wine Bar is open when the 'OPEN' sign is up!
Please check here for specific opening times:
NEXT POP-UP WINE BAR Opening time: Sunday 1st August 3 PM - 5:30 PM
Friday 23rd July 2021
Espacio Gallery and GS Wines are pleased and proud to present - at very last-minute - this exciting exhibition of contemporary art by a group of highly talented young artists !
Other Events at the Gallery during the Show We are planning some subsidiary attractions within the Gallery space for the duration of the show such as:
- artists' shop offering smaller art pieces and artists' original designed merchandise
- themed wine tasting events
- pop-up shop offering quality Italian produce e.g. honey, jams. olive oil and wines
- curator's guided tour of the artworks
N.B. These are in development and will be announced when we are able to offer them. Please check Updates for info.
----------------------

Date and time
Location
Espacio Gallery
159 Bethnal Green Road
London
E2 7DG
United Kingdom