Talent Dynamics Discovery Day

Friday, October 11, 2013 from 9:30 AM to 4:00 PM (BST)
Event Details
Talent Dynamics
Flow Consultant License Holder Discovery Day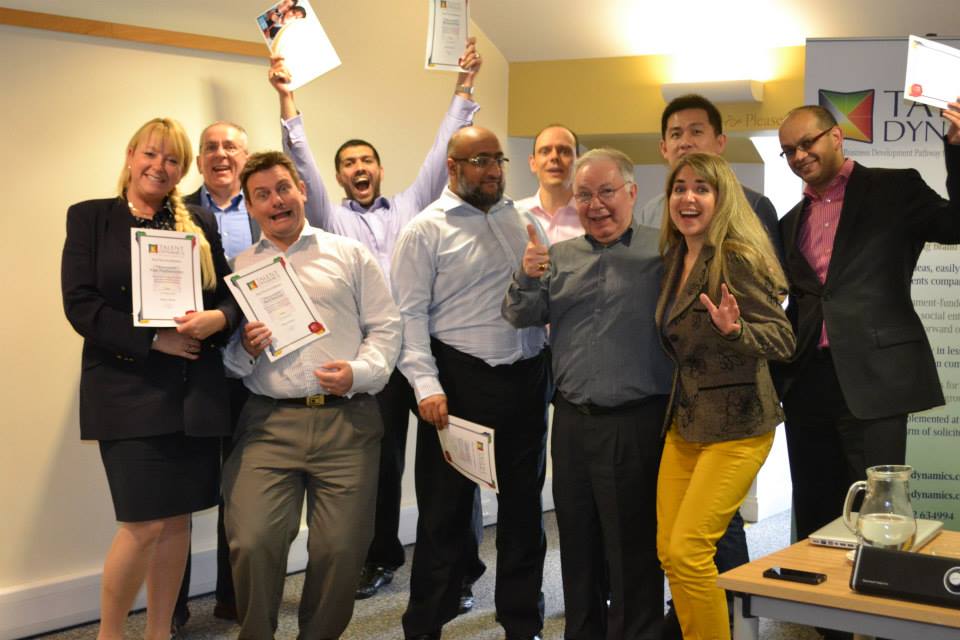 At the Discovery day, I would like to share how we are supporting Leaders at the FCLH level, to generate between £50 - £150k additional revenue, in their first year with us. 
An FCLH can find, attract and train Flow Consultants on behalf of Talent Dynamics as a 'Master Trainer license holder' and can earn significant revenues in up front training fees, monthly licenses and upgrades.
This event is invitation only.
I have only invited a small number of people whom I believe have the potential to generate Flow at this level, to attend the Discovery day, as at £10,000 for a license, its a level I have found, thats generally more appropriate for a niche group. 
I have 3 spaces for FCLH's to join us at the Discovery Day and as such am only accepting 8 training businesses who are really interested to know how to generate an additional £60-150k, to actually come along for the day.
At the Trust Conference, you saw the incredible response we had to people wanting to try our product. Each of our current European based FCLH's were given 15 Taster Sessions to run within their niche industry from the day. Each of them stands to generate between £30-40,000 of revenues, just from the first round with these clients (thats in addition to the £60-150k they can make in a year as an FCLH) Some of the programmes they will go on to run from these introductions will run into the £100,000's.
We don't keep a % any of the revenue that they make, which is very unusal for a training license. We like to see our consultants making a very fine ROI (return on investment) at speed! The model is set up and run in such a way that new FCLH's can easily make an ROI within 6 months of joining.
One of our FCLH's made an ROI within 8 weeks!
On the FCLH Discovery Day, you will 'discover':
Why Talent Dynamics is growing 50-100% year on year and how you can become a part of that growth
How one of our FCLH's generated over £20,000 of revenue in August
What it takes to generate an additional £50-150k of revenue (that's just in your first year)
How to get into Flow with a new business, that integrates with your existing training niche, which has compand growth year on year 
How you can tap into all of the support and business development tools avaialable at the Leadership level (not just for your FCLH business) for the growth of your entire business
I want to know, if you are coming along, that you are serious about exploring this opportunity with me on the day and as such, The FCLH Discovery Day requires a deposit of £197 to be paid (oh and we will provide you with some lunch!)
The £197 is a deposit, as, if at the end of the day, you don't believe the opportunity is for you, I will refund the £197 to you immediately. If however, you decide on the day, to become one of the 3 new leaders to partner with us, it will just be taken directly off your £10,000 investment.
The day runs from 0930-1600 and will take place at Ribby Hall, Preston. (Nearest airport is Manchester and nearest Train Stations are Kirkham and Wesham or Preston) 
I look forward to seeing you on the 11th!
Best, Michelle
If you have any questions about the day to make sure its right for you, please call the office on 01772634994 and ask Hannah to book us a 121 in beforehand.
When & Where

Ribby Hall
Ribby Road
PR4 2NA Wrea Green
United Kingdom


Friday, October 11, 2013 from 9:30 AM to 4:00 PM (BST)
Add to my calendar
Organizer
Talent Dynamics
Talent Dynamics is the Leader of the Trust Movement, a Business Development & Training Company.  We work with Businesses, Coaches, Trainers and HR Professionals, to rapidly build Trust throughout organisations, providing powerful tools to enable and enhance sustainable Trust Cultures whilst achieving rapid returns on investment.
If you have any questions at all about how to book a ticket just call 01772 634994 so that someone can help you out directly.
or e-mail janet.carter@talent-dynamics.com
Talent Dynamics Discovery Day