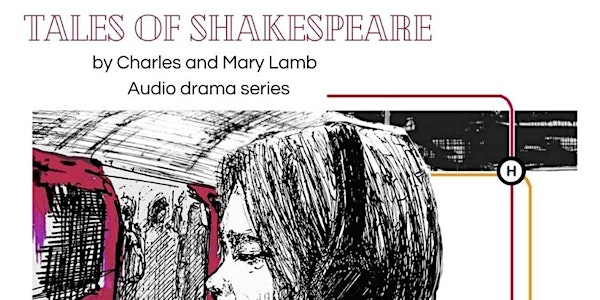 Tales of Shakespeare, By Charles and Mary Lamb. Audio Book Series
Refund policy
Contact the organizer to request a refund.
Eventbrite's fee is nonrefundable.
Charles and Mary Lamb's story adaptations of Shakespeare's plays in audiobook form, raising money to support both companies' actors.
About this event
Quarantine Kids Storytime and The Blind Cupid Shakespeare Company present Charles and Mary Lamb's Tales of Shakespeare Audiobook Series.
Quarantine Kids Storytime was founded by Alice J Crouch and Sascha Cooper in 2020 in order to entertain children, families and those young at heart when these uncertain times started. This project celebrates the love of books, which enables escapism through the power of spoken word - including making Shakespeare accessible to everyone.
The Blind Cupid Shakespeare Company was founded by Joe Staton in 2021. Their aim is to bring William Shakespeare's plays to countries where the bard is not normally performed or taught. Countries on their list include Spain and Morocco and they launched with their Valentines Showcase in February this year.
The two projects have come together via the mutual love of Shakespeare and making him accessible to all. This is where the Charles and Mary Lamb adaptations of the plays come in. By portraying the plays in a short story anthology and keeping the feel of the original language, Shakespeare's amazing stories and characters come to life, while making the storyline easy to understand. So whether you are introducing your children to the bard, or whether you are trying to understand the plays yourself, this project is for you.
There are 20 tales in the anthology and have been split equally between both companies to be released on the Quarantine Kids Storytime YouTube Channel every Saturday and Sunday at 2pm from April 10th - June 13th. This will be a donations based project, in which all funds will be split equally between the two companies to support our actors, as well as go towards future projects, so please donate what you can.
The tales will be released as follows with Quarantine Kids Storytime going out on Saturdays and The Blind Cupid Shakespeare Company on Sundays:
Quarantine Kids Storytime:
ALL'S WELL THAT ENDS WELL - April 10th - Claire Coull and Christine Hepworth-James
MACBETH - April 17th - Christine Hepworth-James and Sascha Cooper
CYMBALINE - April 24th - Phill Humphries and Seerche Deveraux
THE MERCHANT OF VENICE - May 1st - Christine Hounslow and Sidney Kean
OTHELLO - May 8th - Anne-Lise Kadri and Phill Humphries
TIMON OF ATHENS - May 15th - Seerche Deveraux and Andrea Rose
TWELFTH NIGHT - May 22nd - Sascha Cooper and Jack Chandler
PERICLES - May 29th - Andrea Rose, Sascha Cooper, Christine Hounslow and Alice J Crouch
MEASURE FOR MEASURE - June 5th - Jack Chandler and Anne-Lise Kadri
THE TEMPEST - June 12th - Sidney Kean and Claire Coull
The Blind Cupid Shakespeare Company:
ROMEO & JULIET - April 11th - Frances Knight and Reuben Beau Davies
WINTER'S TALE - April 18th - JT Stocks
KING LEAR - April 25th - Elize Layton
AS YOU LIKE IT - May 2nd - Fritz Leonard
TWO GENTLEMAN OF VERONA - May 8th - Alice Lussiana Parente
MUCH ADO ABOUT NOTHING - May16th - Cris Pybus and Rosalind Blessed
TAMING OF THE SHREW - May 23rd - Frances Knight and Reuben Beau Davies
THE COMEDY OF ERRORS - May 30th - Elize Layton
HAMLET - June 6th - Marc di Francesco
A MIDSUMMER NIGHT'S DREAM - June 13th - Joe Staton