Tales of the Riverbank Talk: Liz Shakespeare - Reflections on the Torridge...
Description
This is one of a series of events that BBC are running during July and August, exploring and celebrating the River Torridge - its history and heritage, natural environment, beauty, and those who use it.
Liz Shakespeare draws her inspiration from the North Devon countryside, from the strong historical identity of the area and the sense of past lives that can be experienced in any long-inhabited area. She is interested in social history and particularly in the lives of the less advantaged.
She talks this evening on 'Reflections: the River Torridge in Poetry and Prose'.

*All events are subject to change please use an email address that you frequently check as any changes will be emailed to you in the days before the event is scheduled. Any changes will also appear on the EventBrite website.
Booking in advance is advisable, however if this event isn't sold out, places will be available to purchase on the day.
Organiser of Tales of the Riverbank Talk: Liz Shakespeare - Reflections on the Torridge in Poetry and Prose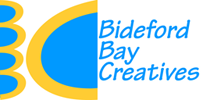 Bideford Bay Creatives (BBC) are a not-for-profit community group created in July 2009 in response to there being a large number of creative practitioners in Bideford, Northam, Appledore and Westward Ho! but with no formal way of networking, sharing ideas and generating new projects to bring vibrancy and creativity to the town centre.
BBC works towards creating opportunities for the local community (people, businesses, voluntary groups and arts organisations) to host events and activities and get involved with the arts. Our emphasis is on cultural tourism, economic regeneration, community involvement and partnership working.