About this Event
9 Insights for Engaging Presentations
About the Talk
We believe that when an idea comes out of our mouths, two things can happen: either it dies or it grows.
But making ideas grow is not an easy task. After all, there are many factors that impact the success of a presentation.
Given that, much practice is needed for someone to become persuasive, in order to present a feedback report or even a miraculous plan.
9 Insights for Engaging Presentations goes over some of the most crucial learning outcomes acquired from the last 8 years by Look 'n Feel.
It is but an appetizer from DizCurso, an immersive course created by Look'n Feel Talks branch - which is now running its seventh edition in Brasília.
They are techniques, details, and key points about the public, objectives, content and body language, among many other topics that make a difference for storytelling in a captivating and effective, on a top-notch presentation.
About Porto i/o
In this event we are collabing with Porto i/o, a coworking that needs no introduction in Porto region. It may because of it's perfect location in the city center or it's great structure, there are plenty of reasons for those looking for a complete workspace and an active networking environment.
About Look'n Feel
We are Look'n Feel, a creative business network determined to make the world a more entrepreneurial place. We have come all the way through the Atlantic, from Brasília to Lisbon, to show our unique way of making brands connecting to their time.
In 8 years of history, we've become a 47 people team with expertise in strategic and creative problem solving in Branding, Design, Digital Marketing and Advertising.
Behind all this, there is a lot of learning! We've learned so much with our mistakes and accomplishments, with different clients in various segments, that we felt the need to create Look'n Feel Talks to share our knowledge.
Today we offer learning experiences, open courses and even specific in-company training programs.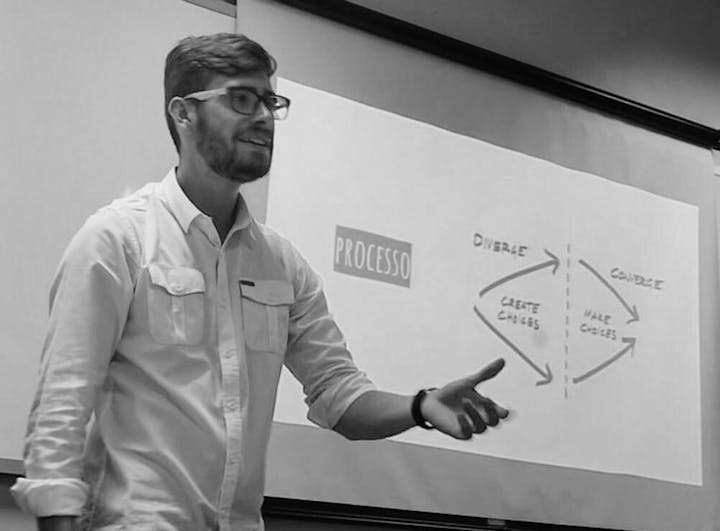 About the presenter
Lupie aka Luís Pereira is a complete music, skate, photography and travel enthusiast. In his idle hours he is the managing partner of the European operation of Look'n Feel, whilst doing his masters in Strategic Communication in Universidade Nova de Lisboa and being a member of the UK's Account Planning Group.
About the Agenda
7pm - Welcome
7:15pm - What is Porto i/o
7:30pm - "9 Insights for Engaging Presentations."
8pm - Q&A
8:30pm - Last beers
8:50pm - Wrap-up