Talk: Bucholz McEvoy - Craftitecture Pavillion for Electric Picnic

Multiple Dates
Event Details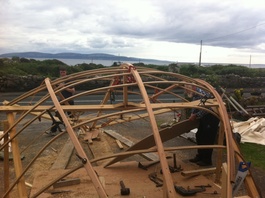 Afternoon talk: 1pm at PLACE, 40 Fountain Street, Belfast BT1 5EE
Evening talk: Unfortunately, due to circumstances outside our control, the evening talk at the Culturlann in Derry has been cancelled.
Craftitecture was a competition to design a pavilion for Electric Picnic, a music festival in Laois on 2nd, 3rd and 4th September. At this talk, at PLACE in Belfast at 1pm, the winning architects, Bucholz McEvoy, discuss their design.
Speaker: Merritt Bucholz is director of Bucholz McEvoy architects and Professor of Architecture founding the new School of Architecture at the University of Limerick. He holds a Bachelor of Architecture from Cornell University and a Master of Architecture from Princeton University.
About the Project: The winning Craftitecture team consists of Bucholz McEvoy and Jim Horgan, master boat builder with the Galway School of Boat Building. Their innovative design features a dynamic space constructed using the form of currachs which will move on horizontal and vertical axes to form an open space when in use and a closed sculptural form in the evening. The jury also commended the submission from Simply Architecture and Horizon Furniture for its interesting form, their enthusiasm and understanding of the brief. The Craftitecture pavilion will be one of the places to check out during the three-day festival this September.
The Jury: The jury comprised representatives of the Crafts Council of Ireland, Irish Architecture Foundation and Greencrafts, John Lee, furniture designer/maker, Peter Tansey of Lotus Architects and Frank McDonald, Environment Editor, Irish Times. Architect Gar Holohan acted as technical advisor to the jury.
---
More on the competition: Images of all submissions can be viewed on the IAF website at www.architecturefoundation.ie. Craftitecture is an initiative of the Crafts Council of Ireland and the Irish Architecture Foundation in association with Electric Picnic, Greencrafts and Cultivate.
Where

PLACE Architecture Centre
40 Fountain Street
BT1 5EE Belfast
United Kingdom


Multiple Dates
Add to my calendar
Organizer
PLACE is the Built Environment Centre for Northern Ireland.
Our vision is a better place to live, work and play - inspired by communities making a difference.