Join a panel of industry experts and thought-leaders for a fireside chat on building and maintaining an art collection.
About this event
Join Open Doors Gallery founder, Tom Page, and Lottie Leefe, Founder of The Dura Society for an evening of art and inspiration.
From collecting multiples, unique artworks and navigating the new frontier of NFT's and the metaverse there is something for everyone. Providing you with unique insights, our panel will be drawing on their extensive experience to answer your questions.
With a broad spectrum of speakers, you'll learn about different facets of the art world; including due diligence, market changes and shifts, the drivers for buying, collecting and how that can affect practical steps prior to acquisition; different routes in to collecting; legal pitfalls along the way; and considerations when you have a collection.
Featuring Morgan Axinn-Cattai, Art Advisor, Nicole Schoeni, Art Dealer and Collector, Maria Lax, Artist and insights from Amanda Gray, partner at Mishcon de Reya's art law team.
Join us for an unmissable evening of inspiring and innovative discussions followed by a gallery tour and networking opportunities.
The exhibition on display in the venue will feature the winner and finalists of this years OD Photo Prize. An annual prize set up to discover and nurture long term relationships with emerging photographic artists.
We're delighted to present this event in partnership with MPB
Join us for the exhibition opening night, 2 December 6-11pm
OUR SPEAKERS
Morgan Axinn-Cattai | Art Advisor
Born in New York and raised between Italy and America. After completing her master's degree at the Milan Marangoni Institute and gaining certifications from Sotheby's Art Institute. Morgan worked in sales and business development in the interior, fashion and digital industries. She then went on to become an art hunter and negotiator for both auction works and private sales.
Morgan works with international clients sourcing specific requests, buying and selling modern and contemporary artworks from all over the world.
Morgan divides her time between Florence and London.
Amanda Gray, Partner, Art Law | Mishcon de Reya
Amanda Gray is a Partner in Mishcon Private and is the Practice Lead for Art Law and chairs Mishcon de Reya's firm-wide multi-disciplinary Luxury Assets Group. Amanda is valued by her clients for her commercial, flexible approach and depth of knowledge across a diverse range of legal problems faced by those operating within the art market and luxury assets fields.
An art law specialist with over 13 years experience, Amanda is valued by her clients for her commercial and solution driven approach and depth of knowledge. Her client base includes collectors, dealers, auction houses, artists, public and private institutions and foundations. She assists clients across a diverse range of contentious and non-contentious legal problems faced by those operating within the art market and luxury assets fields. These include sale and purchase agreements, art and antique collection management, loan and agency agreements, artists' resale rights regulations, special projects, bringing new discoveries to the market place and advising the art market on anti-money laundering regulations.
Nicole Schoeni | Art Dealer and Collector
Nicole Schoeni is an art dealer, collector, patron, and director of art advisory company Schoeni Presents, which is a commercial platform to support its founder's commitment to the arts through Schoeni Projects and MLS Artist Residency Programme.
Previously, Nicole was the director of Schoeni Art Gallery, one of Asia's most influential art venues, pivotal in the development of a generation of Chinese contemporary artists and a prestigious hub of the Hong Kong art world.
Maria Lax | Artist
Maria Lax is a London based photographer originally from a small town in Northern Finland. She is known for her use of colour and experimental camera techniques. The works below are from her debut series Some Kind of Heavenly Fire displayed at Photo London fair earlier this year.
Maria Lax's work has been exhibited at fairs and festivals worldwide. Maria Lax was one of the winners of British Journal of Photography's Female in Focus awards, 2019 and a finalist in the BJP Portrait of Humanity, 2020, PHMuseum Photography Grant Finalist, 2020, Winner of the In Cadaques festival Open Call, 2020, Jakarta International Photo Festival, 2021.
Date | Monday 6th December
Time | 18:30 - 21:00
Venue | The Old Brick Shop, 51 Southwark Street, SE1 1RU
Capacity | 40 people
AGENDA
18:30 | Welcome and refreshments
18:50 | Introduction to the OD Photo Prize
19:00 | Panel talk - Collecting Art: 2021 and beyond
19:40 | Q&A
20:00 | Networking, drinks and exhibition tour
21:00 | Close
HOSTS
Lottie Leefe, Founder The Dura Society
Tom Page, Director Open Doors Gallery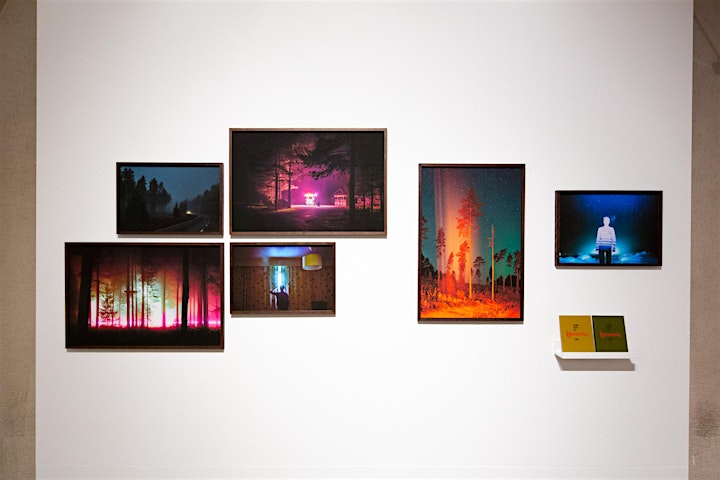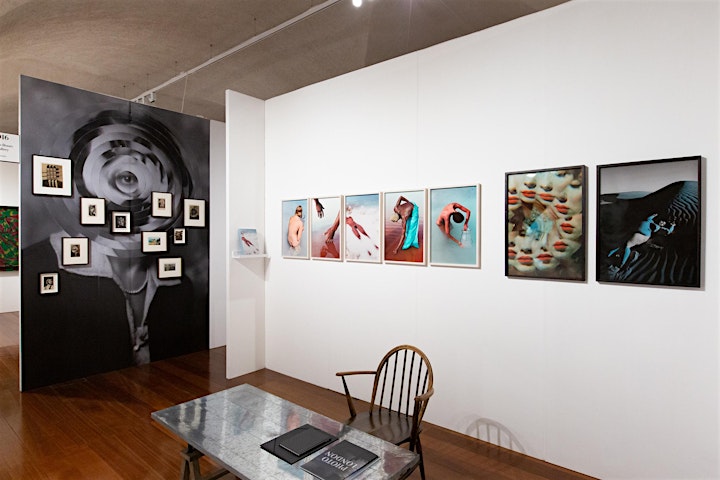 Above: Open Doors Gallery booth at Photo London, Somerset House, 2021. Featuring artists Kensuke Koike, Denisse Ariana Perez, Shae Detar, Maria Lax

Important Visitor Information
Please bring a face-covering with you as we recommend you wear one unless you are exempt. Please also observe social distancing where possible.
If you or anyone in your household has Covid symptoms, please stay at home.
Please do not attend if you have tested positive for Covid-19 in the 10 days before the event, or have been told to self-isolate through NHS Track and Trace.
Unfortunately, there are no storage facilities for large bags or luggage. Please do not bring these to the gallery.
If you regrettably have a confirmed Covid-19 case at any time up to 3 days after attending the event, please notify us by email tom@opendoors.gallery
Terms and Conditions
A photographer may cover this event and the images may be used to publicise future events. By accepting an invitation or purchasing a ticket you consent to being photographed, filmed or recorded as a visitor attending the event.
If this event is postponed or cancel the event the booker is entitled to a refund of the ticket price only.
On entry to the event you agree to accept and abide by any venue rules.
We reserve the right to refuse admission to any ticket holder.
Organiser of TALK | Building an Art Collection
Set up originally as a mixed media gallery, Open Doors (OD) looked to encourage community cohesion and a sense of local pride through a programme of open submission exhibitions. Popping up in venues across London, OD asked local artists to reflect the local area in their unique style. The success of these events led to the discovery of a huge pool of talented emerging artists that were dismally under represented. Particularly photographic.
Inspired by this observation and coming from a photographic background ourselves, OD decided to focus its efforts on highlighting and developing the best we could find. We host their work on our instagram feed and select our favourites to offer as limited edition prints on our website. We will always price our prints affordably as we believe in making great art accessible to all. We want to lead and empower a growing group of first time art buyers with with highly collectable photographic prints rich in stories and aesthetic quality.
As well as selling our artists work we are always looking to promote their work in other ways too. We will take the prints offline and display the beautiful physical objects in exhibitions and photo-books. We are actively looking for collaborators to help us to achieve this goal. So whether you are a photographer sitting on an exciting body of work or an ace face with a space, we want to hear from you.
We hope you like the work for sale, don't miss our programme of takeovers on instagram @odtakeovers and vote on your favourites with your likes!