Description
"The present is never present - it is already past. Humanitarian action in an age of reorder"

Markus Geisser, Senior Humanitarian Policy Advisor, International Committee of the Red Cross
Gallery 20, Royal Albert Memorial Museum & Art Gallery, Queen Street, Exeter, EX4 3RX
Monday 9 July 2018, 17:45 – 19:55
Event Information
AHRC Care for the Future, in partnership with the University of Exeter, invite you to join us for an evening with Markus Geisser, Senior Humanitarian Policy Advisor at the International Committee of the Red Cross.
In his lecture, Markus makes a call for more interaction between humanitarian practitioners and researchers in humanitarian action, especially historians who critically analyze the "humanitarian endeavor". Through a personal account focusing on his 20 years' experience as a humanitarian in numerous contexts around the globe, Markus attempts to highlight moments and processes of change of contemporary humanitarian action which, so he argues, are transforming the métier of humanitarians. Throughout his lecture he aims at highlighting areas where historians of humanitarian action could focus their attention to critically assess today's humanitarian profession, where it has unlearnt lessons from the past and draw attention to new lessons for the future.
There will be an opportunity at the end of Markus' talk to ask questions. This will be followed by a wine reception with nibbles. All are welcome to attend.
Biography
Markus looks back to a long career as humanitarian practitioner. A Swiss native, he started in 1999 when he first joined the ICRC and carried out his first mission as an ICRC delegate in the Democratic Republic of Congo (DRC). This was followed by several years managing field operations in Myanmar, Thailand, Liberia, Darfur (Sudan) and then again in eastern DRC. From 2006 until 2013, he worked in senior management positions in countries affected by the so-called "Global War on Terror", first in Iraq and Jordan, then in southern Afghanistan and in Washington DC.
From 2013 until 2015, he served as Deputy Head of the division working on humanitarian policy and multilateral diplomacy at the ICRC's headquarters in Geneva.
In March 2015 he joined the ICRC Mission to the United Kingdom and Ireland as Senior Humanitarian Affairs and Policy Advisor. He holds a Diploma in Peace and Conflict Studies from the Fernuniversität Hagen, a BA in Political Sociology from the University of Lausanne and a MSc in Violence, Conflict Development from the School of Oriental and African Studies, London.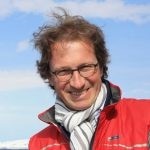 Venue / location
Gallery 20, Royal Albert Memorial Museum & Art Gallery, Queen Street, Exeter, EX4 3RX
Please use the garden entrance at RAMM for Gallery 20.
Please visit the webpage for directions to the Royal Albert Memorial Museum & Art Gallery.
Registration and contact
Please register your interest in attending this event via this web page. If you have any questions please contact research-events@exeter.ac.uk.
---
GDPR AND UPDATED PRIVACY STATEMENT
WE TAKE OUR DATA PRIVACY RESPONSIBILITIES SERIOUSLY IN RESEARCH SERVICES AT THE UNIVERSITY OF EXETER, AND WE WANT YOU TO FEEL COMFORTABLE AND CONFIDENT ABOUT HOW WE COLLECT, STORE AND HANDLE YOUR PERSONAL DATA.
WE HAVE UPDATED OUR PRIVACY POLICY IN LINE WITH NEW DATA PROTECTION LAWS, WHICH COMES INTO EFFECT ON 25 MAY 2018. OUR NEW PRIVACY POLICY EXPLAINS THIS, AND SETS OUT THE RIGHTS YOU HAVE IN RELATION TO YOUR PERSONAL DATA. IF YOU'D LIKE TO FIND OUT MORE YOU CAN READ OUR PRIVACY STATEMENTS AT:
http://www.exeter.ac.uk/research/services/privacy/


Organiser of Talk by Markus Geisser, International Committee of the Red Cross