Refund policy
Contact the organiser to request a refund.
Eventbrite's fee is nonrefundable.
Simple verbal skills to revolutionise the way you deal with others, for more results and better relationships - in a lot less time
About this event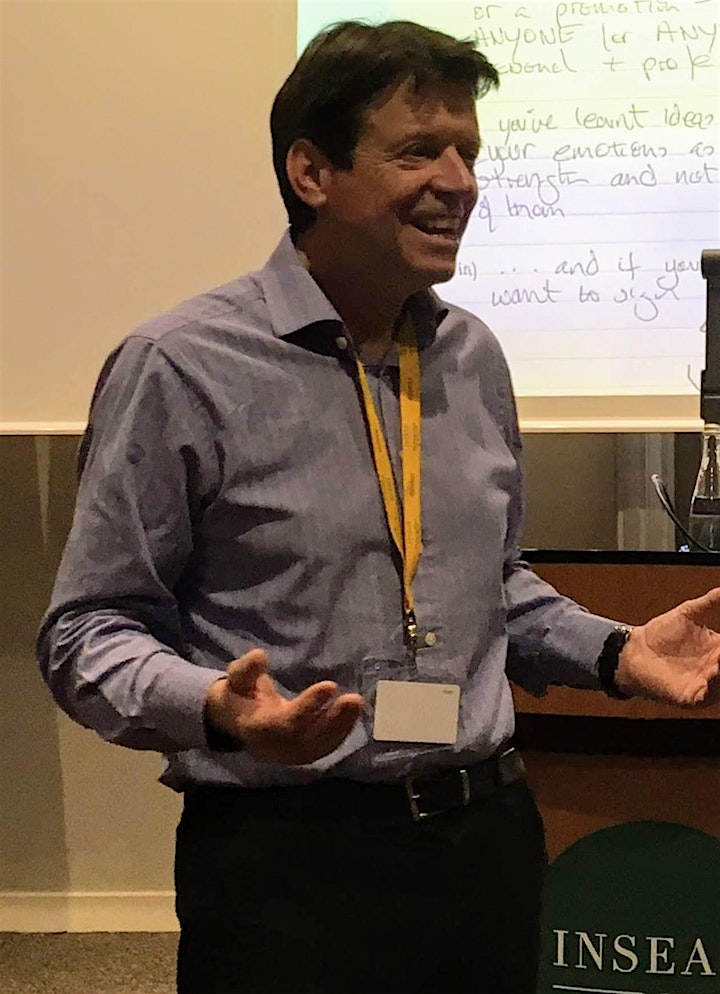 Who is the course for?
Participation in this course is restricted to INSEAD Alumni joining the course via INSEAD's Lifelong Learning programme. It is an on-line version of the course we run in-house for leading companies and business schools (including as an MBA elective at INSEAD) around the world , designed for anyone, at any level, who spends the majority of their time at work dealing with other people, whether that's within the organisation (managing downwards, upwards or across) or outside the organisation (in account management, customer service, sales, purchasing); and whose ability to conduct those interactions to maximum effect is a key factor in their own and their organisation's success.
What skills will you develop?
An increased capacity for impacting and influencing any situation - whilst earning greater respect, giving greater respect and maintaining greater self-respect
Enhanced listening skills
An ability to increase significantly the productivity of one-on-one or group meetings
More constructive and comfortable ways of broaching sensitive subjects, having difficult conversations, announcing bad news..
Enhanced negotiating skills - the capacity to defend a position whilst preserving both the relationship with the person opposite and one's own interests
An increased ability to create the high levels of trust and esteem, of comfort and of shared pleasure which are necessary in a complex environment
An increased capacity for getting things done fast and efficiently
What's included?
This special INSEAD Lifelong Learning version of the programme is structured as follows:
The programme consists of 3 half-day seminars and a one-hour individual coaching session for each participant, a total of 13 hours teaching time per participant. The sessions will take place at the times below. (These sessions have been scheduled to suit Alumni based in APAC and European timezones. Another iteration of the course, on Jan 31st, is at times to suit Alumni based in European and Eastern US, Canadian and LatAm time-zones).
A first half-day (4 hours + breaks) on-line seminar for 8 participants which will take place from 08.30 to 12.30 BST on Monday, May 30th 2022.
A second half-day on-line seminar for the same 8 participants which will take place from 12.30 to 12.30 BST on Monday June 3rd.
An individual 1-hour follow-up coaching session for each participant, to be held on June 6th, 7th or 9th (times to be arranged with each participant according to their availability).
A third half-day seminar with 4 of the 8 participants in the group, which will take place on Friday June 10th from 08.30 to 12.30 BST.
A fourth half-day seminar for the remaining 4 participants which will take place on Wednesday June 15th from 08.30 to 12.30 BST.
What do other people say?
"I have just returned from the Interactifs course...and all I can say is WOW! To see the impact you can have by changing the way you deliver a message in a real-life scenario is astounding. Every company should be teaching their employees these tools."
"Thanks again for a very inspiring course - probably the best two days invested ever. Should be mandatory for all smart organisations."
"The training has given me a huge insight into how I currently communicate and how I would like to communicate in the future. This should make me more effective and successful in achieving positive results. The trainer was highly effective, built trust very quickly, well-organised, clear and fun."
"An excellent course. I now have an efficient, effective and easy means to address and succeed at meetings. An excellent trainer – valuable interaction, great feedback."
"Fantastic training course and method. I hope it will help me achieve vastly more over time, particularly due to the rigorous focus on goals."
Accreditation
For participants from the UK in industries which have Continuous Professional Development requirements, the course is fully accredited by the CPDSO (Continuous Professional Development Standards Office) and you will earn CPD hours.
The course will be run by Alan Palmer (MBA '86D).
For more information please contact the organisers.