Talk - One way ticket: the life and work of sculptor Rayner Hoff
Description
One way ticket: the life and work of sculptor Rayner Hoff

A talk by Deborah Beck author of the recent monograph on the sculptor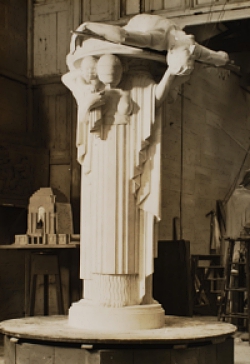 Rayner Hoff is best known for his works on the Anzac War Memorial in Hyde Park in Sydney, Australia, but little is known about his formative years in the United Kingdom. Deborah Beck's talk, based on the new biography she has written, will explore his eventful life in the UK, and his meteoric rise as a prominent star of the art world in Sydney. Illustrated with images of his major works as well as revealing family photos, Beck will describe his life and work and explain why this talented sculptor left the UK to move to Australia in 1923.
Originally of Dutch heritage, Rayner Hoff was born on the Isle of Man in 1894. He spent the first 28 years of his life in the United Kingdom and Europe. After growing up in Douglas and then in Lanercost in Cumbria, he moved with his family to Nottingham, where he trained as a stonemason with his father and studied at Nottingham School of Art. His studies at art school were interrupted by the Great War, and Rayner enlisted with his brother Tom in December 1915. Hoff's three years of war experience would profoundly influence many of the War Memorials he worked on in his later career.
After the war, Rayner Hoff gained a scholarship to the Royal College of Art (RCA) in London, and married fellow art student Annis Briggs in 1920. Hoff was a gifted and hard-working student, who enjoyed the years he spent at the RCA under the tutorship of the eminent sculptor Derwent Wood. His fellow students included sculptors Henry Moore and Barbara Hepworth, and they worked together in some converted tin huts near the Victoria and Albert Museum in South Kensington. Hoff was the top student in his year, and was chosen to exhibit at the Royal Academy of Arts in 1920 and 1922, and in 1921 he won first prize in sculpture at the RCA. He graduated in 1922, and was named an Associate of the Royal College of Art that year. He also won the prestigious Rome Scholarship, involving three years study at the British School at Rome. He left for Rome in 1923. During his time there, Derwent Wood and sculptor George Frampton were asked in London if they could find a sculptor for a position in the art department at East Sydney Technical College in Australia. They recommended Rayner Hoff. So, only a few months into his scholarship in Rome, Hoff made the life changing decision to resign the scholarship and to migrate to Australia with his wife and daughter.
In July 1923, he arrived in Sydney, and it was here that he made his name as an artist. Although Hoff's work was often regarded as controversial in Australia, he was accepted into the then insular art world of Sydney and soon became a highly visible figure. During the 14 years he spent in Sydney, he became one of Australia's first 'art celebrities', and was regularly called upon for his opinions in the press, causing sensational headlines when many of his works, including the Anzac Memorial sculptures, were revealed to the public.
Hoff's figurative work came to represent the modernist trend in Australia in the 1930s, and he energetically promoted his imaginative vision for a new art in Australia. His legacy in his adopted country is evident in the monumental public works that he and his students completed during the interwar decades, and also in his sensual and often moving sculptures that have been on view in public and private collections throughout Australia for over 80 years. Hoff's influence as a teacher is still felt at the art school in Sydney, where he re-organised the art department, re -named it the National Art School, introduced a 5 year Diploma Course based on the course at the RCA, and established the first School of Sculpture in Australia.
Sadly, Rayner Hoff is unknown in the country of his birth, and although his fellow students from the RCA, Henry Moore and Barbara Hepworth went on to have stellar careers in the UK, Hoff's move to Australia and untimely death at the age of 42 meant that his career came to an abrupt end. He left behind over 150 sculptures, including his major achievement in Australia, the magnificent sculptures on the Anzac War Memorial.
Deborah Beck, Rayner Hoff: the life of a sculptor. NewSouth Publishing, NSW: 2017 272 pages. Ills.
ISBN: 9781742235325 (paperback); 978174228080 (ePDF). RRP £29.50
This book will be on sale at a specially discounted price of £23 at the event.

Photo: Rayner Hoff, Sacrifice, c. 1932 (photo: courtesy of Deborah Beck)

Event image: Rayner Hoff, The Kiss, 1923 (photo: courtesy of the Art Gallery of South Australia)