Online talk with Christian de Lutz, Tuçe Erel, Magdalena Tyżlik-Carver & Alice Smits // Chair: Heather Barnett
About this event
In this last talk of the season, we will host curators of exhibitions and events at the intersection of art, technology and biology. They will present some selected artworks, and address the curatorial questions relating to biodigital interfaces and narratives, the care of living systems, the relationship between the gallery, the lab, and the field, or the role of art and design in science fiction. They will also explore the various ethical and philosophical questions that emerge in the complex interrelationships between biology and digital technologies.
Art Laboratory Berlin curators will talk about their current exhibition 'Hackers, Makers, Thinkers', 'DIWO' (Do-It-With-Others) methods and hacking practices. The curator of 'Fermenting Data' will also join us to present her research on the digitalisation and microbial processes and speculative approaches to posthuman creations. We will also hear from the curator of 'Machine Wilderness', a residency programme combining art and tech, including field experiments at the zoo.
Online - open to all
The event will be held online + Central Saint Martins students can watch the livestream in LVMH Lecture Theatre E002
Speakers:
Christian de Lutz and Tuçe Erel, Curators of 'Hackers, Makers, Thinkers' exhibition at Art Laboratory Berlin
Magdalena Tyżlik-Carver, Curator of 'Fermenting Data' research and exhibition
Alice Smits and Theun Karelse, Curators of 'Machine Wilderness' exhibition
Chair: Heather Barnett, Pathway Leader MA Art & Science, Director of the Art & Living Systems Lab, Central Saint Martins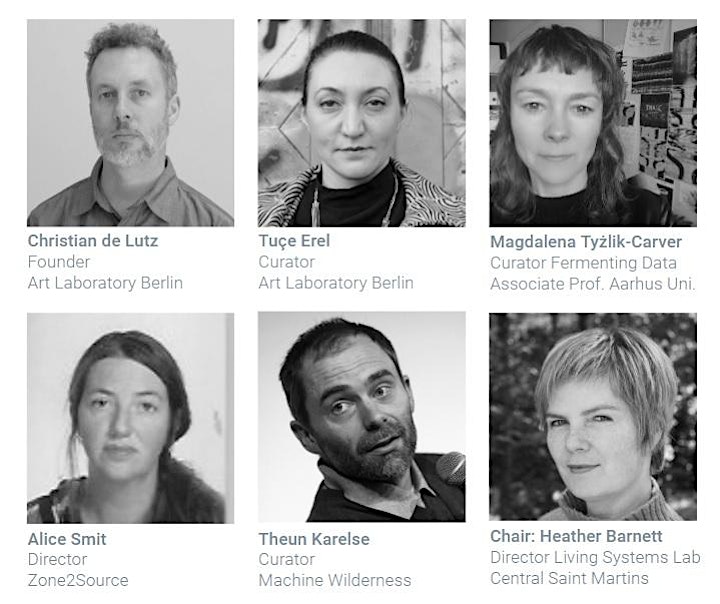 Art Laboratory Berlin was founded in 2006 by an international team of art historians and artists – including Regine Rapp & Christian de Lutz. ALB's main goal is the presentation and mediation of contemporary art at the interface of art, science and technology. Christian de Lutz is a curator and visual artist, whose curatorial work focuses on the interface of art, science and technology in the 21st century, with special attention given to BioArt, DIY Science initiatives and facilitating collaborations between artists and scientists. Tuçe Erel is a team member of Art Laboratory Berlin Since December 2019. Her curatorial interests are archiving practices, posthumanism, anthropocene, ecocriticism, and post-digital theories.
Magdalena Tyżlik-Carver is associate professor in digital communication and culture at the Dept. of Digital Design and Information Studies, Aarhus University. She is an independent curator and researcher investigating relational arrangements of humans and nonhumans and their biopolitical creations through posthuman curating and curating in/as common/s, future thinking, affective data, datafications and data fictions. She produces curatorial experiments with software, people, machines and data and investigates forms of data curating. Her recent curatorial projects include the exhibition Fermenting Data: Aarhus8000-8220 (2021 city-wide exhibition in Aarhus), Screenshots: Desire and Automated Image (2019 Galleri Image, Aarhus), and evening of performances Movement, Code, Notation (2018, SpLab, Aarhus).
Alice Smits is the initiator and artistic director of Zone2Source, a platform for art, nature and technology in the Amstelpark in Amsterdam. International artists are invited for regular exhibitions, talks, workshops and excursions in which new imaginations on nature-culture relations are being developed in the parks pavillion and outdoor spaces. With Zone2Source she is also organizing longer term transdisciplinairy collaborative research programs such as Machine Wilderness (together with FoAM) with a series of artist residencies in Artis Zoo. She is also a researcher at the Rietveld Academy.
Theun Karelse (Nl) studied fine-arts at the Sandberg Institute in Amsterdam before joining FoAM, a distributed group of transdisciplinary laboratories operating at the interstices of art, science, nature and everyday life. His interests and experimental practice explore edges between art, environment, technology and archaeology through field experimentation.
Chair: Heather Barnett is an artist, researcher and educator working with natural phenomena and living systems, often in collaboration with scientists, artists, participants and organisms. Her recent work centres around nonhuman intelligence, collective behaviour and distributed knowledge systems, including research with slime mould and ants. She is Pathway Leader on the MA Art and Science and convenor of the Art and Living Systems Lab at Central Saint Martins, a Visiting Associate Professor at Tokyo Institute of Technology, and a Higher Education Academy National Teaching Fellow. Heather is a Research Fellow with SHOAL group at Swansea University and has previously held Research Fellowships at the University of Sussex and the London School of Economics.