Event Information
Refund Policy
Contact the organiser to request a refund.
Eventbrite's fee is nonrefundable.
Join us to celebrate Women's History Month with a variety of talks on the Women that made history!
About this Event
From 1337 to 1450 England and France were in an intermittent state of war. Noblewomen took on responsibility for managing estates, arranging marriages and keeping kin networks active. Join Bev Newman, at this online talk, as she explores the fates of five noblewomen across the conflict. Agnes Poynings, widowed in 1339. Marjorie de la Beche who survive a forced marriage, only to die of plague in Calais. Alice Perrers, Edward III's notorious mistress, who's greed brought about her downfall. Isabel Fitzpayn, an heiress who witnessed the execution of four of her son Robert's five guardians. And Beatrice, Countess of Arundel, illegitimate daughter of John I of Spain, who had to battle for her dower rights as an alien.
There was no consistency for the women. Periods of fighting were interspersed with truces of varying length. The men who drove the most intense conflict were Edward III, Henry V and the minority council of Henry VI. Wives often waited a long time for news of husbands who never returned. Some like Agnes Poynings were used to long absences. Her husband Sir Thomas was a king's banneret and was absent for prolonged spells throughout their marriage. After his death Agnes continued to run the estates on behalf of her eldest son Michael. She also managed her dower lands, and the Criol and Rokesle inheritances from her uncle and brother. Agnes never remarried, perhaps unwilling to forgo the autonomy and social position widowhood afforded her.
Agnes's sister-in-law, Marjorie de la Beche was five times widowed with a young daughter by Easter 1348. A respected member of Berkshire society who moved within royal circles, her life was about to change dramatically. Her extensive lands, including jointures and dowers made her a magnet for landless nobles. On Good Friday 1348 a gang led by Sir John Dalton attacked her home. Dalton raped, kidnapped and forcibly married Marjorie. He murdered her brother Michael. Her lands were confiscated and granted to her nephew, Agnes' son Michael. Edward III sent the outlawed Dalton to serve in Calais. Marjorie died there of plague in 1349.
Alice Perrers was Edward III's notorious and rapacious mistress. A shrewd businesswoman, she used her position at court to acquire lucrative wardships, forfeitures, and land grants. Michael's son, Thomas 2nd Baron Poynings died childless in 1375. Alice was granted the wardship of his younger brother and heir, Richard, worth over £3000. Despite the efforts of the Good Parliament of 1376 to banish her, Alice cared for Edward in his final illness. His death removed all protection, and she suffered a rapid downfall. Being a woman, Alice's behaviour was viewed as more unacceptable than the male court officials who had similarly exploited the king's increasing weakness.
Isabel FitzPayn, was a Dorset heiress who married Richard, 3rd Baron Poynings. Her father was a younger son of the Greys of Codnor, who benefitted from marrying Elizabeth, the de Bryan heiress. After Richard's death on John of Gaunt's 1387 campaign to secure the Castillian throne, her son Robert was taken into royal wardship by Richard II. Initially he was placed with James Berners, his father's cousin and a member of the king's household. He was the first of four of Robert's guardians to be executed. Isabel did not remarry and died in 1393, shortly after her father. Where she could, Isabel appears to have used networks of kin and affinity to suggest suitable guardians for her son.
Beatrice, Countess of Arundel was raised by John I of Portugal's English Queen, Philippa of Lancaster. She married Thomas Fitzalan, 5th earl of Arundel and managed his estates, in his frequent absences. He was prominent at the courts of Henrys IV and V. Serving as a politician, diplomat and military commander. Thomas died childless in 1415, at home, from an illness contracted on the Agincourt campaign. Beatrice, required Letters Patent from Henry V granting her naturalisation. She then fought to claim her dower.
Date: Tuesday 23rd March
Time: 7pm - 50 minute talk and 10 minutes for questions
Ticket Price: £5 for HTL Members and £7 for non-members.
Notes on the speaker:
Bev Newman began seriously studying medieval history ten years ago. She soon became involved in assisting other historians by researching information for their projects. From there she began blogging and sharing her learning with a wide audience via social media. Her current research centres on the changing social and economic situation in England during the Hundred Years War. Her first book has been commissioned by Pen and Sword and will be published in 2022. It is a study of five families, the Fitzalan earls of Arundel, the Mortimers of Wigmore, the Bardolf's of Wormegay, the Poynings of Sussex and the Berkeley's of Gloucestershire from 1337 to 1450. Some of these families have never had their stories told before. Bev's passion for social history is bringing to life the kin networks and marriages which bring some closer to power and others to the executioner.
For all Heritage Lincolnshire events please go to https://www.heritagelincolnshire.org/events
Tickets can be purchase directly online at https://www.heritagelincolnshire.org/shop/tickets/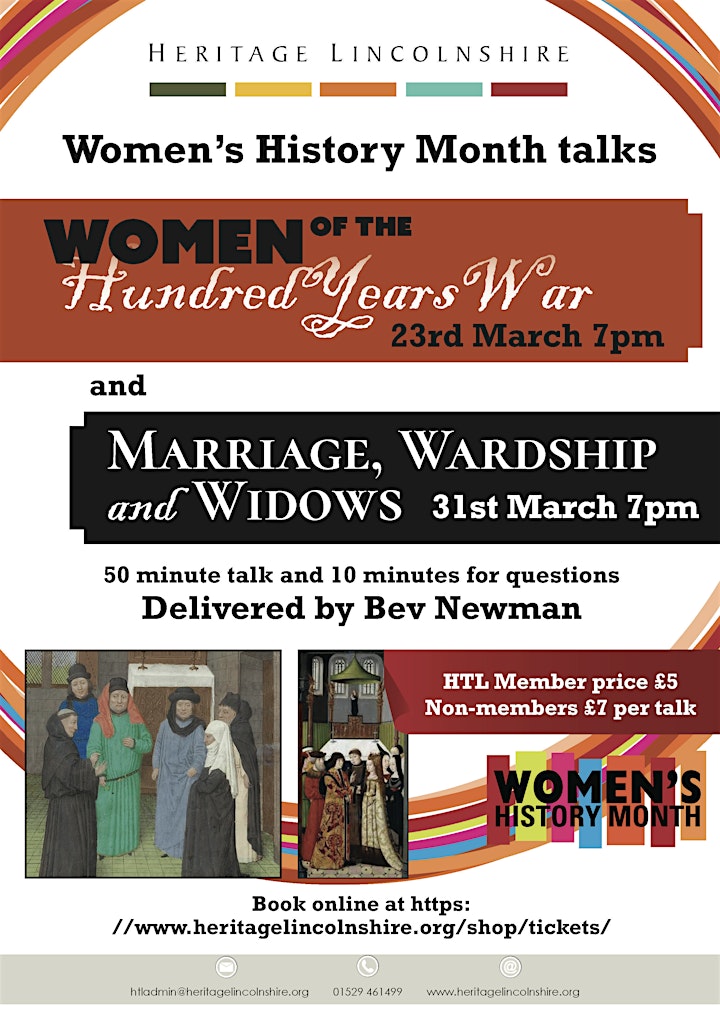 Date and Time
Location
Refund Policy
Contact the organiser to request a refund.
Eventbrite's fee is nonrefundable.