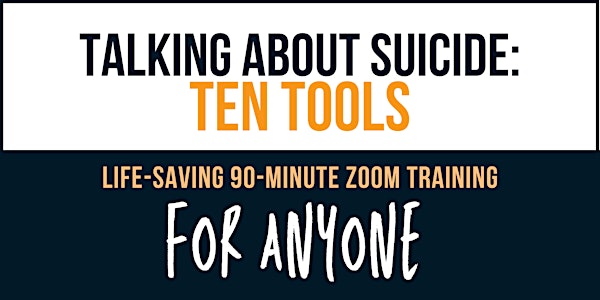 Talking about Suicide: Ten Tools - online training for anyone
In just 90 minutes, learn ten tools and the confidence to start a conversation with someone you're worried about. You could save their life.
About this event
Talking about Suicide: Ten Tools (TAS10) is delivered live on Zoom, safely and sensitively. It was created by specialists from Olly's Future and Start the Conversation.
Will I have to talk?
There is zero pressure to talk or share your experience; many people attend our training simply to observe and learn.
To ensure the safety and comfort of our participants, we provide emotional and technical support throughout, and we also ask that everyone keeps their Zoom video on for the duration (although you may of course choose to remain on mute).
Why should I attend?
Talking about suicide (without fear or judgement) is the best form of prevention we have, and anyone can learn these life-saving conversational skills - they don't 'belong' to the professionals!
Right now, training like this is especially important because, although we don't yet know the full impact of Covid-19 on our collective and individual mental health, we do know that, like us, our friends, family and neighbours are struggling in ways that they may never have done before.
It is important for us all to equip ourselves with these tools because:
Around 1 in 20 people are thinking of suicide at any time. (Samaritans)
72% of people who died by suicide had no contact with a health professional in the year before their death. (Mental Health Foundation)
The emotional impact on those left behind – people bereaved by suicide are 65% more likely to attempt suicide themselves than if their loved on died by natural causes. (SASP 2019)
What will I learn?
On this training you'll learn to put aside common misconceptions and fears that can get in the way of us starting a conversation. Fears like:
"What if I say the wrong thing?"
"What if I make things worse?"
"What if I ask about suicide and put the idea in their head?"
You'll also learn to talk about suicide with confidence. We cover things like:
What is 'healthy' vs 'unhealthy' language around suicide?
How, why and when should I ask someone if they are thinking about suicide?
How do I listen without trying to fix their problems - and why is this important?
How do I get consent to get help from other people and services?
Who should attend this training?
Anyone is welcome to sign up. We are especially keen to welcome anyone who works with the public, including:
Bartenders, waiters and hotel staff
Taxi drivers and bus drivers
Barbers and hairdressers
Foodbank volunteers or any other community staff
Doctors, nurses and emergency services workers
Counsellors, therapists, yoga teachers
Please note: spaces are open to anyone but they are limited. Please cancel your booking if you won't be able to attend for any reason, so someone else can take your place.
Book this training for your team
We can only accept two individuals from each organisation on these open sessions, but we are now taking bookings for 'closed' (and tailored!) sessions for teams and organisations. Email training@ollysfuture.org.uk or complete our Enquiry Form for costs and more information.