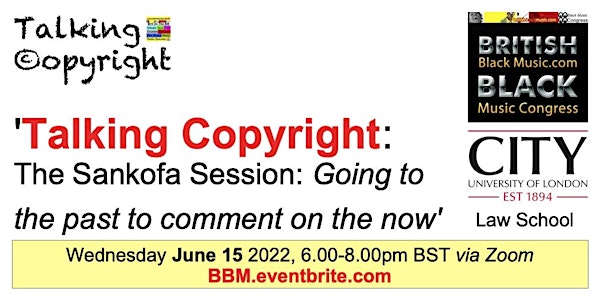 'Talking Copyright: The Sankofa Session: Going to the past to comment...'
Sales Have Ended
Registrations are closed
If you've booked, please check your Eventbrite Booked Tickets page for Zoom details.
Online discussion about Copyright and what today's industry practices would have been like, if rights stopped at specific times in the past.
About this event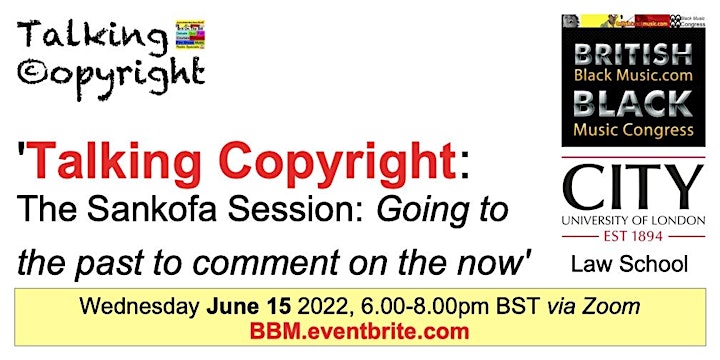 UPDATE: Special guests Prof Caroline Ncube (SA) (DST/NRF SARChI Research Chair in Intellectual Property, Innovation and Development in the Department of Commercial Law at the University of Cape Town (UCT)), Dr Marcus Goffe (JA) (Attorney-At-Law and former Jamaica Intellectual Property Office (JIPO) director) and Dr Laura Thompson (US) (Disruptive innovations consultant, music & film production, publisher and director), join facilitators Dr Enrico Bonadio (Reader in Intellectual Property Law, City Law School), Kwaku (BBM/BMC, Entertainment Law LLM) and others in a what-if conversation.
'Talking Copyright: The Sankofa Session: Going To The Past To Comment On The Now'
A BBMM2022 CultureClubTalk presentation
The idea is a CultureTalkClub conversation where each panellist, special guest, or audience start the conversation, by taking one element from Copyright history and theorising on how either its inclusion or absence impacts or would have impacted on the current Copyright regime. 
For example,
What if the automatic copyright revision clause of the 1911 Act had carried over into the 1956, and 1988 Acts?
What if there was no copyright protection of musical compositions?
What if the term of 14 years still persisted till today?
What if sound recording had a term of just 50 years?
You get the picture? How far back can we go to project unto today's copyright regime and creative industry practice? Statute of Anne?
Organised by BBM/BMC (BritishBlackMusic.com/Black Music Congress) in association with Akoben Awards, CultureClubTalk and The City Law School.
BBMM2022 - British Black Music Month - June-July . All events can be booked via www.BBM.eventbrite.com including 'Musicians: Understanding Your Rights, Income Streams and Music Industry Alphabet Soup' on Tuesday June 23 , 6-8pm.