Join Creative Edinburgh for Talking Heads: Connect + Innovate, sharing the results of Connected Innovators Cohort Two projects.
About this event
Talking Heads: Connect + Innovate is back!
We're returning with cohort two of Connected Innovators, a line up of emerging leaders from across the creative industries working to build future technologies, sustainable networks and new modes of learning.
Prepare to be inspired as our second cohort of Connected Innovators map out the pioneering and innovative work laying the foundations for a more sustainable, connected and collaborative future for the creative industries.
Delivered in partnership with Creative Informatics, our line up will follow Creative Edinburgh's Talking Heads format. Tune in from the comfort of your sofa for a fast-paced evening celebrating Edinburgh's creative industries!
Our Line Up
Spanning sectors including fashion, visual arts, education, performance and technologies, Cohort Two of Connected Innovators funded four projects operating within Edinburgh's creative landscape.
As their projects near the end of their funding, Talking Heads: Connect + Innovate invites them to promote the work that's taken place, skills and collaborations gained and their plans for the future!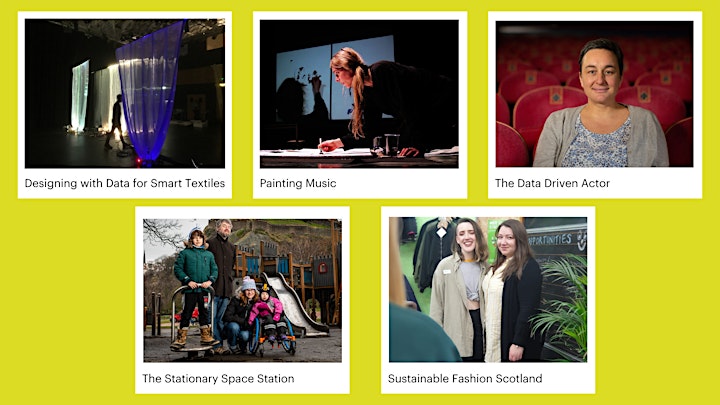 Sara Robertson and Sarah Taylor - Smart Textile Design
Sara + Sarah was founded in 2018. Their work focuses on transforming textile properties through existing manufacturing capability within the UK. They work with the aesthetic, material and programmable properties of smart textiles and explore markets and creative opportunities for their use beyond wearables.
Kate Steenhauer - Painting Music
Kate is a contemporary fine artist. This project began in 2018 in collaboration with AI developers Dr. Starkey and Jack Caven from Aberdeen University. Painting Music uses Artificial Intelligence to create music from live painted drawings. A portable standalone and autonomous system will be engineered in collaboration with art studio Ray Interactive to enable live broadcasting of the artist's practice to audiences and creatives through any physical and digital platform.
Clare Duffy - Civic Digits
Clare is Founder and Artistic Director of Civic Digits, blending digital technology, gaming and live performance to question what it means to be a digital citizen. Their second project 'bad actor' aims to create an expressive 'data driven actor': a Vizblocks robot that can be fed with data and integrated into performances written by young people about their safety and security online.
Chris Dooks - The Stationary Space Station (Cohort 1)
​Chris Dooks is an artist. The Stationary Space Station develops online activities around creative writing, photography, and sonic art for people with M.E (myalgic encephalomyelitis).
Mairi Lowe - Sustainable Fashion Scotland
Mairi is an MSc Social Innovation Graduate and founding member of Sustainable Fashion Scotland (SFS). SFS is a community-led social venture with the mission to connect the fashion community in Scotland and facilitate a sustainable fashion transformation.
To explore the projects further, head to the Cohort Two blog here.
About Connected Innovators
Since launching in Spring 2020, Connected Innovators has funded over 15 emerging leaders in the creative industries, allowing time to conduct research & development into new approaches to their work via data and data-driven technologies.
Connected Innovators is delivered by Creative Edinburgh in partnership with Creative Informatics. To find out more, visit here.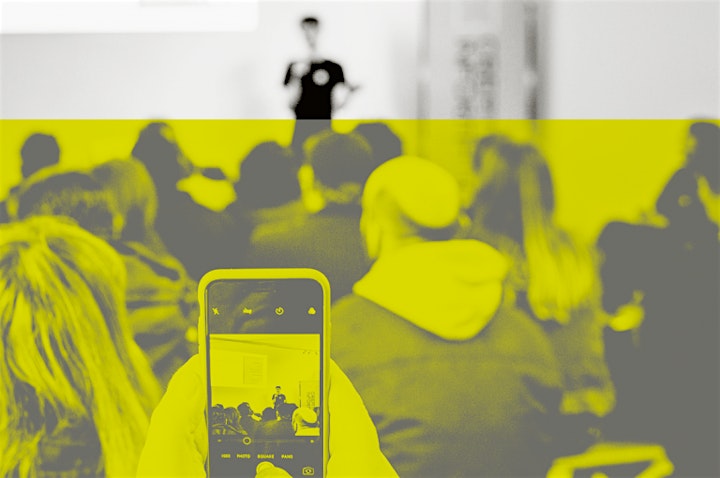 About Creative Edinburgh
Creative Edinburgh is committed to helping creatives thrive. Through events, career support and advocacy, we bring together and help grow the city's creative community, providing a space for creation, collaboration and connection at every stage of your career.
Creative Edinburgh is supported by Creative Scotland.
About Creative Informatics
Creative Informatics is a partnership across the University of Edinburgh, Edinburgh Napier University, Codebase and Creative Edinburgh, enabling individuals and organisations to explore how data-driven technologies can enhance their work.
Funded by the Creative Industries Clusters Programme, managed by the Arts & Humanities Research Council as part of the Industrial Strategy, with additional support from the Scottish Funding Council. The programme is part of the City Region Deal Data Driven Innovation initiative.
Organiser of Talking Heads: Connect + Innovate #2
We help creative individuals and businesses create, collaborate and stay connected at every stage of their careers: www.creative-edinburgh.com