Description
Peter Wächtler's works combine watercolour drawings, ceramic sculptures, video and various linguistic forms (voice-over, subtitle, song text or short story) creating a system of associations between literary genres and historic narrative.
For Liverpool Biennial's Talking Practice programme, Wächtler will deliver a reading accompanied by projections of his drawings.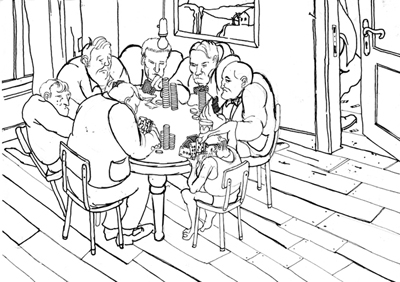 Peter Wächtler will deliver a new commission, alongside existing works, in the forthcoming Liverpool Biennial 2014 Exhibition curated by Anthony Huberman and Mai Abu ElDahab, 5 July - 26 October 2014.
Peter Wächtler's recent solo exhibitions include Senator, dependence, Brussels; Springtime, Kunstverein Hildesheim; B.A.C.K, Ludlow 38, New York, 2013; Das Kino im Alten Mühlenviertel, Galerie Lars Friedrich, Berlin, 2012; The Set, Establissement d'en Face. Brussels, 2011. His work has been included in group exhibitions such as Lyon Biennial, 2013, Un-Scene II, Wiels Centre d'Art Contemporain, Brussels, 2012; Melanchotopia, Witte de With, Center for Contemporary Art, Rotterdam, 2011. Peter Wächtler is a member of Establissement d'en Face and a co-founder of the exhibition space Sotoso in Brussels.
Talking Practice is a series of talks by practitioners including artists, designers, architects, curators, filmmakers and writers anout their ideas and influences.
Talking Practice is supported by Frederiks
Image credit: Peter Wächtler, Untitled, 2014
Organiser of Talking Practice: Peter Wächtler
Liverpool Biennial presents the UK biennial of contemporary art. It takes place every two years across the city in public spaces, unused buildings, galleries and online. The Biennial is underpinned by a programme of research, education, residencies and commissions. Founded in 1998, Liverpool Biennial has commissioned over 340 new artworks and presented work by over 480 artists from around the world.