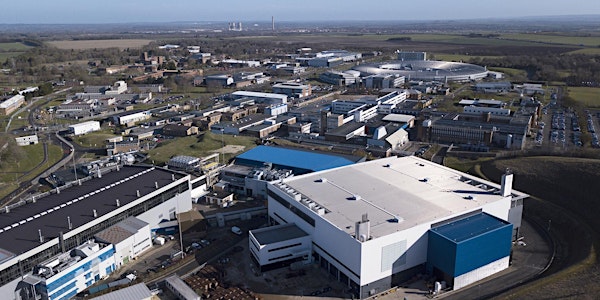 Talking Science with the Rutherford Appleton Laboratory 2021-22
This series of fascinating and FREE monthly scientific lectures by invited speakers takes place once a month from September to June.
About this event
As part of Rutherford Appleton Laboratory's Talking Science programme, we have a fantastic series of talks lined up for you, and we do hope you'll be able to join us for them! The talks cover everything from from studying life in extreme environments to how we use particle physics to model pandemics.
We now plan to run Talking Science entirely via Zoom until at least May 2022 with talks only taking place once at 7pm. After Easter, we may be able to welcome you back to the lab - we'll update you as soon as we can!
If you're not able to join the webinar live, but would like a recording of it, please register and select the option to receive the recording on the order form.
To allow you to book more than one ticket at once, the date of the talk is shown in your ticket name, not in the time shown on Eventbrite. We will send you a reminder email in the run up to each talk you have booked.
Talks coming up:
FRIDAY 13 MAY 2022, 19:00 - Mad, bad and dangerous to know (age 8+), by Dr Kathryn Harkup
Scientists sometimes get stereotyped. Why are scientists depicted as chronically shy, slightly odd and carrying out crazy experiments to try and take over the world? Of course, it's only Bond villains who are plotting to take over the world and most scientists are lovely, sociable people. But the stereotype has to come from somewhere… This talk looks at a selection of scientists who have gone the extra mile to discover incredible things. They did disgusting experiments and faced personal danger and ridicule to give us brilliant scientific insights. Their eccentricities may have even helped them in their work. There are sword fights, electrocuted frogs and buckets and buckets of wee!
FRIDAY 24 JUNE 2022 - Jurassic Pompeii – Sea Lilies, Sea Urchins and a Jurassic storm!, by Dr Neville Hollingworth
We will shortly be releasing places for our first in-person Talking Science since the pandemic: we do hope you'll be able to join us! If you'd like to be notified when tickets become available, please email visitral@stfc.ac.uk and ask to be put on our mailing list.
A new site in Wiltshire has revealed one of the most important Jurassic localities in the world that contains exquisitely preserved remains of sea lilies (crinoids) sea urchins, and starfish. The site has produced thousands of exceptionally preserved complete specimens including at least 18 species, some of which are new to science. The fossils are so well preserved that they even have their original pigment! This is the story of life in the Jurassic sea 167 million years ago, a story of tranquil seafloor meadows carpeted by sea lilies and other marine life, a story of how researchers, using state of the art imaging techniques, uncovered the secrets of a site, a story of tropical seas, storms and a calamity that's written in the rocks!