Talking Truths - The Future of Female Leadership
About this Event
#TalkingTruths - The Future of Female Leadership
Female leaders are working harder than ever before. But they are facing even more challenges in their roles at work and home, such as:
Gender Parity
Barriers to progression
Isolation in leadership
Managing work-life balance
That means that the future of female leadership looks far away - and frankly, unappealing.The reality though, is that we want it to be different.
Female leaders across the globe are ready to step up and create revolutions - leading to true equality within the workplace, more acceptance of gender roles and breaking down the barriers that come with being a leader.
#TalkingTruths Conference has been created so that..
Women who know about the pressure, struggle and judgements in the workplace can share the truths about the struggle, judgement and pressures that women face AND what strategies and actions will make a difference to your workplace.
You will leave feeling supported and empowered so that you can step up and be a better leader, know how to grow your confidence, embrace failures and enhance your wellbeing and resilience.
Outline of the day:
The conference includes speakers, panel discussion and sessions that are interactive and transformative. You'll leave with practical tips that have you raring to go and feeling inspired to achieve.
Creating Courageous Conversations so that you have tools and strategies for success.
Transform your thinking so you can step into self promotion and stop hiding
Enhance your results by looking at why failure is fundamental from transformational performance coach who previously directed teams in the tech sector.
Learn how to balance a career and family from an experience UK Director of Global Leadership roles.
Advance your learning with the panel discussion on wellbeing in the workplace - what works and what doesn't.
Why you need attend:
Studies show women who support women are more successful in business. Talking truths conference will enable you to improve your performance, lead effectively, grow in confidence and make a positive impact on the professional and personal growth of you and your team, without compromising wellbeing.
Who should attend:
Anyone with a role or interest in supporting women in the workplace including: HR managers/officers; wellbeing officers; senior managers; consultants; trade unions, staff network leads and representative groups.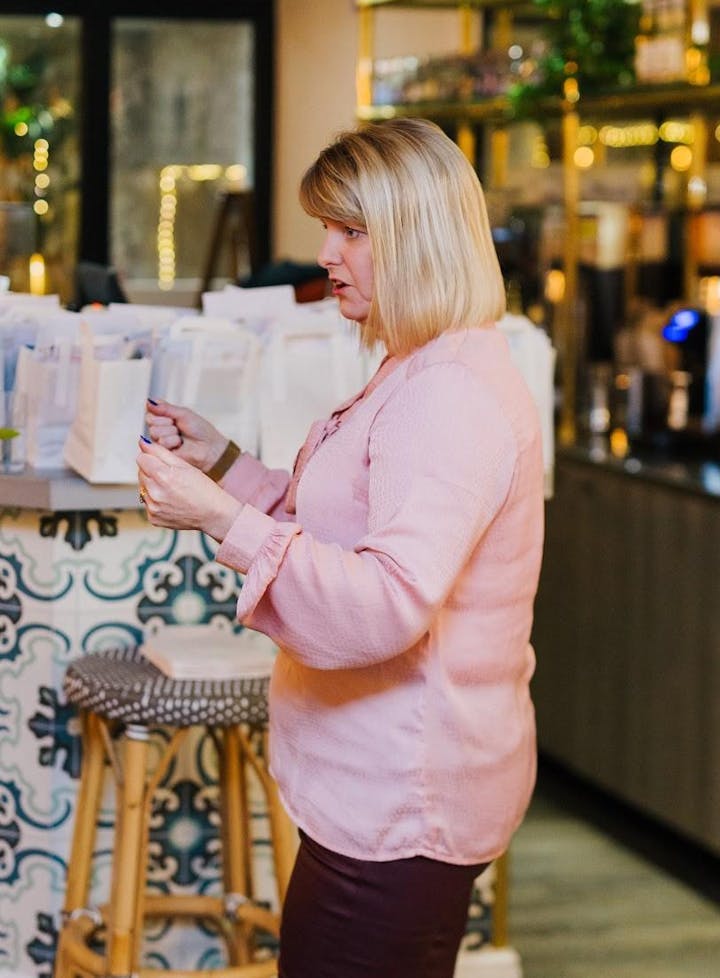 Is lunch Included?
Yes. Lunch and refreshments during the breaks are all included
Please complete any dietary requirements on the booking form or email to emma@emmalangton.com
What's the dress code?
Whatever you are comfortable wearing.
Do I need to bring anything?
Pad and pens will be provided but please do bring gadgets so you can take photos and share the #TalkingTruths event on social media.
Can men come to #TalkingTruths ?
I'm expecting that most of our delegates are women, but men are absolutely welcomed.
I'm not in a corporate role, can I still come?
Of course you can! You will still get a ton of benefit from attending.
Can I bring my partner or some of my team?
Of course - as long as they buy a ticket if they're attending the event itself.
Do I have to bring my printed ticket to the event?
No
Is my registration/ticket transferrable?
If you are unable to make the event, you may transfer your ticket to a friend/colleague. Just drop us a line at least 48 hours before the event with their name (and dietary requirements).
Can I pay in instalments?
Unfortunately not.
Is there an alternative method of payment?
Automating registration and payment via Eventbrite helps us keep ticket prices down so that is our preferred method of payment.
Can I buy in bulk for my team?
Of course you can. We offer volume discount for those buying 5 or more tickets. Just email emma@emmalangton.com with your numbers and requirements and we can sort that out.
What if I don't have or don't want to use PayPal?
You don't need a PayPal account to buy a ticket for this event. When you get to the checkout select 'checkout as guest' and you'll be able to enter your credit or debit card details as normal.
What is the refund policy?
Please be advised that if you are unable to attend the event we are unable to offer refunds, transfers to a digital ticket or credits for a future event. If you buy a ticket and are unable to attend, you are welcome to change the name on your ticket as long as we have at least 48 hours notice of the name of your replacement and any dietary requirements. Please email this to emma@emmalangton.com
Where can I contact the organiser with any other questions?
Please email any queries to emma@emmalangton.com