Talking Wikipedia In Ghana

Saturday, March 29, 2014 from 2:00 PM to 5:00 PM (GMT)
Event Details
Interested in the internet? Interested in research? Interested in producing content for the world? Have you heard of Wikipedia, or wondered how its content is created?
Whether you are an experienced Wikipedian or newbie, or plain curious, you are welcome to join us  for an Informal Meeting @ Ghana-India Kofi Annan Centre Of Excellence In ICT, Accra (click here for Googlemap or scroll to bottom for map).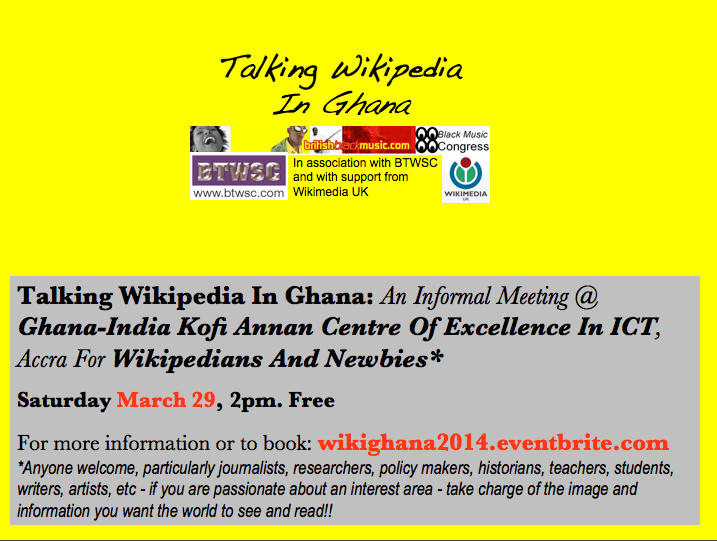 Anyone welcome, particularly journalists, researchers, policy makers, historians, teachers, students, writers, artists, etc - if you are passionate about an interest area - take charge of the image and information you want the world to see and read!!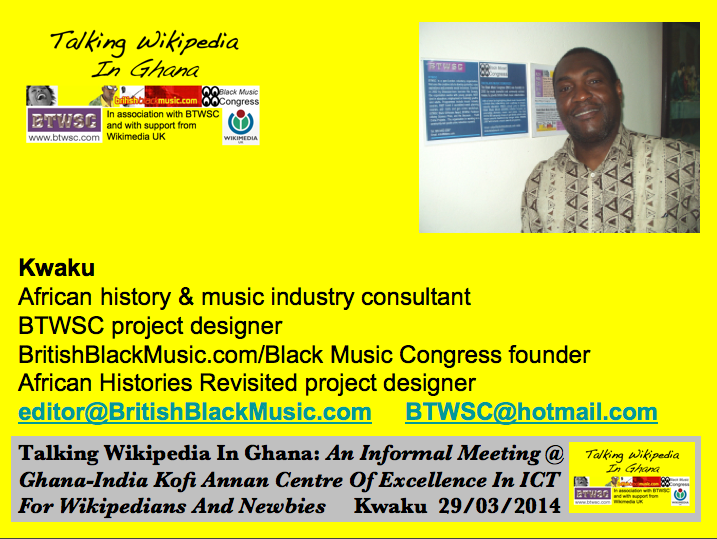 After a brief presentation by Wikipedia UK volunteer Kwaku, which provides an overview of Wikipedia and related projects, the floor will be open for discussion about:
+ what you can do to post/edit content on Wikipedia
+ what's happening in the Wikisphere particularly in Ghana, and generally across Africa
+ making local contacts and networking
PLEASE NOTE: There will be refreshments and some free Wikipedia merchandise available at start of the programme - book early, as places are limited.
Pre-book via www.WikiGhana2014.eventbrite.com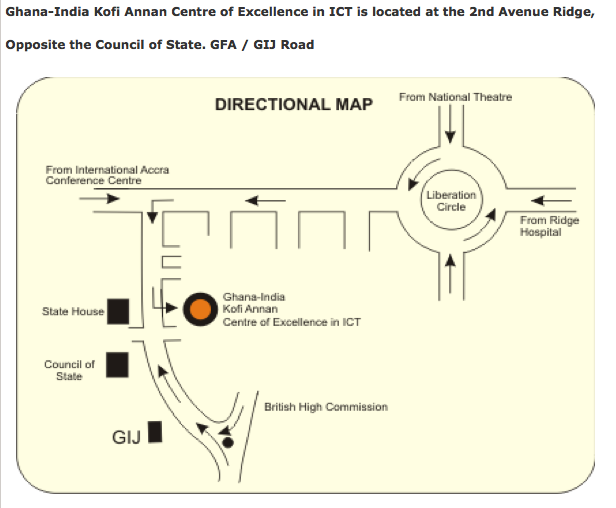 When & Where

AITI-KACE (Advance Information Technology Institute - Kofi Annan Centre of Excellence)
2nd Avenue Ridge, Opposite the Council of State. GFA / GIJ Road
Accra, Greater Accra 233
Ghana

Saturday, March 29, 2014 from 2:00 PM to 5:00 PM (GMT)
Add to my calendar
Organizer
BritishBlackMusic.com (BBM) is an online resource providing information about music, music business, and music business education with a bias towards British and black music. Its off-line activities include cultural industries research, consultancy, music business courses, and it organises seminars, conferences, and the Black Music Congress (BMC) debates. www.BritishBlackMusic.com
BTWSC is a Brent-based, pan-London not-for-profit voluntary organisation. It uses the creative arts to develop the potential of youth and adults. It is also engaged in raising aspirations and promoting social inclusion. BTWSC's core projects are centred around music industry, event planning, and music technology courses; writing workshops and writing competitions; ceremonies recognising unsung people; and family and community cohesion projects. For more details:  btwsc@hotmail.com, www.BTWSC.com
Photography & Videotaping Notice
This event may be photographed, and/or videotaped on behalf of the organiser for display, distribution, and broadcast, including on television and the world wide web.

By attending or participating in this event, you are giving your consent to be photographed and/or videotaped and waiving any claims regarding the use of your image or contribution.

No videoing allowed without the prior and express permission of the organiser.