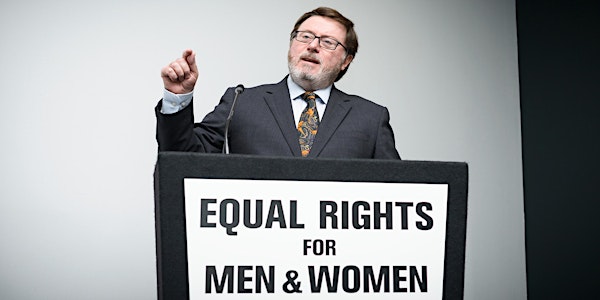 Talks: Mike Buchanan on "Equal Rights for Men & Women", Elizabeth Hobson on...
Description
[Update 23.5.19: Online ticket sales cease at 22:00 today. If you arrive at the event without a ticket, you may still be able to attend. A small number of tickets will be available from the registration desk over 18:00 - 18:10, the first talk starts at 18:15.]
[Update 15.5.19: This event was originally scheduled to be held in the Alison Richard building, which houses the Politics department, but has been relocated by the university following a feminist campaign of lies and misrepresentations about our political party. On the plus side, it's much nearer the city centre, and just seven minutes' walk from the pub where we'll be meeting for lunch and drinks beforehand, details here https://j4mb.org.uk/2019/05/15/new-venue-for-cambridge-university-talks-much-more-convenient-to-reach/.]
An event with thought-provoking speeches by two of the most prominent figures in the global Men's Rights Movement, respectively the leader and Director of Communications of the political party Justice for Men & Boys (J4MB) https://j4mb.org.uk:
Mike Buchanan – "Equal Rights for Men & Women"
Elizabeth Hobson – "The History of Feminism"
This event has caused much controversy, and feminists are doing all in their power to cancel it, and deny us freedom of speech. Cambridge University PhD students recently wrote an open letter to Stephen Toope, the Vice-Chancellor, unsuccessfully seeking to have the event cancelled. An article was published in Varsity, titled, "Open letter calls for cancellation of anti-feminist group's meeting in Sidgwick" https://j4mb.org.uk/2019/04/25/our-talks-at-cambridge-university-24-may-efforts-by-academics-and-students-to-deny-us-freedom-of-speech-begin/. The article contained false allegations about historical harassment, and (ludicrously) suggested the possibility of intimidation and physical harm of students, academics, and others.
A second article in Varsity, also seeking to cancel the event, made false allegations of misogyny and hate speech. It was titled, "J4MB should not be legitimised under the guise of free speech" https://j4mb.org.uk/2019/05/05/varsity-j4mb-should-not-be-legitimised-under-the-guise-of-free-speech/. Karen Straughan, one of the world's foremost anti-feminist Men's Rights Activists, reponded to the article https://j4mb.org.uk/2019/05/05/karen-straughan-girlwriteswhat-responds-to-cambridge-university-feminists-seeking-to-deny-j4mb-a-platform-on-24-may/.
Everybody is welcome at this event, both supporters and those opposed to campaigning on behalf of the human rights of men and boys.
Both speeches will be followed by 20 minutes of Q&A.
Tickets for the event are free, but we highly recommend reserving a ticket. Doors will open, and registration for ticket holders start, at 5:30 pm. Seats will be reserved for ticket holders until 6:00 pm, those without tickets will then be allowed into the event on a first come, first served basis. The first talk will commence at 6:15 pm.
Please note that in the lecture theatre, only those authorised by J4MB will be permitted to make audio or video recordings. A video recording of the talks and Q&A sessions will be published online at some point, but the faces of audience members will not be visible. You're welcome to take still photographs of the speakers at any time, as well as photographs of other people (with their prior permission).
Cambridge university's Statement on Freedom of Speech https://www.registrarysoffice.admin.cam.ac.uk/governance-and-strategy/university-statement-freedom-speech.
Cambridge university's Code of Practice on Meetings and Public Gatherings on University Premises https://www.cam.ac.uk/system/files/code_of_practice_on_meetings_and_public_gatherings_on_university_premises.pdf.
We look forward to meeting you at the event, and we hope it will go ahead without disruption.
J4MB was launched in 2013, and remains to this day the only political party in the English-speaking world campaigning for the human rights of men and boys on many fronts. Those rights are assaulted by the state's actions and inactions in many areas in the UK today, almost always to privilege women and girls. 20 such areas were explored in the party's 2015 general election manifesto https://j4mb.org.uk/2015-general-election-manifesto/. In stark contrast, there are no areas today in which the British state assaults the human rights of women and girls specifically. None.
The image above of Mike Buchanan was taken during the fourth International Conference on Men's Issues, which J4MB hosted. It was held at Excel London in July 2018 http://icmi2018.icmi.info. People attended from 24 countries, from as far afield as New Zealand. J4MB had previously hosted the 2016 conference, at the same venue http://icmi2016.icmi.info.
The next conference will be held in Chicago, 16-18 August, 2019 http://icmi2019.icmi.info. The organizers of the conference are two notable Canadian anti-feminist Men's Rights Activists - Alison Tieman (Honey Badger Brigade https://honeybadgerbrigade.com/) and the aforementioned Karen Straughan (GirlWritesWhat) https://www.youtube.com/user/girlwriteswhat).
Speakers in Chicago will include Philip Davies MP (C, Shipley), who spoke at the 2016 conference in London, on "The Justice Gender Gap". Other speakers will include Mike Buchanan and Elizabeth Hobson.
Organiser of Talks: Mike Buchanan on "Equal Rights for Men & Women", Elizabeth Hobson on "The History of Feminism"