Evening talk about the spectres of Punk in music, cities and the politics of anarchy, short film Wuhan Punk (2020) will also be screened.
About this event
** This event is fully reserved. On the day, we will give priority to those who can show a reservation email. Those without will be welcomed in later subject to availability of space.**
'Punk is the thing that brings all the people together'. In the UK, punk and post-punk represented 'a youthful glimpse into the void' in the 1970s and the 1980s.  From the day of its birth, punk had been underpinning a new politics of tension and a young generation of working-class radical political space of anarchy, becoming a kind of language. Punk has become a lifestyle, philosophy and a cultural form that deeply inspired and embedded in British culture, we can still see traces of its influence to the present. 
In China, punk culture has never escaped from its underground scene. To some extent, emerged from the 1990s, punk music communities became incompatible with China's hostile political ecology, but it miraculously grew in cities like Wuhan until the end of the 2010s. Nowadays, its only remnants have gradually disappeared with the changes in its political and economic climate, with its spectre haunting these cities.  
Speakers:
Matthew Worley is professor of modern history at the University of Reading. He is the author of several articles and books on British politics and culture.  No Future: Punk, Politics and British Youth Culture, 1976-84  was published by Cambridge University Press in 2017. He is currently writing a book on punk-related fanzines. 
Chris Zhongtian Yuan is a Wuhan-born artist based in London. Their work reconstructs political, colonial and ecological aspects of sound and storytelling across time and space. Chris was awarded the 2020 Aesthetica. More visit https://chriszhongtianyuan.com
Moderator Weida Wang is an Honorary Research Fellow in the Department of Music at the University of Liverpool. His previous research focused on the Western classical music industry in the context of post-socialist China. Weida is currently working on projects about digital platformization of music, sound art, popular music culture, neoliberalism, and biopolitics of cultural production. 
About the book: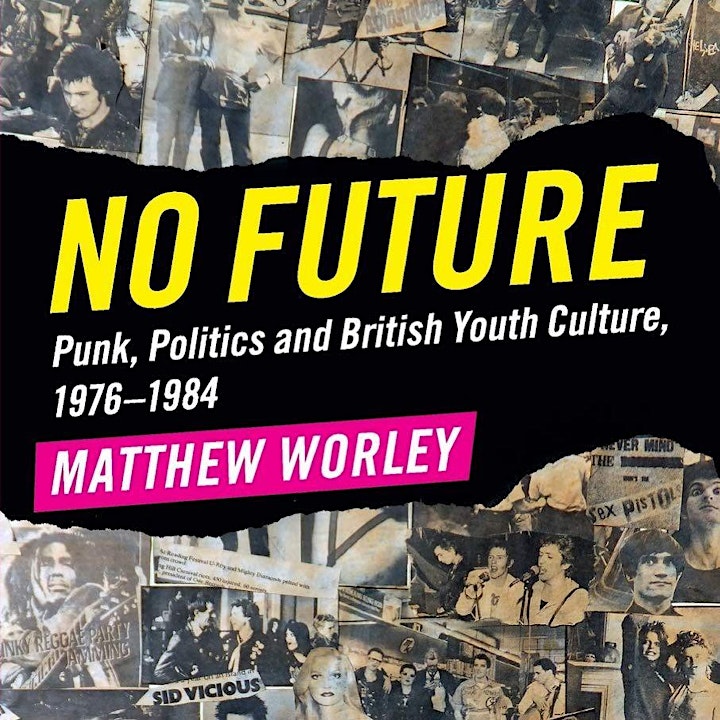 'No Feelings', 'No Fun', 'No Future'. The years 1976–84 saw punk emerge and evolve as a fashion, a musical form, an attitude and an aesthetic. Against a backdrop of social fragmentation, violence, high unemployment and socio-economic change, punk rejuvenated and re-energised British youth culture, inserting marginal voices and political ideas into pop. Fanzines and independent labels flourished; an emphasis on doing it yourself enabled provincial scenes to form beyond London's media glare. This was the period of Rock Against Racism and benefit gigs for the Campaign for Nuclear Disarmament and the striking miners. Matthew Worley charts the full spectrum of punk's cultural development from the Sex Pistols, Buzzcocks and Slits through the post-punk of Joy Division, the industrial culture of Throbbing Gristle and onto the 1980s diaspora of anarcho-punk, Oi! and goth. He recaptures punk's anarchic force as a medium through which the frustrated and the disaffected could reject, revolt and re-invent.
This book will be available for sale and signing at the event. £17.99
About the short film:
Punk had raged across much of the planet before it got to Wuhan in the 1990s. But its local outpouring was no less angry and fiery for all that. Zhongtian Yuan's video is an evocative memento of the burst of creative energy behind that moment in time that mobilises archive material and atmospheric digital animation to ponder the current whereabouts of Mai Dian, the charismatic frontman of the punk group, Si Dou Le. While his memory and influence lives on powerfully in the mind of the video's narrator, traces of his music have mostly disappeared, along with the venues that the Wuhan bands would have performed in. A drone camera high above the city reveals a gleaming vista of recent urban development that has doubtless accounted for many of those older neighbourhoods, in a pattern of renewal and gentrification that is also sweeping across much of the globe. Punk may have generated fear or loathing for its mood of menace and apocalyptic pandemonium but it may be that a rising tide of consumerist homogenisation poses a more pervasive and insidious threat. More from FVU.co.uk
Organiser of TALK/SCREENING: British Punk, Wuhan Punk, and (no) future